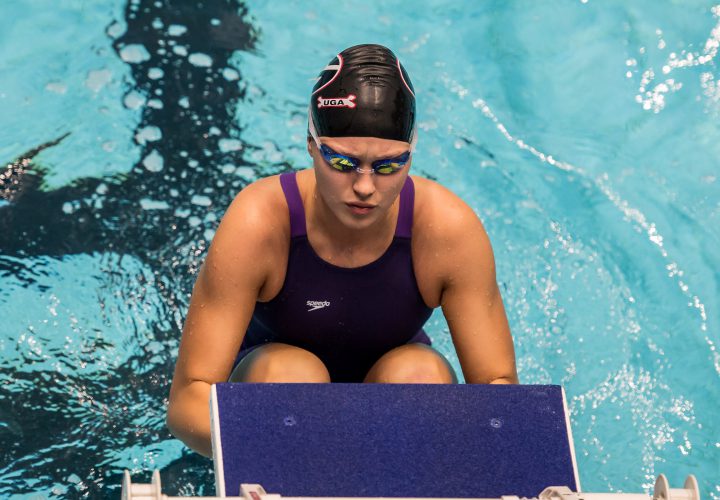 Olivia Smoliga -- Photo Courtesy: Peter H. Bick
By David Rieder.
She's a professional swimmer now, and what pays the bills for professional swimmers is long course success, but Olivia Smoliga still has a soft spot for short course racing.
"I don't want less emphasis on short course!" she said after winning the 50 free and 100 back at U.S. Winter Nationals—a short course yards meet. "I love short course. Yes, this is our last short course meet, and then we go into long course, which I know is what I'm supposed to start to love—which I do—but to be able to do a short course 50 free is sweet."
After her 100 back win Friday evening, Smoliga explained that she wasn't satisfied with her time (51.23, well off her lifetime best of 50.04), but in the long run, what does that even mean? She might swim Winter Nationals again next year, but when else would she need to worry about yards?
In a world where the Olympics are priority No. 1, it's long course racing that pays the bills for professional swimmers. Smoliga has made that transition over the past nine months, moving straight from her senior year at Georgia into a successful World Championships and then signing an apparel deal with FINIS.
Smoliga explained in a post-race interview that she loves her new life as a pro, but being so closely removed from the end of her college career means that "it's still in my blood to want to do short course."
On the other hand, one of her fellow former Georgia Bulldogs does not share Smoliga's romantic feelings about the small pool. Even as he crushed the American record in the 400 IM at his final NCAA championships, Chase Kalisz insisted that long course mattered to him so much more.
So after winning two World titles in his preferred course over the summer, what was there still to accomplish at Winter Nationals?
"Just racing experience. I'm happy to fine-tune a few things that I definitely need to work on, and it was definitely obvious today," Kalisz said, after swimming almost six seconds slower than his top mark in the 400 IM.
This year's Winter Nationals has been far from a fully-stocked meet, but at this point in the cycle of a swimming year, there's not much else in the way of competitive opportunities for those past college. The pros take what they can get.
Ryan Murphy, another first-year pro, won the 100 back Friday and explained he was just glad to have a chance to race all-out. But after competing mid-season at the Georgia Invite each the past three years with a full squad of his Cal Bear teammates, Murphy admitted that coming to Nationals with only three of his teammates was a bit different.
"It's weird being at this meet as opposed to being at a college meet like I have the past couple of years. It's a lot harder to get excited when it's a group of four of you from your team," he said.
Ashley Neidigh and the meet of her life
Ashley Neidigh faced the same issue so many swimmers do as their senior years of college finish up: She wanted to continue swimming, but there was no obvious path forward in professional swimming.
"Getting towards the end of my senior year, I started realizing I wasn't ready to be done," she said. "I started dropping a lot of time, and I started loving swimming more at the end of my senior year than I had my whole life. I wanted to work harder, more and more every day, but time was kind of running out."
During her senior season at Auburn, Neidigh won the SEC title in the 1650 free and went on to place in the top eight in that event at the NCAA championships. Seeking some advice on her future, she consulted another former Auburn Tiger, Zane Grothe.
Grothe had been training for almost two years at Indiana University, and he had improved rapidly, coming up less than a second short of making the 2016 Olympic team. Neidigh began to seriously consider coming north to Bloomington.
"I talked to my family and made the decision to put off grad school and take another year and really give it my all and give it my best shot."
Grothe's breakthrough has been hard to miss, after swimming at the World Championships and breaking the American record in the men's 500 free at Winter Nationals, but what Neidigh has done this week in Columbus has been just as stunning.
In the women's 500 free, she won her first National title, holding off Mallory Comerford at the end and finishing in 4:34.47—a full 5.5 seconds quicker than her previous best time of 4:39.91, set this past February at the SEC championships. Neidigh did not even score in the 500 free at NCAAs, but her time from Thursday night was faster than anyone aside from Katie Ledecky or Leah Smith swam at that meet.
"I think with some of the things I've been doing in practice, it's right where I wanted to be, but it's still exciting to drop that much time and get it done," Neidigh said of her breakthrough. "Seeing it on the board was kind of a shock."
On Friday, Neidigh swam a best time by three seconds in the 200 free¸ and she will have a shot at a second national title when she swims Saturday in the 1650 free, her best event.
Swimming faster than she ever has, it's no surprise that Neidigh has no desire to follow through with her original plans and be done swimming after this year.
"I don't want to be done in a year, especially with the way things are going, but I'm just taking it a month at a time, trying to see how good I can get and just enjoying every day," she said. "I'm kind of doing things I've honestly dreamed of since I was 12, and getting them done at 22, it's a nice feeling."
The speed is back for Nathan Adrian
In the 100 free, Nathan Adrian was about as good as he's ever been in 2017. He took the silver medal in the event at the World Championships behind fellow American Caeleb Dressel and swam on three gold-medal winning relays for the United States.
But Adrian's 50 was not up to scratch. He was the silver medalist in the event at the 2015 World Champs and the bronze medalist at the Rio Olympics, but in Budapest, he ended up out of the final in 10th place.
What happened? Well, Adrian simply trained differently. He explained throughout the year that he and coach Dave Durden had been experimenting some during the post-Olympic year, and that meant a lot more aerobic training than he was used to.
"I'm really happy that I did it," Adrian said. "Those are just questions that I couldn't have answered any other way. I think it really goes to show you that if you put a little more emphasis on your aerobic training, you're going to lose a little of the anaerobic stuff."
But since Worlds, Adrian's training has been more along the lines of what he did in the leadup to the 2012 and 2016 Olympics, and his 50 free has rebounded accordingly.
Thursday evening, he won the short course yards version of the event at Winter Nationals in 18.77. These days, that might not sound like anything crazy, but before Dressel arrived and redefined what anyone thought was possible in the 50 free (18.20, anyone?), Adrian held the American record at 18.66.
"Speed is back, but we've got more to go, definitely," Adrian said.
Mallory Comerford's non-decision
Friday night at Winter Nationals, Mallory Comerford finished second in the 100 fly in 50.92 before returning 25 minutes later and winning the 200 free in 1:41.17. Comerford has quickly developed into one of the country's best freestylers, but she's not too shabby at the fly, either.
Comerford actually finished third in the 100 fly at this summer's Nationals, missing a spot in the event at World Championships by just one hundredth of a second.
"I just like to do it for fun," Comerford said of her fly skills. "It changes things up a little bit."
She would have a shot at NCAA titles in both the 100 fly and 200 free, but pulling the double would be impossible, with the two events back-to-back at the college championships. For Comerford, the decision on which event to choose is obvious.
She tied with Katie Ledecky for the NCAA title in the 200 free last season, and that race sets up as perhaps the most anticipated showdown of the championships with Simone Manuel joining last year's co-champions with a shot at cracking the 1:40-barrier.
On the other hand, three of the top four finishers from the 100 fly at last year's championships have graduated (Farida Osman, Hellen Moffitt and Sarah Gibson), and Comerford's time from Friday ranks second in the NCAA.
Would Comerford take a chance at the butterfly while giving up the chance to battle Ledecky and Manuel in the 200 free?
"No. No. Definitely not."