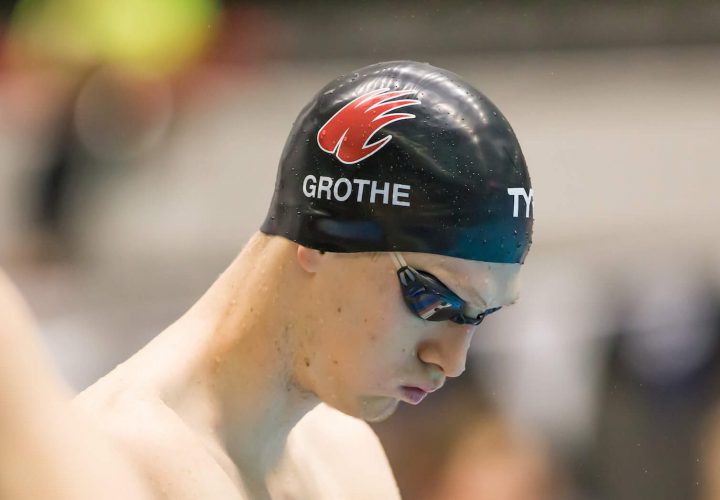 Photo Courtesy: Melissa Lundie
By David Rieder.
Three years ago, Zane Grothe asked himself: Why would he keep swimming? After finishing his solid NCAA career at Auburn in 2014, Grothe trained for one more year and got no faster. So in March of 2015, he took a chance and moved to Bloomington, Ind., figuring he'd train at Indiana University for the summer, wrapping up his career with a summer of something a little bit different.
So much for that plan. Now, almost three years later, Grothe is an American record-holder, the first man to crack the 4-minute-8-second barrier in the men's 500 free.
At USA Swimming's Winter Nationals in Columbus, Ohio, Grothe was chasing Clark Smith's American record of 4:08.42, established just this past March at the NCAA championships. Grothe swam behind record pace for the first three-quarters of the race, falling as far as a second behind Smith's splits while swimming neck-and-neck with Florida Gator Mitch D'Arrigo.
But then Grothe accelerated. He snuck under Smith's pace at the 400-yard mark and pulled away. Flying down the stretch, he touched the wall in 4:07.25.
For weeks, Grothe had known the record was in his reach. His teammates and coaches had hinted at it, too.
"It was actually a little slower than my goal time," Grothe admitted.
He recalled an Indiana dual meet a few weeks back, when he put on a suit and swam a 500 free with the timing system running during a diving break. The time was a 4:10, so Grothe figured, why not aim for a 4:06.8 with a taper and shave for Winter Nationals?
Well, for one, history was not on his side. Tom Dolan had become the first man to break 4:10 in the 500 free all the way back in 1995, swimming a time of 4:08.75. And within the next 22 years, Peter Vanderkaay and then Smith managed to lower the record by all of three tenths.
Now, that record has been smashed, and the man doing the smashing was one seemingly destined for anything but stardom when he completed his Tiger career almost four years ago.
When he arrived at Indiana, his best time in the 500 free was 4:14.44, set at the NCAA championships in 2013. No one thought of Grothe as an Olympic hopeful—and that includes Grothe.
"I was ready to retire," Grothe said of his mindset when he arrived in Bloomington. "I had never done a high-volume program like Indiana, so I figured I would give it one more shot with a new program, do what I've always wanted to do, high volume. And then at the end of the summer, I'd probably go a best time by two seconds and call it a career—and ended up dropping six."
That breakthrough came at the 2015 National Championships in San Antonio, when Grothe won his first national title in the men's 400 free—so, yes, the Olympics were now in the picture.
Finally, Grothe had arrived as a national-caliber swimming, but that didn't mean his road forward would be smooth. At Olympic Trials, he qualified first for the final of the 400 free, crystalizing the idea that he could truly become an Olympian, but he ended up fourth in the evening, less than a second away from a magical top-two finish.
For the rest of that meet, he was crushed. While Grothe's Indiana teammate Blake Pieroni put aside a disappointment in the 200 free to qualify for the Olympic team in the 400 free relay, Grothe couldn't get back on track. "It just takes Zane a little longer to process things," Indiana head coach Ray Looze explained.
What happened at Trials, Grothe said, completely changed his outlook on swimming.
"I really had to redefine what swimming meant to me. I'd been a swimmer my entire life, since I was a little baby. The results in swimming were the end-all, be-all. When I swam slow at Trials, I felt like I had wasted a lot, a lot of time and effort over 24 years," he said.

"I realized that isn't how swimming should be. I should be swimming not to make a team or make a time but swimming just to see how good I can make myself. I'm having a lot more fun doing it. I can swim slow and be like, 'You know, that's okay. I'll just change something in training and see if it works the next time.'"
That's when his career took off. One year later, Grothe won the 400 free at U.S. Nationals and ended up making two finals in his first appearance at the FINA World Championships in Budapest. He anchored the American men's 800 free relay to a bronze medal.
And Thursday evening in Columbus, Grothe swam the race of his life.
"I was really nervous for that race knowing that I could swim that fast," he said. "I told my coach, 'If I could have another shot at it, now that I know what it feels like to go that fast, I would be way more calm and ready for it."
Grothe has now recorded at least one lifetime best time in each season he's been at Indiana. He will finish 2017 ranked seventh in the world in the men's 400 free at 3:44.43, but while comparisons between long course meters and short course yards are murky, at best, Grothe's American record in the 500 free appears to be another step forward. Whatever he's doing at Indiana, it's working.
"I think it's a combination of me getting older and stronger, more mature, more experience and working really well with Mike Westphal, my coach," he said. "We mesh really well together. He understands my strategy, my goals and the training, what works for me."
At an age when all but the best college swimmers call it quits, Grothe kept on. It took more than three years, but he's now the best middle distance freestyler in the United States.
Watch a post-race video interview with Zane Grothe: