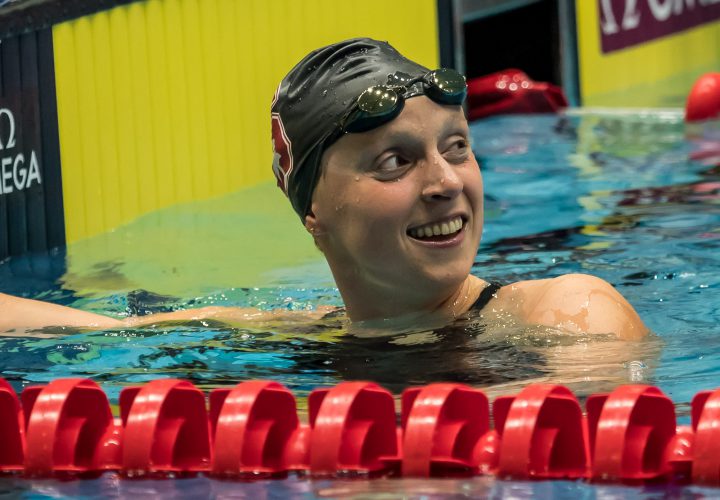 Photo Courtesy: Peter H. Bick
The Week That Was is sponsored by

This was a huge week of competitions across the United States as national and international swimmers continue to prepare for this summer's big long course meets. Check out a recap of all the records that were broken along with the biggest stories of the week below in the week that was!
The Week That Was #5 – Brazilian Olympian Henrique Martins Tests Positive
It was revealed this week that Brazilian Olympian Henrique Martins tested positive for a banned substance on WADA's list of prohibited substances. The result came from a surprise doping test on March 27th, which will give Martins an opportunity to present his case in front of a FINA doping panel in Switzerland. Martins has already hired Marcelo Franklin as his lawyer. Franklin has previously defended Cesar Cielo, Joao Gomes, and Etienne Medeiros. Martins was a member of Brazil's 2016 Olympic Team and competed at last summer's World Championships as part of Brazil's medley relays and in the sprint free and fly events.
The Week That Was #4 – USA Diving Nationals Underway Without Olympic Champ Boudia
The 2018 USA Diving National Championships were underway this week without one of Team USA's biggest names. David Boudia revealed on his Instagram account earlier this week that he will be taking a break from diving following a recent concussion, effectively removing him from this week's nationals and from having a chance at a spot on Team USA's World Cup Roster. The final World Cup roster for the United States was announced at the conclusion of the competition, with Olympians Katrina Young and Steele Johnson among those earning spots on the roster. You can see full recaps from each day of USA Diving Nationals here.
The Week That Was #3 – Tim Hinchey Among CEOs To Testify On Sexual Abuse
Tim Hinchey, the CEO of USA Swimming, is set to testify before a House subcommittee on sexual abuse in Olympic sports. He is one of several sports executives who is scheduled to appear, including the CEO's of U.S. Gymnastics, the USOC, USA Taekwondo, and the U.S. Center for Safe Sport. The hearing is coming on the heels of many U.S. gymnasts coming forward about the sexual abuse from Team USA Gymnastics doctor Larry Nassar, and while the spotlight has been on USA Gymnastics there has been plenty of recent scrutiny on the policies of USA Swimming and how they have handled allegations of sexual abuse and misconduct. USA Swimming previously came under fire in 2010 for how the organization handled sexual abuse scandals, which led the USOC to create the Center for SafeSport.
The Week That Was #2 – Andrew, Lochte, And Dressel Highlight 2018 Atlanta Classic
One of the two big meets this weekend was the 2018 Atlanta Classic down in Georgia, with several big names throwing down some impressive swims and some Olympians making their long course debut for the season. Michael Andrew broke a pair of records over the weekend, with two huge swims in the 100 breaststroke (59.98) and 50 free (21.73). That 50 free time was Andrew's PB and broke Nathan Adrian's record from 2016. Caeleb Dressel was clearly racing tired but still put together two wins on the final night of the meet in the 200 IM (2:01.98) and 100 free (49.65). Other notable swims included Micah Sumrall with a meet record in the 200 breast (2:26.16) and Molly Hannis' meet record in the 100 breast (1:07.25). You can see all the recaps and results from the 2018 Atlanta Classic by heading over to our meet page.
The Week That Was #1 – Ledecky Smashes World Record To Start Indy Pro Series
All eyes were on Katie Ledecky this weekend as she went on an in-season record-breaking spree like only Katie Ledecky can do. In her first meet as a pro swimmer Ledecky started things off with a bang, casually dropping her own world record in the 1500 free by 5 seconds to nearly become the first woman under 15:20 when she touched the wall in 15:20.46. That moved her to the fastest in history by a staggering 18 seconds and gives her 9 of the top 10 performances in history. She also recorded the second-fastest 400 free in history, the third-fastest 800 free in history, and a dominant win in the 200 free. There were plenty of other fast swims this weekend, including Lilly King swimming the fastest 100 breast in the world (1:05.90), Melanie Margalis blasting a new best time in the 400 IM (4:36.81), and Daniel Roy becoming the youngest American ever under 2:10 in the 200 breast. You can see full recaps of each session on our meet page.