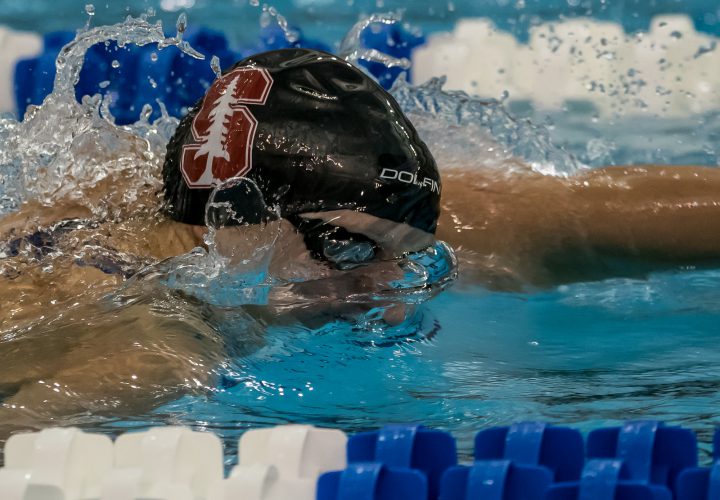 Photo Courtesy: Peter H. Bick
Editorial content for the 2018 TYR Pro Swim Series Indianapolis is sponsored by SwimOutlet.com. Visit SwimOutlet.com for more information on our sponsor. For full Swimming World coverage, check out our event coverage page.
It hasn't happened since the 2016 Olympics. Katie Ledecky hadn't broken a World Record since 2016 when she lit the world on fire in Rio with three individual gold medals and two world records. She has not been the same swimmer since she went to Stanford in the fall of 2016.
But in her first race as a professional swimmer, Ledecky broke the 1500 freestyle World Record that she set at the 2015 World Championships in Kazan with a 15:20.48 on a quiet Wednesday night at the TYR Indianapolis Pro Swim Series.
Ledecky took control early and was out under world record pace. How long could she hold on to that pace in an in-season meet? She built her way through the race and kept getting further and further under the record pace.
Ledecky broke her own world record that she set three years ago and is the sixth time she has broken the record in the event dating all the way back to 2013. It is also the largest margin the record has been broken since Ledecky took six seconds off at the 2014 Pan Pacific Championships.
World Record Progression:
15:20.48, Katie Ledecky, USA, 2018
15:25.48, Ledecky, USA, August 2015
15:27.71 (h), Ledecky, USA, August 2015
15:28.36, Ledecky, USA, August 2014
15:34.23, Ledecky, USA, June 2014
15:36.54, Ledecky, USA, 2013
15:42.54, Kate Ziegler, USA, 2007
Ledecky also now owns the eight fastest times ever in the event. She is now 28 seconds ahead of the second fastest performer ever, Lotte Friis of Denmark (15:38.88).
Top 10 Performances:
Katie Ledecky, 15:20.48, USA, 2018
Ledecky, 15:25.48, USA, 2015
Ledecky, 15:27.71, USA, 2015
Ledecky, 15:28.36, USA, 2014
Ledecky, 15:31.82, USA, 2017
Ledecky, 15:34.23, USA, 2014
Ledecky, 15:35.65, USA, 2017
Ledecky, 15:36.53, USA, 2013
Lotte Friis, 15:38.88, DEN, 2013
Lauren Boyle, 15:40.14, NZL, 2013
Top 10 Performers:
Katie Ledecky, 15:20.48, USA, 2018
Lotte Friis, 15:38.88, DEN, 2013
Lauren Boyle, 15:40.14, NZL, 2013
Kate Ziegler, 15:42.54, USA, 2007
Alessia Filippi, 15:44.93, ITA, 2009
Boglarka Kapas, 15:47.09, HUN, 2015
Jazz Carlin, 15:47.26, GBR, 2013
Mireia Belmonte, 15:50.89, ESP, 2017
Janet Evans, 15:52.10, USA, 1988
Jessica Ashwood, 15:52.17, AUS, 2015