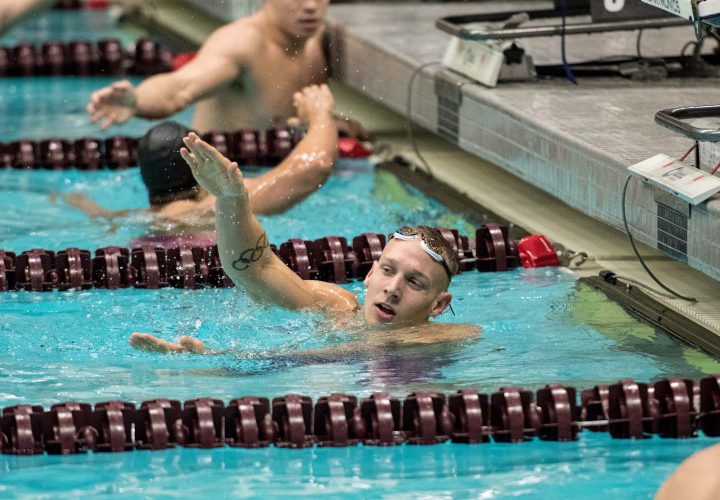 Photo Courtesy: Thomas Campbell/Texas A&M Athletics
This was a busy week in swimming, with college records falling in the first big weekend of conference action and Caeleb Dressel leading the way. Catch up on some of those records and the rest of the biggest stories of the week in The Week That Was!
The Week That Was #5 – University of Indianapolis Commit Among Victims in Florida High School Shooting
This week the United States was witness to another mass shooting in Parkland, Florida, and one of the victims was swimmer and University of Indianapolis commit Nicholas Dworet. Dworet was one of seventeen people who were killed at the shooting at Majory Stoneman Douglas High School. A member of TS Aquatics in Broward County, Dworet was a team captain known as "swim daddy" for the way he helped and pushed his teammates in practice. "Everybody loved him," said coach Andre Bailey. "He trained hard, focused on his schoolwork and went from a middle-of the-pack swimmer to earning an academic scholarship and committed to join the University of Indianapolis swim team in the fall." You can donate to the victims of the shooting in Florida at a GoFundMe Page.
The Week That Was #4 – Reece Whitley, Max McHugh Trade 100 Breast Record
The National High School record in the 100 breast went back and forth this weekend between Max McHugh and Reece Whitley at their respective high school championships, with Whitley ultimately leaving his meet with the mark. McHugh, who is a senior at Sturgeon Bay Co-op, took down the National High School record on Friday, hitting the wall in 51.62 to get past Whitley's old record of 51.84 by two-tenths. Whitley fired back with a 51.68 in prelims on Saturday morning before coming back in finals to reclaim the record with a 51.16. The Penn Charter senior also broke the 200 IM National Independent High School record in prelims, touching in 1:43.55 to taken down Curtis Orgen's 2014 record. David Nolan holds the overall National High School record of 1:42.39 from 2011.
The Week That Was #3 – Nicole and Michael Phelps Welcome Second Son, Beckett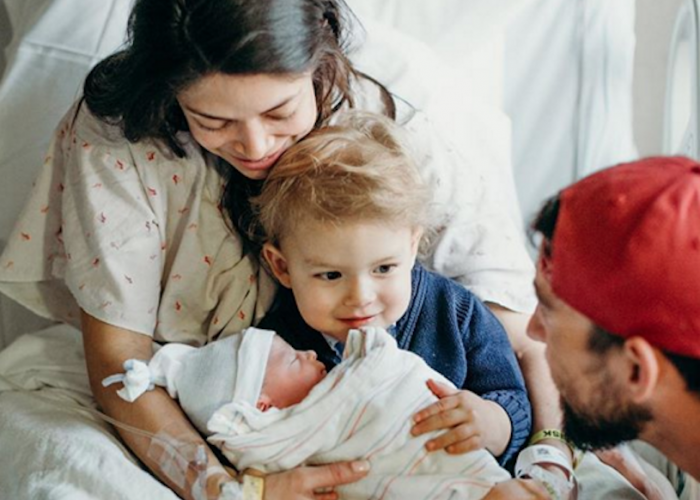 Nearly two years after the birth of their first child, Boomer Phelps, 28-time Olympic medalist Michael Phelps and wife Nicole Johnson welcomed their second son this week. Named Beckett Richard, the baby boy was welcomed into the world on Monday according to his parent's Instagram accounts, which you can see here and here.
The Week That Was #2 – Sam Busch Resigns from TCU Following Internal Inquiry
First-year Texas Christian University head coach Sam Busch resigned this week following "an internal inquiry into program rules, policy and procedure violations." Busch was placed on paid administrative leave in early February so that the athletic department could conduct their review. While the findings of that inquiry were not made public, TCU athletic director Jeremiah Donati provided a statement in a press release acknowledging Busch cooperated with inquiry and chose to resign after reviewing the facts with the administration. Busch was originally hired to lead the program back in August, replacing long-time coach Richard Sybesma, who retired after 38 years at the helm of TCU. Assistant coach Keith Dawley will lead TCU through the upcoming Big-12 Championships, which run February 21-24 at the University of Texas.
The Week That Was #1 – Dressel Stakes New Event Territory At SEC's
This was a huge week for college swimming with conference meets across the country well underway and giving the first glimpse of who fans need to watch for at NCAA's next month, including breakout swimmers like Auburn's Hugo Gonzalez, Tennessee's Erika Brown or Wisconsin's Beata Nelson or some of the best swimmers in collegiate swimming. Florida senior Caeleb Dressel was the biggest name of the weekend, surprising many around the country with NCAA and American records in the 200 IM (1:38.13) and 100 breaststroke (50.03). That makes Dressel the fastest man in history in either event, both races that he has yet to compete in at the NCAA Championships. He added a third title in the 100 free (41.01), six-hundredths faster than his meet record from 2016, before breaking it again leading off the 400 free relay in 40.87. You can check out all of the results and recaps from this week of college swimming on our College News Landing Page.