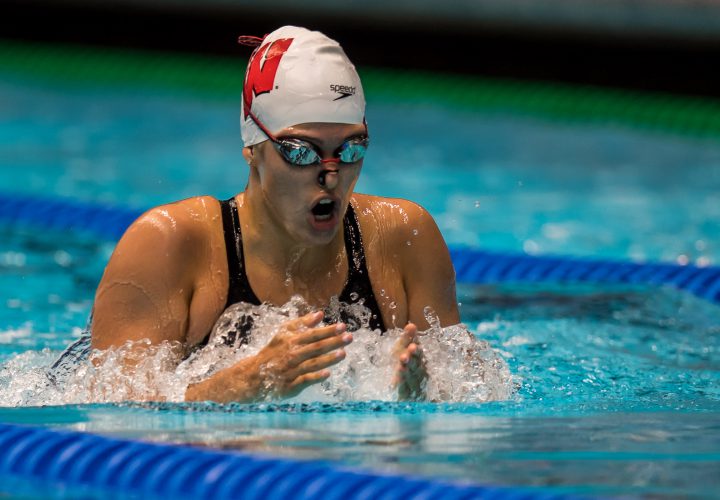 Photo Courtesy: Peter H. Bick
In a crazy night of swimming that has included an American Record from Caeleb Dressel, Wisconsin sophomore Beata Nelson narrowly missed the American Record in the 100 back with a 49.78 on Thursday night at the Big Ten Championships in Columbus, Ohio. Nelson just missed the record held by Stanford's Ally Howe (49.69) as she moves to second all-time ahead of Kathleen Baker (49.84) and Natalie Coughlin (49.97). She is the fourth swimmer to break 50 seconds in the 100 back.
This is a huge swim for Nelson who's best time was a 50.79 from the Texas Invite earlier this season. Nelson was one of the best recruits in the class of 2016 but had a lackluster freshman season last year, going only 52.11 at Big Ten's last year for third and 52.55 for 27th at NCAA's last year.
Nelson was not on a lot of people's radar after not having swum well in a while, but she put her name back in swimming relativity with that 49 second swim.
This was leading off the 400 medley relay as there was still more swimming left in the crazy race. Nelson's time helped Wisconsin finish fifth at 3:31.22.
Indiana ended up winning the 400 medley relay with a 3:27.81 to smash the Big Ten record they set last year.
Ali Rockett (51.25), Lilly King (56.92), Christie Jensen (51.01) and Grace Haskett (48.63) won the relay with Minnesota coming in second at 3:28.96.
That swim also broke the pool record that Arizona had from 2008 NCAA's.
Tevyn Waddell (52.17), Lindsey Kozelsky (57.51), Danielle Nack (51.65) and Zoe Avestruz (47.63) put up a strong swim for the Golden Gophers as Kozelsky put up a really good breaststroke split there.
Michigan finished third in the relay with a 3:29.90. Ohio State (3:30.36), Wisconsin (3:31.22), Purdue (3:34.72), Nebraska (3:36.03) and Iowa (3:37.71) finished in the top eight.
 Event 7  Women 400 Yard Medley Relay
==================================================================================
     B1G Meet: @ 3:28.89  2/16/2017 Indiana University, Indiana
                          A Rockett, L King, G Dalesandro, H Spears
         Pool: # 3:29.06  3/16/2008 Arizona, Arizo
                          H deGolia, A Chandler, A Agy, L Nymeyer
                 3:32.67  A NCAA Qualifying
                 3:34.48  B NCAA Provisional
    School                           Seed     Finals       Points 
==================================================================================
  1 Indiana                       3:31.64    3:27.81@A       64  
     1) Rockett, Alexandra SR         2) r:0.33 King, Lillia JR       
     3) r:0.24 Jensen, Christine JR   4) r:0.18 Haskett, Grace FR     
    r:+0.70  24.68        51.25 (51.25)
        1:17.53 (26.28)     1:48.17 (56.92)
        2:11.65 (23.48)     2:39.18 (51.01)
        3:01.78 (22.60)     3:27.81 (48.63)
  2 Minnesota                     3:32.70    3:28.96#A       56  
     1) Waddell, Tevyn SO             2) r:0.16 Kozelsky, Lindsey SO  
     3) r:0.44 Nack, Danielle SR      4) r:0.27 Avestruz, Zoe JR      
    r:+0.61  25.20        52.17 (52.17)
        1:18.76 (26.59)     1:49.68 (57.51)
        2:13.21 (23.53)     2:41.33 (51.65)
        3:03.81 (22.48)     3:28.96 (47.63)
  3 Michigan                      3:31.88    3:29.90 A       54  
     1) Smiddy, Clara SR              2) r:0.27 Tucker, Miranda SO    
     3) r:0.25 Krause, Vanessa SO     4) r:0.22 Deloof, Gabrielle SR  
    r:+0.63  25.34        51.98 (51.98)
        1:18.83 (26.85)     1:50.23 (58.25)
        2:14.53 (24.30)     2:42.61 (52.38)
        3:04.85 (22.24)     3:29.90 (47.29)
  4 Ohio St                       3:35.74    3:30.36 A       52  
     1) Bradley, Rebekah SO           2) r:0.17 Gresser, Hanna FR     
     3) r:0.10 Li, Zhesi SR           4) r:0.03 Rayner, Freya FR      
    r:+0.69  25.76        52.96 (52.96)
        1:20.29 (27.33)     1:52.21 (59.25)
        2:15.60 (23.39)     2:42.39 (50.18)
        3:04.72 (22.33)     3:30.36 (47.97)
  5 Wisconsin                     3:34.21    3:31.22 A       50  
     1) Nelson, Elizabeth SO          2) r:0.16 Berg, Marissa SR      
     3) r:0.27 Saghafi, Ariana JR     4) r:0.05 Sehmann, Emmy JR      
    r:+0.69  24.07        49.78 (49.78)
        1:17.20 (27.42)   1:50.41 (1:00.63)
        2:14.61 (24.20)     2:42.51 (52.10)
        3:04.96 (22.45)     3:31.22 (48.71)
  6 Purdue                        3:37.73    3:34.72         48  
     1) Smailis, Jacklyn JR           2) r:0.02 Phee, Jinq En SO      
     3) r:0.22 Kitchel, Taite JR      4) r:0.09 Meitz, Kaersten SR    
    r:+0.60  25.83        53.89 (53.89)
        1:21.16 (27.27)     1:52.80 (58.91)
        2:17.04 (24.24)     2:45.95 (53.15)
        3:09.36 (23.41)     3:34.72 (48.77)
  7 Nebraska                      3:39.20    3:36.03         46  
     1) Haebig, Autumn FR             2) r:0.17 Worlton, Gwendolyn SO 
     3) r:0.11 Murray, Isabelle FR    4) r:0.20 Helferich, Lindsay JR 
    r:+0.66  25.76        53.36 (53.36)
        1:21.29 (27.93)   1:54.19 (1:00.83)
        2:18.54 (24.35)     2:47.11 (52.92)
        3:10.23 (23.12)     3:36.03 (48.92)
  8 Iowa                          3:41.27    3:37.71         44  
     1) Lavelle, Meghan SR            2) r:+0.40 Hoyt, Shea SR        
     3) r:+0.62 McNamara, Kelly JR    4) r:+0.15 Burvill, Hannah SO   
    r:+0.61  26.07        53.89 (53.89)
        1:22.04 (28.15)   1:55.27 (1:01.38)
        2:20.23 (24.96)     2:49.56 (54.29)
        3:12.39 (22.83)     3:37.71 (48.15)
 Women - Team Rankings - Through Event 7                      
 
  1. Michigan, University of           430   2. Ohio State University             424
  3. Indiana University                396   4. University of Minnesota           355
  5. Wisconsin, University of, Madi    298   6. Purdue University                 256
  7. Northwestern University           184   8. Pennsylvania State University     168
  9. Iowa, University of               158  10. Rutgers University                150
 11. University of Nebraska-Lincoln    143  12. Michigan State University         103
 13. University of Illinois             89