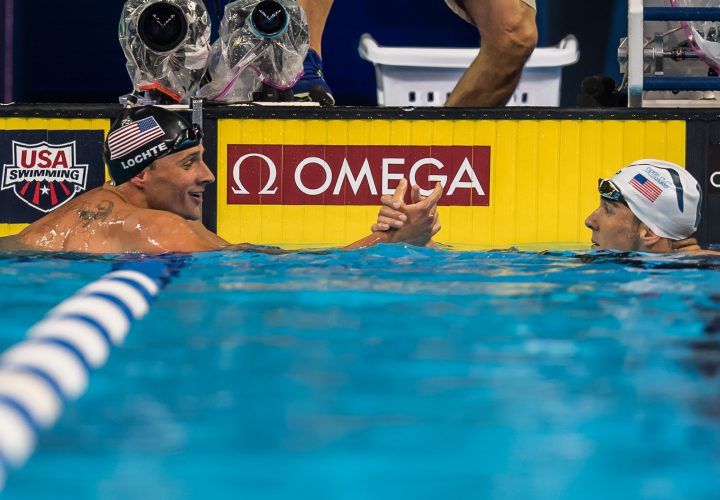 Photo Courtesy: Peter H. Bick

Editorial Coverage Sponsored By FINIS
By David Rieder.
For a few years early in his career, the 200 IM was the event that Michael Phelps dominated more than any other. At the 2003 World Championships, Phelps defeated second-place finisher Ian Thorpe—one of the greatest swimmers of all-time in his own right—for the gold by more than three and a half seconds.
A week later, Phelps became the first man to ever break 1:56 in the event. At that point, no one else had ever been under 1:58.
And then Ryan Lochte came along. Lochte, then a shaggy-haired short course dynamo entering his junior year at the University of Florida, figured out his long course swimming just in time for the Athens Olympics. He won a gold medal in his first Olympic event as part of the U.S. 800 free relay, and two days later, he edged out George Bovell and Laszlo Cseh for the silver in the 200 IM.
He was nowhere close to Phelps in Athens, but Lochte's massive time drops kept coming. Two years later at the Pan Pacific Championships, Lochte gave Phelps his biggest challenge yet in the event, leading his more-storied teammate through the 150—and it took a world record for Phelps to beat him. Phelps finished in 1:55.84, just ahead of Lochte's 1:56.11—a time Phelps had only surpassed three times ever.
After winning gold in Beijing and lowering the world record all the way down to 1:54.23—Lochte took the bronze in that race—Phelps took the year off from the 200 IM, and in his absence, Lochte won the first of four straight World titles in the event and broke Phelps' world record, touching in 1:54.10.
At U.S. Nationals a year later, Lochte defeated Phelps head-to-head in the 200 IM for the first time, setting the best duel of their career at the World Championships a year later in Shanghai.
Lochte took the lead on backstroke, held tough on breaststroke and kicked away off the final wall with his signature underwater dolphin kicks. But Phelps surged back over the last 15 meters, and if he had just another stroke or two, he would have run down Lochte.
He could not do it. Lochte touched in 1:54.00, a new world record, and Phelps was second in 1:54.16. Both of their times from that day remain their respective personal bests.
In the years since, Phelps won the 2012 Olympic gold over a depleted Lochte coming off a bronze medal in the 200 back a half hour earlier, and Lochte won the past two World titles, both without Phelps in the field.
But days after Lochte won the World title in the event last year, Phelps upstaged him, posting a 1:54.75 at U.S. Nationals, the top time in the world for 2015 and more than a second faster than Lochte had swum in Kazan. Phelps then beat Lochte again at U.S. Olympic Trials last month.
Phelps has already won a trio of gold medals in Rio, including an emotional 200 fly Tuesday night, but this is Lochte's only individual event.
Tonight, for one last time, the duo will go head-to-head on the biggest stage.
"He and I have raced against each other for the last 12 years," Phelps said after qualifying first for the final, a half-second ahead of Lochte.
"Probably one of the biggest competitors I can call a competitor. He and I have literally duked it out, back-and-forth, back-and-forth. This is a special one to both of us."
But this time, the two finishing first and second in some order is far from a given.
The final at last year's World Championships missed not just Phelps but also Kosuke Hagino, absent after breaking his elbow a month before the meet.
Safe to say that Hagino has bounced back nicely from that. He won gold in the 400 IM Saturday night, posting a 4:06.05 to out-swim the USA's Chase Kalisz and improve to third on the all-time list behind, of course, Phelps and Lochte. Tuesday night, Hagino added a bronze medal for his efforts on Japan's 800 free relay.
Then there's Thiago Pereira—but if you watched the semifinal Wednesday night, the crowd probably told you that. Pereira has finished fourth in the event at the past two Games, but he can put together the first 150 meters with the best of them in the world. And he will have the full force of crowd support behind him.
But enough for a medal? That will be tough with the big three in lanes four, five and six. For the first and only time, the two greatest IMers ever go head-to-head with their heir-apparent, a man a decade younger with a gold medal already in his pocket. This one looks like a treat.
*The men's 200 IM is the night's featured event, but the undercard won't be too bad either, as 100 back gold medalist Ryan Murphy tries to make it double gold in the 200-meter distance against World Champion Mitch Larkin, seeking to bounce back after a surprising fourth-place finish in the 100 back.
Evgeny Rylov was the top seed after semifinals, but it's tough to imagine anyone aside from Larkin or Murphy winning gold or silver in this one.
Murphy won his semifinal Wednesday night in 1:55.15, hanging back and toying with his heat before exploding off the final wall into the lead. And then he shut it down coming into the finish in a manner reminiscent of another American backstroke great, Aaron Peirsol.
"It's two totally different strokes for me," Murphy said of the differences between the 100 and 200 back. "Got to keep the kick smaller in the 200. 100 I have to be more focused on body position and kick power. 200 is more about rhythm and holding the stroke."
Minutes later, Larkin finished second in the faster of the two semifinals, posting a 1:54.73, and he goes into the final as the second qualifier behind Rylov. (Murphy was fourth.)
Larkin said he got over the disappointment of the 100 back fairly quickly, knowing that he could do nothing about the result. But he plans on carrying over lessons learned from the 100 as he goes into his better event.
"It being a final, you do get that extra energy, that extra boost," Larkin said. "I'm looking forward to that. The 100 a couple days ago I sort of forced it. With the burst of being a final it kind of overcooked me a little bit. Tomorrow I just want to stick to my plan and execute it as best I can."