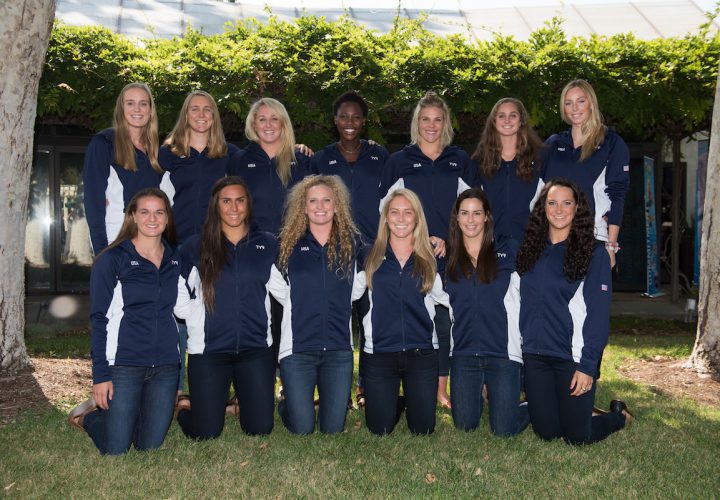 Photo Courtesy: Jonathan Moore/USA Water Polo

Editorial Coverage Sponsored By FINIS
U.S. Olympic Women's Water Polo Team Head Coach Adam Krikorian announced the 13 athletes that will compete for Team USA this August at the 2016 Olympic Games in Rio de Janeiro, Brazil. Krikorian made the announcement during a press conference held at the LA84 Foundation in Los Angeles earlier today.
Four years after winning the first Olympic gold in program history in the Summer of 2012 in London, four returners from that team anchor the 2016 edition. Team captain and 2012 Olympic Games MVP Maggie Steffens will lead Team USA into action in Rio. She is joined by fellow 2012 Olympic gold medalists Kami Craig, Courtney Mathewson, and Melissa Seidemann.
Nine Olympic newcomers fill out the rest of the Team USA roster. The United States will open competition at the Olympic Games on August 9, 2016 against Spain. The game takes place four years to the day after the USA Women won Olympic Gold in London against the very same Spain squad. Draw into Group B, Team USA will meet China and Hungary in preliminary play. The medal round is scheduled for August 19.
The U.S. Olympic Women's Water Polo Team is currently ranked number one in the world. They have won every major tournament since 2014 including the FINA World Championship, FINA World Cup, Pan American Games title, and three FINA World League Super Final titles. This past March they claimed gold at the Olympic Qualification Tournament, earning a berth to the 2016 Olympic Games following a 19-0 victory over France in the quarterfinal round.
Prior to the team announcement, LA84 President & CEO Renata Simril and LA 2024 Vice Chair Janet Evans addressed the athletes offering encouragement and well-wishes.
All nominations to the 2016 U.S. Olympic Team are subject to approval by the United States Olympic Committee.
QUOTES:
"There are things that we wanted to emphasize, one was identifying and enhancing leadership. Leadership is so important, in team sports, specifically and leadership within the group and within the team.  I can't thank the older players enough. We have four returning Olympians that have provided incredible leadership for us.  The other thing was great competition.  We wanted to open the door for young athletes as I'll introduce, you'll see we have a very wide range of ages.  We wanted to open the door for young and new athletes to come in and compete for spots.  Knowing how young we were at the time and probably our average age, going back to 2014, it must have been close to 20 or 21 years old. We knew that it was going to be important to focus on skill development and spending the time and the effort to improve." Adam Krikorian, U.S. Olympic Women's Water Polo Team Head Coach
"Moving forward for us, I think about it a lot, and I mentioned this a couple of years ago, when you've had the success that we've had, you worry about complacency, you worry about being too confident.  One thing that comes to mind is just that we continue to be humble enough to prepare but confident enough to perform, and I think that's really our focus moving forward to strive and get better." Adam Krikorian, U.S. Olympic Women's Water Polo Team Head Coach
"Lastly, before I get to the team, I just want to say that I mentioned chasing a dream for us, it's clear we want to try to stay on top of the podium, that's every Olympian's goal, is to stand on top of the podium and get a chance to put your right hand over your heart and listen to your National Anthem. There's nothing greater than that. I think what gets lost sometimes is that, that result, the one thing, that is very clear moving forward, and this group, we're going to be chasing a bit of a different dream, as well, and that dream is the way in which we play, the way in which we carry ourselves, the way in which we treat each other, the way in which we show how tough we are, both physically and mentally, is having that vision, and that for me is more important, I know for us as well, more than anything.  If we can do those things, I certainly like our chances, but that's the dream that we're chasing, more than just being on top of the podium." Adam Krikorian, U.S. Olympic Women's Water Polo Team Head Coach
"My biggest thank you is to this team and to this incredible group of women.  We have a really incredible, special group.  I can easily talk about each one in the athleticism, talent and skill that they have individually and what we have as a team, but it's more than that.  It takes more than that to get to be on this stage today and the Olympic stage and it's the toughness that this group has and the determination, dedication, the sacrifices we've all made.  And we work pretty darn well together.  The teamwork that this group has is probably the best that I've ever been a part of. And I hope that with the teamwork we have in the water and the fun we have when we play can inspire anyone that watches us play." Maggie Steffens 2012 Olympic gold medalist and U.S. Olympic Women's Water Polo Team captain
"I challenge that it's not a good day in LA, it's a great day in LA because we can officially call ourselves Olympians.  That gives me the chills just to say because that is a dream that all of us have had. So congratulations, we hope to make Olympians into Olympic champions and bring home the gold to all of you and to everyone who has supported us. Congratulations. Thank you. Go USA!" Maggie Steffens 2012 Olympic gold medalist and U.S. Olympic Women's Water Polo Team captain
2016 U.S. Olympic Women's Water Polo Team (Hometown/School/USAWP Club)
1. Sami Hill – GK (Santa Barbara, CA/UCLA/Santa Barbara)
2. Maddie Musselman – A (Newport Beach, CA/Corona del Mar HS/CdM Aquatics)
3. Melissa Seidemann – D (Walnut Creek, CA/Stanford/NYAC)
4. Rachel Fattal – A (Seal Beach, CA/UCLA/SOCAL)
5. KK Clark – D (Menlo Park, CA/UCLA/NYAC)
6. Maggie Steffens – A (Danville, CA/Stanford/NYAC)
7. Courtney Mathewson – A (Anaheim Hills, CA/UCLA/NYAC)
8. Kiley Neushul – A (Goleta, CA/Stanford/Santa Barbara)
9. Aria Fischer – C (Laguna Beach, CA/Laguna Beach HS/SET)
10. Kaleigh Gilchrist – A (Newport Beach, CA/USC/NYAC)
11. Makenzie Fischer – D (Laguna Beach, CA/Laguna Beach HS/SET)
12. Kami Craig – C (Santa Barbara, CA/USC/NYAC)
13. Ashleigh Johnson – GK (Miami, FL/Princeton/NYAC)
Head Coach: Adam Krikorian
Asst. Coaches: Dan Klatt and Chris Oeding
Team Manager: Jen Adams Funakura
About USA Water Polo
USA Water Polo, Inc. is the national governing body for water polo in America, overseeing our United States Olympic program as well as 20 different championship events annually, such as Junior Olympics and Masters National Championships. With more than 40,000 members, USAWP is also the sanctioning authority for more than 500 Member Clubs and more than 400 tournaments nationwide. USAWP is committed to the development of the sport throughout the US. It fosters grass-roots expansion of the sport, providing a national system of affiliated clubs, certified coaches and officials.
USA Water Polo contributed this report.