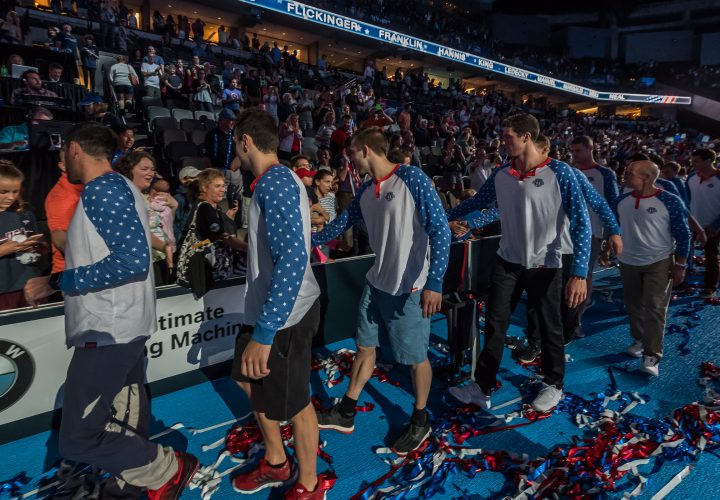 Photo Courtesy: Peter H. Bick

Editorial Coverage Sponsored By FINIS
The 2016 Olympic Trials was a chance for newcomers to enter the spotlight. The men's team roster holds just six Olympic veterans and 19 newbies. As Rio approaches, we look forward to seeing what this team can do. 
Anthony Ervin (50 Free, 4×100 Free Relay)
In the 2000 Olympics, Ervin tied for gold in the 50m freestyle, before his sprinting teammate Dressel had reached kindergarten, and then retired. He returned to swim in London and he put up a great performance again in this year's trials. In a 50m race anything can happen.
Blake Pieroni (4×100 Free Relay) 
After finishing sixth in the 100m freestyle, he was forced to wait and see whether he would be going to Rio. Pieroni was starry-eyed when he heard he had earned a spot on the US Olympic Team.
Caeleb Dressel (100 Free, 4×100 Free Relay, 4×100 Medley Relay)
It's a crowded sprinters podium, but Dressel hopes to be a contender. His performances at trials and NCAAs demonstrate potential, but to medal he'll need some best times.
Chase Kalisz (400 IM)
A Michael Phelps fan and teammate, Kalisz was the first official qualifier for Rio. His 4:09.54 400m individual medley was the second-fastest time in the world this year. He'll be looking for a medal in Rio.
Clark Smith (4×200 Free Relay)
Clark Smith was another sixth place finisher, this time in the 200m freestyle in Omaha. After waiting out the meet, he was pleased to hear he would make the Rio relay.
Cody Miller (100 Breast, 4×100 Medley Relay)
After swimming in both the 2008 and 2012 Olympic trials, Miller is finally getting a chance to compete on the Olympic stage. Now he'll have to fight to stand on the podium.
Connor Jaeger (400 Free, 1500 Free)
After a sixth place finish in the 1500m freestyle in London, Jaeger is ready to make a several splashes in Rio. This time, he'd like to leave the Games with at least one medal.
Conor Dwyer (200 Free, 400 Free, 4×200 Free Relay)
A seasoned Olympic veteran, Dwyer will have two chances to medal at Rio. His medal count will be added to the gold he won in the 4x200m freestyle relay in London.
David Plummer (100 Back, 4×100 Medley Relay)
Plummer has been on the international stage for a decade, but the 30-year-old swims onto Olympic team during an American backstroke transition period. Neither of the London American backstroke medalists qualified for Brazil. Murphy and Plummer will try to continue the 100m backstroke legacy in Rio.
Gunnar Bentz (4×200 Free Relay)
A rising sophomore at the University of Georgia, Bentz is a versatile swimmer looking to make his first Olympic debut on the podium.
Jack Conger (4×200 Free Relay)
In 2012, Conger narrowly missed the team in two events. Four years later, he's ready to make his first Olympic Games count.
Jacob Pebley (200 Back)
A second-place finish behind his University of California teammate, Murphy, earned him a spot on the team. Now they'll share the experience as members of Team USA.
Jay Litherland (400 IM)
Litherland is Rio-bound after a second place Omaha finish in the 400 IM. He passed Ryan Lochte in the final 100 meters and put up the world's fourth-fastest time of the year.
Jimmy Feigen (4×100 Free Relay) 
Feigen won a silver medal as a member of the US 4×100m freestyle relay in London, now he looks to help win the Americans another medal in Rio.
Jordan Wilimovsky (1500 Freestyle, 10K Open Water Marathon)*
Wilimovsky is the first American to ever reach the Games in both pool swimming and open water swimming. Look for him to make a splash in the 1500m freestyle and the 10k open water marathon swim.
Josh Prenot (200 Breast)
Prenot is heading into Rio with some momentum. His 200m breaststroke swim broke Cordes' American record and earned the top time at trials. As Rio and his 23rd birthday approach, he could be set up for a great swimming present.
Kevin Cordes (100 Breast, 200 Breast, 4×100 Medley Relay)
After a near miss to the London games following a third-place U.S. trials, Cordes has redeemed himself by qualifying in both of the breaststrokes. His 100 and 200 semifinal times established new American records, but his 200 record was broken a day later by Josh Prenot.
Michael Phelps (100 Fly, 200 Fly, 200 IM, 4×100 Medley Relay)
Michael Phelps is the most decorated Olympian of all time, with a total of 22 Olympic medals. Rio will be his fifth Olympic Games and he looks forward to putting up some fast times before retiring from the sport.
Nathan Adrian (50 Free, 100 Free, 4×100 Free Relay, 4×100 Medley Relay) 
Adrian made his Olympic debut on a gold medal 4x100m freestyle relay in 2008. Four years later, he won his own gold in the 100m freestyle. Now he's looking towards victories in Brazil.
Ryan Held (4×100 Free Relay)
A third place finish secured Held's spot on the Olympic team, but also was a narrow miss at individual competition. Now he looks toward Rio to help the relay to a podium finish.
Ryan Lochte (4×200 Free Relay, 200 IM)
With 11 Olympic medals of his own, Lochte has some high expectations to meet. As he heads to Rio, eyes are on the 200 IM for the famous Phelps Lochte dual in the pool.
Ryan Murphy (100 Back, 200 Back, 4×100 Medley Relay)
As a teenager, Murphy just missed making the 2012 Games. At 21, he heads to Rio following two big backstroke wins.
Tom Shields (100 Fly, 200 Fly, 4×100 Medley Relay)
Shields finished second to Phelps in both of the butterfly events. His 200 time falls far from medal contention, but his 100 time is the fourth fastest in the world this year.
Townley Haas (200 Free, 4×200 Free Relay)
For a newbie, Haas has world-class perseverance. He was one spot away from Rio in the 400m freestyle, but it was his seventh place seed in the 200m freestyle that earned him an unexpected gold and Olympic berth.
To determine the 2016 US Olympic Team, USA Swimming chose the first place finishers in each individual event and the top four finishers in the 100m and 200m freestyle. Second place finishers in individual events excluding the 100m and 200m freestyle were then invited. Finally, the fifth and sixth place finishers in the 100m and 200m freestyle, who did not already meet the above criteria, were invited to fulfill the remaining relay positions.