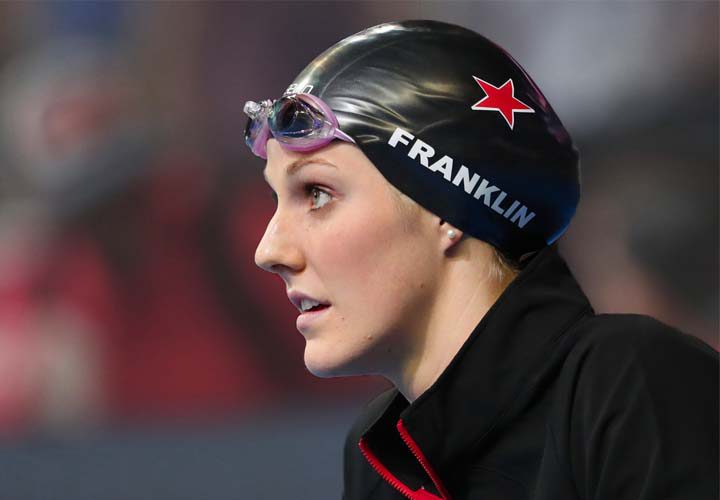 Photo Courtesy: Rob Schumacher-USA TODAY Sports
By Jason Tillotson, Swimming World College Intern. 
Swimming probably has the most high-level comebacks out of any sport and we all know very well the incredible comeback stories of Michael Phelps, Katie Hoff, Brendan Hansen and now Dana Vollmer, though few people may know or remember the lesser told tales of comebacks in swimming.
These three comeback stories are not necessarily the most successful, but they are interesting in the sense that the circumstances surrounding each of these swimmers' comebacks were full of challenges, setbacks and adversity. Despite their treacherous paths, each of these swimmers climbed back and tasted success.
Here's a closer look at some of the swimming world's most intriguing comeback stories.
Ian Thorpe
The most decorated Australian Olympian made a comeback to the sport in January of 2011, in hopes to make the 2012 Australian Olympic Team. Despite his unsuccessful comeback, Thorpe still posted impressive times in the 100 and 200 freestyles at the 2012 Aussie Olympic Trials. Thorpe was able to post sub-50 and sub-1:50 times in the 100-meter and 200-meter freestyle, which, with only 13 months of training and racing after six years of no training or racing, is rather impressive.
Despite Thorpe's solid times, he failed to qualify for the 2012 Olympic Games in London and, due to shoulder injuries, was forced to retire as the condition of the Thorpedo's shoulders began to worsen. Thorpe's comeback isn't necessarily remarkable due to his performance, but rather to how he turned his life around after his initial retirement in 2006.
Thorpe struggled with mental health issues which was met with longtime scrutiny and questioning of his sexuality. Thorpe admittedly struggled with alcohol abuse and financial problems which created an uphill battle for Thorpe as he entered his comeback years. This is what makes Thorpe's comeback so astounding, the fact that he was able bounce back from this low point in his life, speaks louder for the success of his comeback than his performance in the pool.
Davis Tarwater
Davis Tarwater was a mainstay on the U.S. National Team as a top-notch butterflier since the early 2000's. Tarwater was a multi-time Big-10 Conference Champion, NCAA Champion and an Olympic gold medalist. Despite his consistency on the international stage, Tarwater was notorious for just missing a spot on the U.S. Olympic Team in 2004 and 2008 by the hands of Michael Phelps.
Tarwater would see success the following year though, winning a gold medal in the 4×200-meter freestyle relay at the 2009 LC World Championships in Rome. Tarwater then retired and began studying at Oxford with no intensions of returning to the sport. In 2010, however, then SwimMAC Carolina head coach David Marsh, was contacted by Tarwater about a comeback. Tarwater began training with Marsh for the 2012 U.S. Olympic Team Trials, in hopes to make his first Olympic squad. Tarwater moved to Charlotte to train with Marsh, all while managing a 40-hour work week.
Tarwater would go on to place seventh in the 200 free, fifth in the 100 fly and fourth in the 200 fly, just missing a spot on the Olympic roster. What makes Tarwater's comeback so intriguing is his seemingly disappointing performance at the 2012 trials was met with somewhat of a gift from Phelps, who later decided to drop the 200 free from his schedule at the London games.
This moved Tarwater into a relay position in the 4×200 free relay.
Tarwater would go on to win a gold medal in the event at the London games, which capped off his successful career and comeback.
Missy Franklin
Placing Missy Franklin on this list was a difficult choice to make since her comeback is still in the works and, perhaps, still up in the air. What makes Franklin's comeback interesting is how dynamic it has been. Some may say Franklin never actually left the sport, but she did go through a long period of no training or racing
After a phenomenal age group and high school career, which led into her recording breaking summers in 2011 in Shanghai and 2012 in London. Those two meets solidified her as one of the greatest backstrokers in history, who still had her best years in front of her.
Franklin would go on to win multiple World Championship gold medals until the summer of 2014 where Franklin suffered a severe back injury, which, along with both of her shoulders, kept her from training for an admittedly unsuccessful performance in Rio, where she failed to medal in her signature backstroke events.
After a brief stint with the men's team at the University of California-Berkeley with head coach Dave Durden, Franklin had surgery on both her shoulders. Recently, Franklin has recovered from both surgeries and made the move to Athens, Georgia to train with legendary coach Jack Baurle. Franklin's comeback is still in progress and we likely won't see her race at peak levels for awhile, but she is a world record holder who clearly still has the spark for the sport.
All commentaries are the opinion of the author and do not necessarily reflect the views of Swimming World Magazine nor its staff.