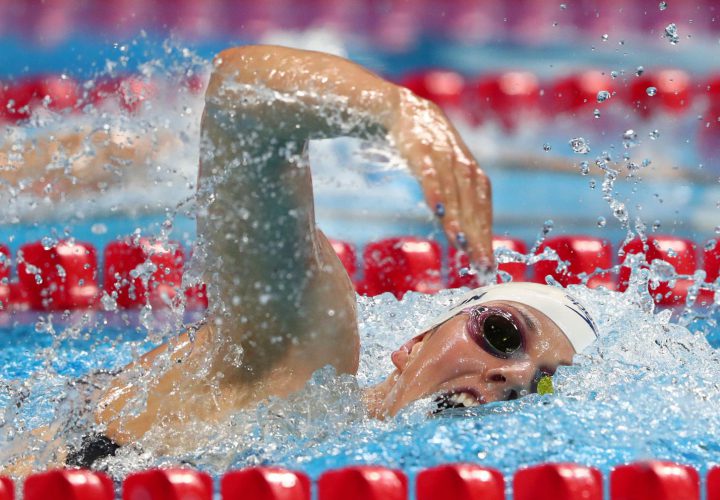 Photo Courtesy: Rob Schumacher-USA TODAY Sports

Editorial Coverage Sponsored By FINIS
By David Rieder.
The first two days of the Olympic Games passed without one of the stars of London four years ago even touching the competition pool. After failing to qualify to swim the 100 back or the 400 free relay at Olympic Trials in June, Missy Franklin had to wait until the prelims of the 200 free to get in the water.
Prelim times have been swift all week long, and Monday afternoon's brief session was no exception. Ten women broke 1:57 in the 200 free heats, almost catching Franklin by surprise
"I'm not used to waiting until day three to swim, so to get out there, it felt so good just to get in the water and race again," Franklin said.
"I was really happy with my time, honestly—that's the fastest I've been in prelims in awhile. Thing is, everyone else really brought it this morning, too. If anything, I think these past couple days we've seen how fast prelims is. Really going to have to bring my game for semifinals. It felt really controlled—maybe too much."
Franklin's had to dig deep at Trials, continually rebounding from disappointing efforts to qualify to swim both the 200 free and 200 back in Rio. Now, with the weight of expectations lifted a little bit, Franklin is focusing on swimming for her teammates and maintaining the youthful exuberance that carried her to four gold medals four years ago.
"I never really felt the pressure in 2012 either," Franklin said. "I was so naïve and wasn't really thinking about that and just having fun. And I've really tried to channel that this time around, too. Because that's why we do this—we're having fun. We get to do the sport that we have on the best and the most elite platform."
*Night one proved prolific for Australia, as Mack Horton edged out Sun Yang to win gold in the men's 400 free and the women came through for gold in the 400 free relay. But on night two, the Aussies won just one medal, a disappointing bronze in the men's 400 free relay.
Emma McKeon had been in good position to maybe finish top-three in the 100 fly, but she fell from the second seed to seventh place in the final, touching in 57.05. But McKeon feels the Australians have the right mentality in place to navigate that setback and pick up where things left off.
"As a team, we always try to treat every day as day one," McKeon said, "because day one, everyone is really excited, ready to go."
This afternoon, McKeon was back in the water for the 200 free, where she posted a 1:55.80 to finish second in her heat behind Katie Ledecky and post the No. 2 qualifying time for this evening.
McKeon knows that she will have a tough challenge to earn a medal in that one, with Ledecky, Sarah Sjostrom, Federica Pellegrini and others all in good form, but she won't let the disappointing result from the 100 fly bog her down.
"It's nice that I'm swimming two different strokes," she said. "The 200 free is getting faster all the time. It's a very tactical race, so it takes a lot of practice and a lot of expertise. I think the more people do it, the faster everyone's getting. I don't know how quick it's going to go, but I think it's getting very quick."
*It was a strange sight not seeing Laszlo Cseh competing in the 400 IM to start off the Olympic Games. After all, Cseh won bronze in the event in 2004 and silver in 2008, and he still ranks fourth all-time in the event.
Instead, Cseh did not make his Olympic debut until this afternoon, when he qualified second for the semifinals of the 200 fly after entering as the top seed in the event with his 1:52.91 from the European Championships this spring.
Defending gold medalist Chad le Clos scurried through the mixed zone without talking to reporters, and world record-holder Michael Phelps appeared drained after an emotional win in the 400 free relay last night, Cseh was oozing with confidence.
"I saw [le Clos and Phelps] swam very easy, but I swam easy too," Cseh said. "Maybe this is the first time [at an Olympics] I'm feeling that I'm totally ready to be my best."
*Through only one round of the women's 200 IM, there's some major separation in this field. Katinka Hosszu crushed the last heat to the tune of an Olympic record-time of 2:07.45. Next best was Siobhan-Marie O'Connor at 2:08.45, and then well back in third was an American who came in a bodylength behind O'Connor in their heat and clocked 2:09.62.
But no, it wasn't Maya DiRado—who ended up as the fourth seed for semis with a 2:10.24. This was Melanie Margalis, swimming in her first Olympics and finally, after knocking on the door for two years, under 2:10. Way under.
"I didn't realize that that was going to be on the board," Margalis said. "I was so happy. Biggest smile on my face. Feels so good to finally break 2:10."