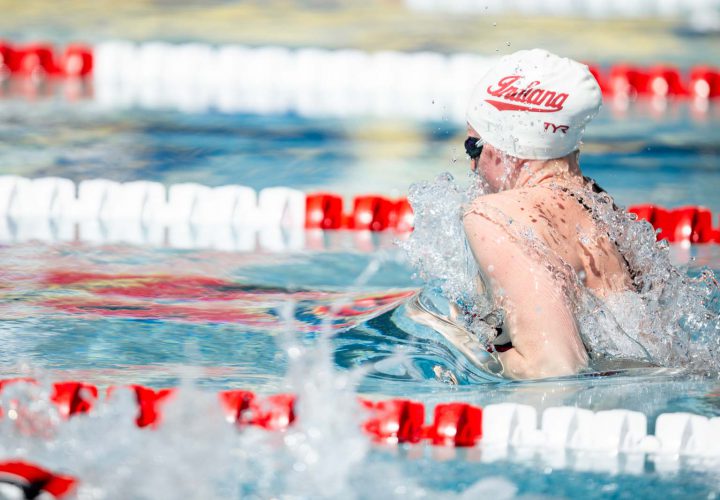 Photo Courtesy: Becca Wyant
Editorial content for the 2018 TYR Pro Swim Series Santa Clara is sponsored by SwimOutlet.com. Visit SwimOutlet.com for more information on our sponsor. For full Swimming World coverage, check out our event coverage page.
Lilly King, Melissa Rodriquez, Kim Williams, Kennedy Lohman, Annie Lazor,Graze Zhao, Jordyn Wentzel, Jordan Morgan and Danielle Della Torre competed in the women's 50 breast knockout on the final day of the TYR Pro Swim Series Santa Clara.
World record holder King wasted no time getting to the wall first during prelims, stopping the clock in 31.43. Rodriquez was second in 31.63 followed by Williams (32.38) and Lohman (32.42).
Lazor (32.44) Zhao (32.72), Wentzel (32.96), Morgan (33.10) and Della Torre (33.13) finished fifth through ninth.
King again came out on top during the semifinals, touching the wall in 30.66. Rodriquez finished second in 31.56 to secure her spot in the finals. Lohman was third in 32.15 and Williams was fourth in 32.24.
King dominated during finals, dropping over a second from semis to post a time of 29.62. That time ranks her first in the world this year and broke Molly Hannis' meet record of 29.71 set earlier this year. Rodriquez dropped additional time to finish second in 31.24.
Event 232  Women 50 LC Meter Breaststroke Knockout
==================================================================
        World: W 29.40  7/30/2017 Lilly King, USA
     American: A 29.40  7/30/2017 Lilly King, USA
     Pro Swim: M 29.71  2018      Molly Hannis
    Name                  Age Team                Semis     Finals        
==================================================================
                    === Championship Final ===                    
 
  1 King, Lilly            21 Indiana  Swim Te    30.66      29.62M 
         r:+0.65                       
  2 Rodriguez, Melissa     23 Mexico              31.56      31.24  
         r:+0.64                       
 
                       === Semi-Finals ===                        
 
  3 Lohman, Kennedy        20 Lakeside Swim Te    32.15             
         r:+0.67                       
  4 Williams, Kim          21 Stanford Swimmin    32.24             
         r:+0.76