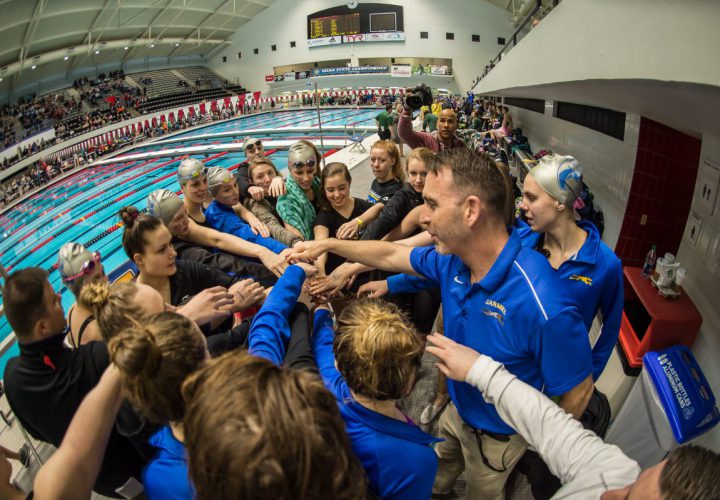 Photo Courtesy: Peter H. Bick
Agon is the proud sponsor of all high school coverage (recruiting, results, state championships, etc.) on SwimmingWorld.com. For more information about Agon, visit their website?AgonSwim.com.?National Records for High School Are Pending Application Verification.? Click Here to Learn More
Agon is the proud sponsor of all high school coverage (recruiting, results, state championships, etc.) on SwimmingWorld.com. For more information about Agon, visit their website AgonSwim.com.
In yesterday's prelims session of the 2018 Indiana girls high school swimming and diving state championships Emily Weiss lowered her own state record in the 100 breaststroke and Carmel earned four top seeds. Tonight, Weiss improved on that time to set a new National High School mark, the highlight of the session.
Carmel also out performed their prelims efforts, securing their 32nd straight title with 363 points. Northridge scored 215 points for second place. In a very tight finish, Hamilton Southeastern was third with 165 points and Franklin Community scored 163 points for fourth place.
Read the Meet Preview here.
Full results available here.
4x50 Medley Relay
The girls from Carmel took just over two seconds from their seed time to win the event in a 1:42.31. That team was Grace Pangburn (26.41), Grace Estabrook (29.57), Trude Rothrock (24.12), and Kelly Pash (22.21).
Franklin's Jessie Fraley (26.84), Kabria Chapman (28.48), Ali Terrell (25.29) and Gracey Payne (23.06) were second in 1:43.67, only .01 faster than Hamilton Southeastern's Abby Harter (26.03), Madison Kertin (29.87), Hannah Pugh (25.00), and Emily Barnes (22.78) in 1:43.68.
200 Freestyle
Pash went two for two on state titles, running away with the 200 free. The junior touched in 1:45.50, less than a half second shy of Claire Adams' state record. Northridge freshman Elsa Fretz finished second in 1:47.52 and third place went to Munster's Kay Foley in 1:48.09.
200 Individual Medley
Rothrock, a Carmel senior and Tennessee commit held off Yorktown junior and Indiana commit Emily Weiss 1:58.28 5o 1:58.50 to win the 200 IM. Rothrock led by over a second at the halfway point before Weiss chased her down on the breaststroke to take the lead by over a second. Rothrock powered home in a 27.74 for the state title.
Bloomington South senior Mackenzie Looze, who is also committed to Indiana, touched third in 2:01.40.
50 Freestyle
After Looze got third in the 200 IM her classmate and teammate Julia Wolf raced to the wall first in the 50 free, stopping the clock in 23.11. Evansville Reitz Memorial sophomore Elizabeth Broshears was second in 23.34 and Zionsville's senior Tessa Wrightson, a Purdue commit, finished third (23.50).
1 Meter Diving
The top three divers separated themselves from the competition. Northridge senior Sara Troyer scored 507.65 points to win the event. Hamilton Southeastern's Jackie Brenn scored 496.15 points for runner up honors. Third place went to Evie Geier with a score of 465.45 points.
100 Butterfly
Rothrock earned her second victory of the day, dropping a half second from her prelims time, touching in 53.12. Franklin junior Carla Gildersleeve was second with a 53.75. A second back in third was Broshears in 54.94, her second top three finish of the day.
100 Freestyle
Pash picked up her third gold meal of the afternoon when she touched the wall in 48.59, over a second ahead of second place finisher Fretz in 49.64. Pash finished two tenths shy of Amy Bilquist's state record, a 48.36. With Pash having a season left, and Fretz only a freshman, that record could be in jeopardy in the coming seasons.
Wolff added a 100 freestyle bronze with her time of 50.81.
500 Freestyle
After finishing third in the 200 free Foley earned a decisive win in the 500 free, touching in 4:49.87. That put her nearly three seconds ahead of the runner up, Mary Catherine Pruitt (4:52.56), a freshman from South Bend St. Joseph. Picking up third place honors was Fishers' Samantha Hietpas in 4:56.80.
4×50 Freestyle Relay
Northridge led the way through prelims and had just enough to hold on for the win in finals. Fretz (22.95), Kenzie Weber (24.39), Jenna Nethercutt (23.69), and Lauren Miller (23.05) touched in 1:34.07 for the state title. Carmel dropped four tenths from prelims but Pangburn (23.61), Colleen Duffy (23.92), Avery Williams (23.25), and Alyssa Conley's (23.50) 1:34.28 wasn't quite enough as the team finished second.
Carroll Fort Wayne was third in 1:35.35 with the team of Avery Brooks (24.04), Mya VanderHagen (24.03), Teagen Moon (23.80), and Mallory Jackson (23.48).
100 Backstroke
Wrightson was a hair slower than in prelims, but the Zionsville senior still had enough to win her final individual event- touching in 54.02. A pair of sophomores followed: Carroll Fort Wayne's Mallory Jackson (54.47) and Hamilton Southeastern's Harter (54.67).
100 Breaststroke
Weiss touched the wall in 58.40, four seconds ahead of the field and a tenth under the old National Public School mark in the 100 breaststroke. In November 2015 Lindsey Horejsi, of Albert Lea High School went a 58.56. Weiss also lowered her own Indiana state record, a 59.25 swum in prelims.
South Bend St. Joseph's Aislinn Walsh was runner up in 1:02.09 while Madison Blakesley of South Bend Riley finished third with her 1:03.02.
4×100 Freestyle Relay
Carmel put an exclamation point on the end of the meet, running away with the 400 freestyle relay. Rothrock (49.77), Pangburn (52.01), Ashlyn Underhill (51.27), and Pash (48.73) touched in 3:21.78. Northridge was second in 3:26.79 with Fretz (50.00), Weber (53.14), Sydnee Emerson (52.49), and Miller (51.16). Bloomington South finished third in 3:28.51 with the team of Wolf (50.93), Gillian Boggs (52.83), Phoebe Rensink (54.34), and Looze (50.41).