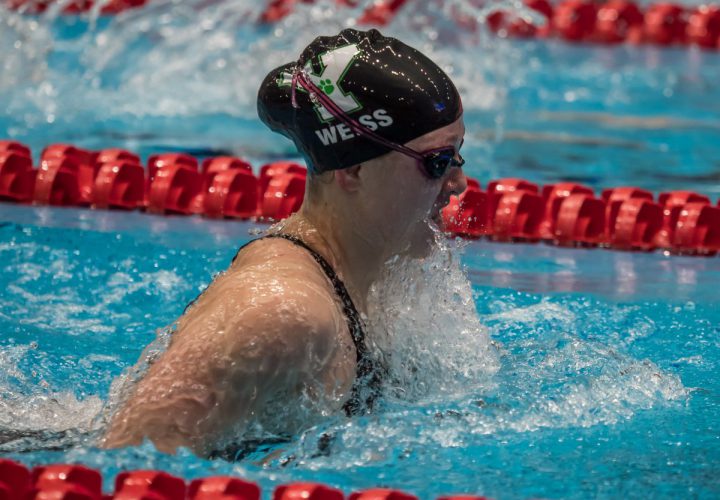 Photo Courtesy: Peter H. Bick
Agon is the proud sponsor of all high school coverage (recruiting, results, state championships, etc.) on SwimmingWorld.com. For more information about Agon, visit their website?AgonSwim.com.?National Records for High School Are Pending Application Verification.? Click Here to Learn More
Agon is the proud sponsor of all high school coverage (recruiting, results, state championships, etc.) on SwimmingWorld.com. For more information about Agon, visit their website AgonSwim.com.
At this afternoon's finals session of the 2018 Indiana High School girls swimming and diving state championships Emily Weiss, a junior at Yorktown High School, set a new National High School record in the 100 breaststroke. The Indiana University commit touched the wall in 58.40, four seconds ahead of the field and a tenth under the old National Public School mark.
In November 2015 Lindsey Horejsi, of Albert Lea High School went a 58.56. Horejsi is a sophomore at the University of Minnesota now.
Weiss also lowered her own Indiana state record, a 59.25 swum in prelims.
 Event 11  Girls 100 Yard Breaststroke
=========================================================================
 State Record: * 59.25  2018      Emily Weiss, Yorktown
               1:05.97  SCUT
    Name           Year School            Prelims     Finals       Points 
=========================================================================
                            === A - Final ===                            
 
  1 Emily Weiss      11 YORK                59.25      58.40*        20  
             27.54        58.40 (30.86)