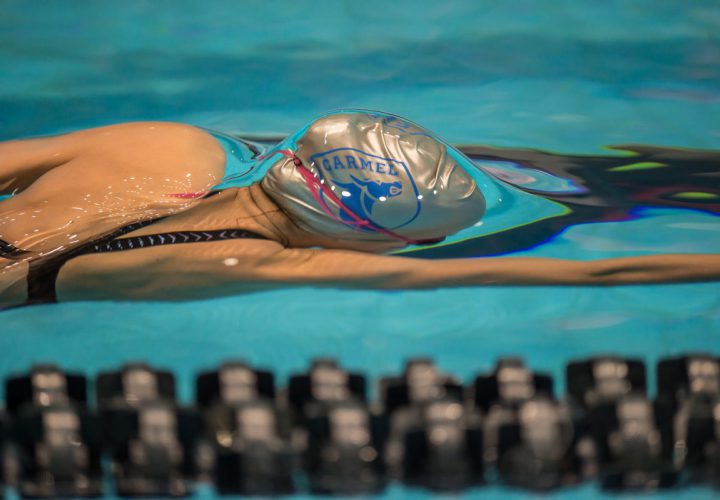 Photo Courtesy: Peter H. Bick
Agon is the proud sponsor of all high school coverage (recruiting, results, state championships, etc.) on SwimmingWorld.com. For more information about Agon, visit their website?AgonSwim.com.?National Records for High School Are Pending Application Verification.? Click Here to Learn More
Agon is the proud sponsor of all high school coverage (recruiting, results, state championships, etc.) on SwimmingWorld.com. For more information about Agon, visit their website AgonSwim.com.
Tonight the girls from Carmel high school began their chase for their 32nd straight Indiana High School swimming and diving state title. The team is not as dominant as in some years past, but did secure four top seeds.
Kelly Pash went a 1:45.65 to earn the 200 freestyle top spot for Carmel. Kay Foley (1:47.68) of Munster, and Northridge freshman Elsa Fretz (1:48.09) follow. Pash is well ahead in the 100 free after a 48.87 tonight. Fretz (50.10) took second in prelims. Foely posted a 4:48.02 in the 500 freestyle tonight.
The team from Franklin snagged the top spot in the 200 medley relay. Jessie Fraley, Kabria Chapman, Ali Terrell, and Gracey Payne posted a 1:43.69. Teams are lined up right behind them, though as Hamilton Southeastern's Abby Harter, Madison Kertin, Hannah Pugh, and Emily Barnes swam a 1:43.88.
York's Emily Weiss swam a 2:00.34 in the 200 IM tonight. Carmel senior Trude Rothrock (2:00.52) and Bloomington South's Mackenzie Looze (2:00.59) are tomorrow's second and third seeds. Rothrock is the top seed in the 100 butterfly in 53.62. She'll have Franklin junior Carla Gildersleeve (53.86) chasing her. Weiss' second top seed came in the 100 breaststroke with her 59.25. That time lowered her own state record, a 59.37 swum last year.
Looze's teammate Julia Wolf touched in 23.01 for the middle lane of tomorrow's 50 freestyle final.
The top seed in the 200 freestyle relay belongs to Northridge's Fretz, Kenzie Weber, Jenna Nethercutt, and Lauren Miller in 1:33.86. Carmel is second in 1:34.68.
Purdue commit and Zionsville senior Tessa Wrightson swam to a 54.00 for the middle lane of the 100 backstroke. She has Jaclyn Zlimczak (54.44) and Abby Harter (54.83) just behind.
Carmel's Kendra Bowen, Ashlyn Underhill, Hannah White, and Pash turned in a 3:25.04 for the top spot in the 400 freestyle relay. Northridge's Fretz, Weber, Syndee Emerson, and Miller are the second seed in 3:25.99.
Full results available here.
Read the Meet Preview here.