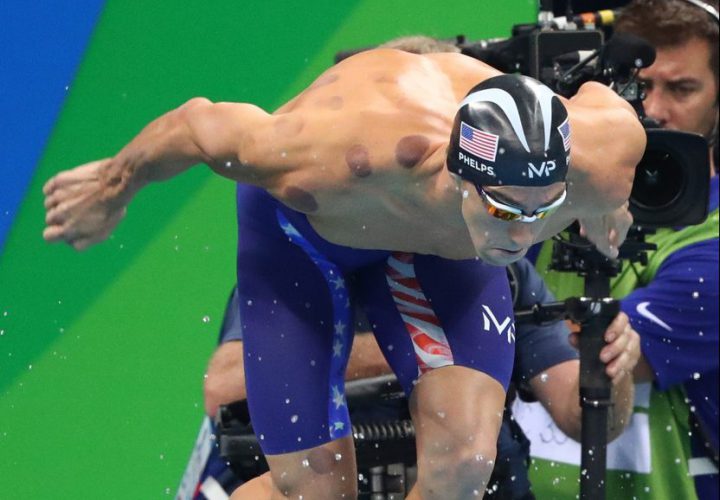 Photo Courtesy: Rob Schumacher-USA TODAY Sports

Editorial Coverage Sponsored By FINIS
Late Sunday night Michael Phelps emerged from the ready room for the finals of the men's 4×100 freestyle relay. The Greatest of All Time was bundled in a navy jacket before diving in for his debut at his fifth Olympic Games.
As Nathan Adrian barreled home to help Phelps secure his 19th Olympic Gold, all eyes were not on the anchor, but on the purple spots on Phelps' shoulders as he leaned over the block, cheering his teammate to the wall.
As the world wondered "What are those dots?" Swimming World provided the answers.
"Cupping Therapy: Demystifying the Circular Bruises" was published in January 2015 and explained the phenomena.
De-compressive in nature, the way cupping therapy works is that it "employs suction to tug on the tightest muscles, stretching the fascia. The vacuum lifts the skin off the muscle or bone, allowing the blood vessels to expand and more blood to flow to the targeted area."
The increased blood flow to the targeted area is believed to help the body recover faster.
After his prelims race in the men's 200 fly—Phelps earned the fifth seed for the semifinals—the first question asked to Phelps involved cupping, which Phelps explained was a part of his pre-meet routine.
"I've done it for awhile. I haven't had bad ones for awhile," Phelps said.
He added that he typically does it on his right shoulder because "that's where it hurts the most."