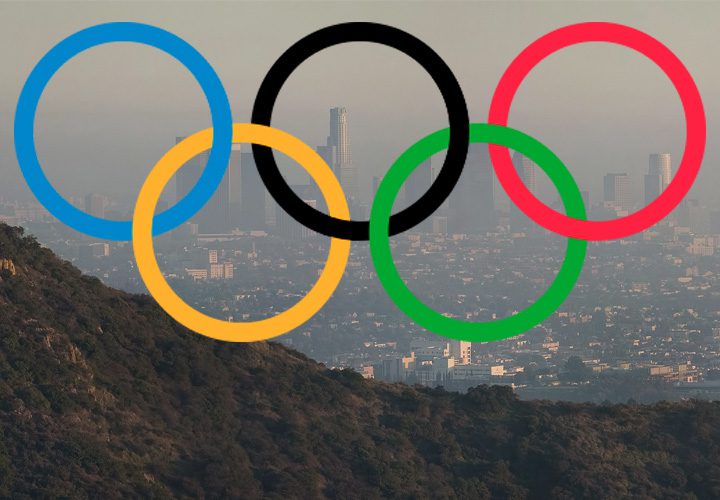 By David Rieder.
Los Angeles mayor Eric Garcetti stood on stage in front of the full International Olympic Committee in Lima on Wednesday as the last man speaking in support of Los Angeles' bid to host the 2028 Olympics.
At that point, it was already a foregone conclusion that LA would receive the 2028 Games after deferring to Paris in the running to host the Games in 2024. Garcetti smiled widely as he awaited confirmation that his city would soon be a "candidate city" no longer.
"The people of Los Angeles, we don't perceive the 2028 Games as 11 years in the future—we know that our Games start today," Garcetti said.
The mayor was referring to the preparations required for a city to pull off a successful Olympics—in a sustainable manner and within the budget, the LA 2028 organizing committee has promised.
Well in swimming—in any sport, for that matter—the LA Olympics don't start today, and they don't start anytime soon. Because for all the positivity trending throughout U.S. Olympic circles, these Games are still 11 years away, and think how much changes in sport in that amount of time.
For instance, think back—why not—11 years. The big meet for U.S. swimmers that summer was the Pan Pacific Championships in Victoria, Canada. Elizabeth Beisel, then 13 years old, swam at that meet after finishing second at U.S. Nationals in the 200 back.
11 years later, she was the only one of about 50 swimmers on that Pan Pacs roster who was still competing for the U.S. at the World Championships—which was almost certainly the last major meet of her career.
There's plenty of young talent on the current American team, including young stars like 20-year-old Katie Ledecky, 22-year-old Ryan Murphy, 20-year-old Lilly King and 21-year-old Caeleb Dressel. After the IOC announced that LA would officially be hosting the Olympics in 2028, Ledecky tweeted that she was "excited for millions of Americans and people throughout the world to be inspired."
But will she or Murphy or King or Dressel still be competing by then? All will be at least 31 by the time the LA Games come around. Sure, it's possible that they stick around that long—the prospect of a home Olympic Games will for sure be attractive—but there are no guarantees.
Consider this: for a swimmer (or, again, any athlete from any sport) to stay at the top from the previous Olympics in 2016 until the Games in 2028, that would require making four Olympic teams. On the Rio team last year, exactly two American swimmers were at least four-time Olympians: Michael Phelps and Ryan Lochte.
Even making three Olympic teams is a monumental effort. In 2016, the American team had just five on the squad who had also swum in Beijing in 2008 and London in 2012: Phelps, Lochte, Beisel, Nathan Adrian and Allison Schmitt. Anthony Ervin and Amanda Weir were also three-time Olympians, but both missed at least one Games in between.
Fans don't appreciate just how tough it is to go through the grind of elite-level swimming year after year after year. Adrian may have won only one individual gold at an Olympics or World Championships in his career, but his longevity alone makes him one of the all-time great sprinters in the world.
People change in four years, and people certainly change in 11 years. That's life—they grow up, and their interests change. If those interests don't include swimming, that's understandable, even if someone has just spent years as one of the best in the world.
Remember how Maya DiRado walked away from the sport after winning four Olympic medals, two of them gold in Rio? She wanted to pursue other interests, even if she physically might have been able to keep swimming for a while longer. But if her heart was not in it, why keep going?
Jack Bauerle, the head coach at the University of Georgia and head coach of the 2008 U.S. Olympic women's team, explained recently how he handles swimmers who are contemplating continuing on with their careers or moving on in life.
"I never push them because all of them have too many other things they can do," Bauerle said. "My biggest thing with them is, 'If you feel and are willing to do what you want to go faster and if you feel like you can, then you continue. If there's one part of you that's satiated, then you stop.'"
So many swimmers go year-to-year, so it's not worth projecting who might still be on top of their physical or mental game in 11 years.
At the recent World Junior Championships, U.S. men's head coach Bruce Gemmell explained that the success of that meet will be determined by whether the members of the U.S. team go on to make an impact at future Olympic Games in 2020 and 2024.
"Success can't be measured until three years down the road. We have some other meet coming up then," Gemmell said. "Seven years down the road, we have some other meet coming up then."
But 11 years? It's impossible to project that far. Even Regan Smith, the 15-year-old backstroke stud who made her way onto the senior-level World Championships team this summer, would be 26 come 2028.
If Los Angeles had ended up hosting the 2024 Olympics—the Games the city originally bid for—swimmers currently competing would likely talk about extending their careers through that year. But 2028 is a whole other story. No Olympic host has ever been determined so far in advance.
At the end of his speech to the IOC board in Lima, Garcetti stated, "We can't wait to welcome you back to LA."
So who exactly will the city be welcoming in 2028? In swimming, it may turn out to include some people you haven't heard of yet.
All commentaries are the opinion of the author and do not necessarily reflect the views of Swimming World Magazine nor its staff.