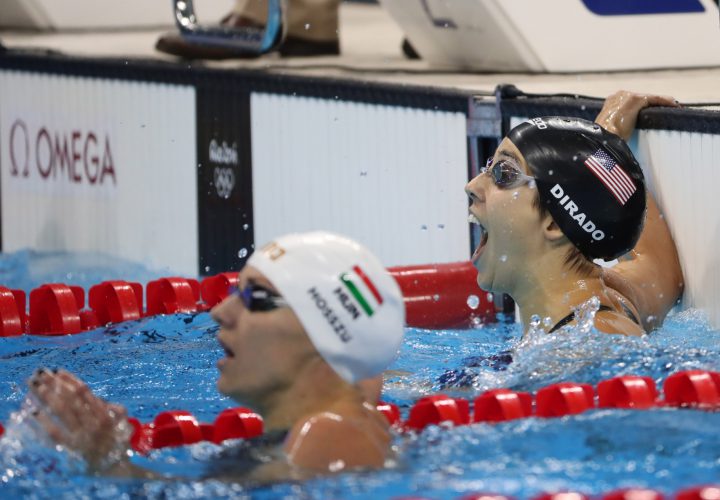 Photo Courtesy: Erich Schlegel-USA TODAY Sports

Editorial Coverage Sponsored By FINIS
By Annie Grevers, Swimming World Staff Writer
Many have pleaded for 23-year-old Maya DiRado to stay in the sport, but today the 4-time Olympic medalist wakes up a retired swimmer.
"They've already let me defer for long enough and I think to go out with a high will be the perfect way to end my swimming career," DiRado said about McKinsey, the worldwide management consulting firm she will start working for this fall.
Yes, DiRado certainly is going out on top. If you were to dream up a scenario for how DiRado's first Olympic Games would go one week ago, it couldn't possibly capture what the 2016 Rio Games has been for the Stanford grad.
On day one of the Rio Games, DiRado finished second in the 400 IM behind Hungarian Katinka Hosszu, who crushed the world record. Task one accomplished. Olympic silver medal pocketed.
On day four, DiRado raced to a bronze medal in the 200 IM, again finishing behind Hosszu (who set a new Olympic record) and Great Britain's Siobhan-Marie O'Connor. Tick box number two.
On day five, we saw DiRado pop up in an unexpected place. She was to swim the third leg on Team USA's 4×200 free relay. I for one had never seen DiRado swim a 200 freestyle, but the Olympic rookie had already shown she was on fire at these Games. The coaches decided to let that burn in a place of crucial importance.
DiRado followed Leah Smith in the relay and entered the water nearly even with Aussie freestyler Bronte Barratt, who had taken fifth in the 200 free final. DiRado swam a respectable 1:56.39, allowing a nine tenths of a second edge for the Aussies, but Team USA and American fans weren't nervous. Katie Ledecky made up that margin in her first 70 meters. It was another gold for Team USA, another gold for Ledecky the Lionheart, and an unexpected gold for dynamic DiRado.
On day seven, DiRado faced the final race of her career. She had just witnessed a stunning victory by her Stanford teammate Simone Manuel the night before. There seemed to be some fairy dust sprinkled around Team USA.
"It's been a lot of tears from the past days," DiRado said. "We erupted sobbing when Simone touched the wall last night and won. That was so inspirational for so many reasons. I had to use the emotions of it being my last day as a boost. Not that you really need any boosting in an Olympic final."
DiRado walked out for the 200 back final looking collected and prepared. With the ink of her recent accomplishments still drying, DiRado had every reason to believe she could win an individual gold. But yet again, the Hungarian heavyweight Hosszu would be a daunting opponent. Their styles couldn't be more different. Hosszu begins her race with an insanely high tempo and is, unbelievably, able to hold it. DiRado starts with a longer stroke and builds her legs and arms with each length.
At the 150, the rivals turned even, but Hosszu blew DiRado away with a strong underwater. Most onlookers thought the race was over. We don't see Hosszu die…ever. But DiRado fought. With 25 meters to go, DiRado was reeling her opponent in. Hosszu took note and brought her kick into overdrive. It came down to the final charge.
"I didn't know who was gonna get their hand on there first but I was just thrashing my body as hard as I could," DiRado said. "I just tried to throw my body back to the wall. I actually found my nail popped out – I broke my nail on the finish, I hit the wall so hard. That's all you can do, I guess."
DiRado– 2:05.99. Hosszu– 2:06.05.
"That was the most I've ever wanted to win something and beat the person next to me," DiRado said.
The morning before the rollercoaster final Leah Smith, Kathleen Baker and Ledecky had joked with DiRado about how she should celebrate when she wins gold in the final. "For them to believe in me, for Greg [Meehan] to believe in me and my teammates to express that…" DiRado reflected, overwhelmed from the support she felt. "To push off at the 150 and dig and dig and hear the crowd getting louder, knowing that something special could be coming. I hit the wall, and the emotions came out."
Every spectator cheering for DiRado did some form of ridiculous body contorting to "assist" in getting DiRado's hand to the wall first. Not since Jason Lezak pulled off the relay miracle of 2008 have I jumped on my couch, but DiRado's golden lunge for the wall brought me to childish jumps and all-over goosebumps.
A week of emotions kept under wraps for performance purposes poured forth. DiRado's mouth gaped, then she covered it, then she laughed with her head tilted back, soaking up every sweet victorious second in the Olympic pool. She was in disbelief. How could her Olympic debut and swimming finale have gone any better?
An emotional DiRado prepared to stand atop the podium for the first time in an individual event.
"I walked out there and saw my family and immediately started tearing up and they started laughing at me," DiRado said. "That's the first time I have seen them, touched them, since probably four weeks ago. That was one of the most amazing feelings of my life."
It was a long Olympic deployment away from her husband, Rob Andrews, a former Stanford swimmer. The hug they shared was captured on live television and the emotions seeped through the screen.
DiRado dropped over two seconds in the last year in the 200 backstroke. She attributes her drastic progress to a lot of hard work, the confidence that comes with that, and a hint of Team USA magic.
"…you just start going through the meet and watching the team perform and then it becomes a little bit of magic at that point."
This snowballing sense of team confidence is conspicuous among the American swimmers. Team Canada seems to be experiencing the same sense of heightened self belief. When the cohorts you've trained alongside for the past months are doing the unthinkable, there's an immediate desire ignited to match their efforts and maintain the electric team energy. DiRado undoubtedly fed off her teammates' jaw-dropping swims, contributing a fair share of magic to the team's confidence cauldron.
"It's more than a dream come true and beyond what I ever hoped for," DiRado said. "I just wanted to medal in three of my events, and then I got put on a relay and that was the biggest honor of my life. And now to get that (the 200 back gold), I just don't even know what's happening right now."
But we know, Maya. What you're tasting is what happens when the recipe is just right– hard work, discipline and confidence with a pinch of Team USA Olympic magic.