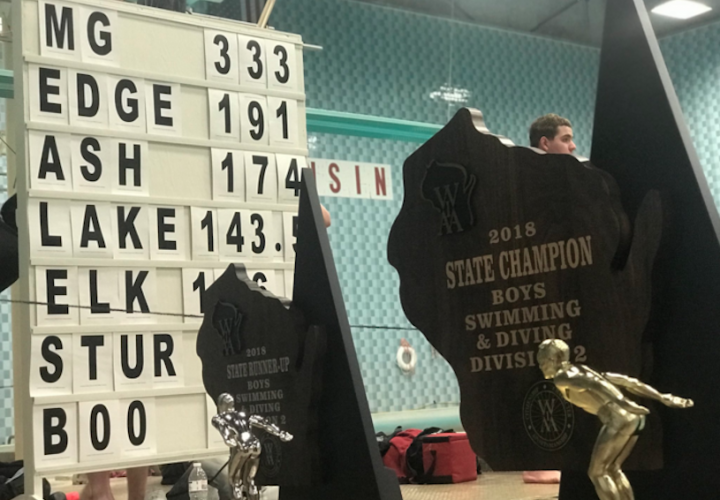 Photo Courtesy: WIAA Tournaments (@wiaawistate)
Agon is the proud sponsor of all high school coverage (recruiting, results, state championships, etc.) on SwimmingWorld.com. For more information about Agon, visit their website?AgonSwim.com.?National Records for High School Are Pending Application Verification.? Click Here to Learn More
Agon is the proud sponsor of all high school coverage (recruiting, results, state championships, etc.) on SwimmingWorld.com. For more information about Agon, visit their website AgonSwim.com.
Max McHugh provided the highlight of the 2018 Wisconsin High School Division 2 State Championship. The Minnesota commit won the 100 breaststroke in a new National High School Record time.
The senior at Sturgeon Bay Co-op raced to a 51.62 to win the event. His sophomore teammate Aune Brock touched second in 58.67. McHugh also won the 50 freestyle in a new state record time of 20.34.
Monona Grove, the state champions, won the 200 medley relay. The team of Eric Storms, Josh Douberly, Bronz Geissler, and Shane Sackett touched in 1:34.85 for gold. The team's Ben McDade raced away from the 200 freestyle field, stopping the clock in 1:40.32. McDade was also dominant in the 500 freestyle with his 4:32.54.
Ben Hayes, a senior at Brown Deer/Univ. School of Milwaukee won the 200 IM with a 1:50.28. He also won the 100 butterfly, just out touching Storms as they finished in 49.62 and 49.65, respectively.
In the 200 freestyle relay Monona Grove was on top again. Sackett, Geissler, Jacob Lippiatt, and McDade combined for a 1:26.53. Senior Storms earned himself an individual title, topping the 100 backstroke with a 50.18.
The 400 freestyle relay made it a sweep for Monona Grove. Storms, Douberly, Lippiatt, and McDade dominated with a 3:09.80, six seconds ahead of second place.
McDade set a state record, for earning 15 total state swimming titles during his high school career, coming up just shy of a perfect 16.
Overall Monona Grove scored 333 points to win their fourth consecutive team title. Edgewood totaled 191 and Ashwaubenon scored 174 points.