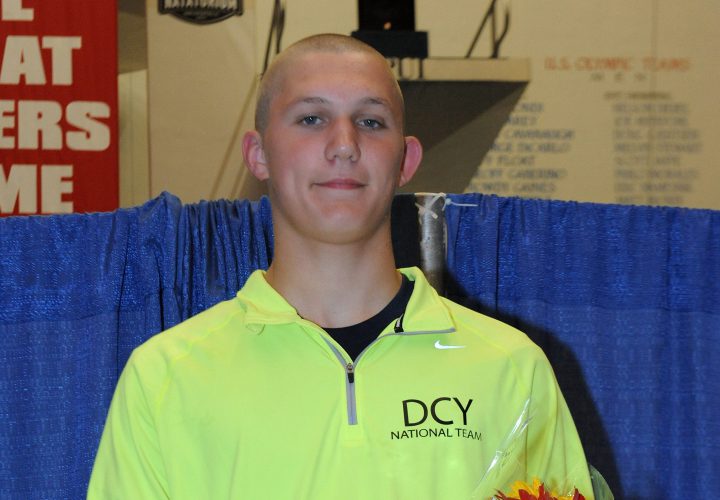 Photo Courtesy: Mike Comer/ProSwimVisuals.com
Agon is the proud sponsor of all high school coverage (recruiting, results, state championships, etc.) on SwimmingWorld.com. For more information about Agon, visit their website AgonSwim.com.
To report a college commitment, email HS@swimmingworld.com. Join Swimming World's Watch List
Door County YMCA's Max McHugh has given his verbal commitment to the University of Minnesota, according to CollegeSwimming.com. He'll follow his brother Conner, who was a junior for the Golden Gophers this year.
McHugh's best times are:
50 Breast 24.58
100 Breast 52.46
200 Breast 1:55.38
200 IM 1:49.41
His 100 and 200 breaststroke best times were both swum in March. McHugh has chopped six tenths off his 100 breaststroke best since 2016. He's also taken nearly three seconds from his 200 IM best time in the past year as well.
Though short of his own National Records, McHugh won the 200 breaststroke and 100 breaststroke at YMCA Nationals in April.
McHugh would have been a 200 breaststroke A finalist at the 2017 Big Ten Championships. The Golden Gophers had three swimmers in that A final this year: Conner, and seniors Jakub Maly and John Bushman. In the 100, McHugh would have finished fourth this year at the Conference level, only .02 behind his older brother.
At this year's NCAA Championships, McHugh would have finished just .05 shy of a finals swim in the 100 breaststroke. Max will arrive in Minneapolis just after his brother's graduation. He's a likely replacement for his older brother on the team's medley relay. This year Minnesota's 400 medley relay finished 20th at NCAAs while the 200 medley relay touched 19th.
To report a college commitment email HS@swimmingworld.com.