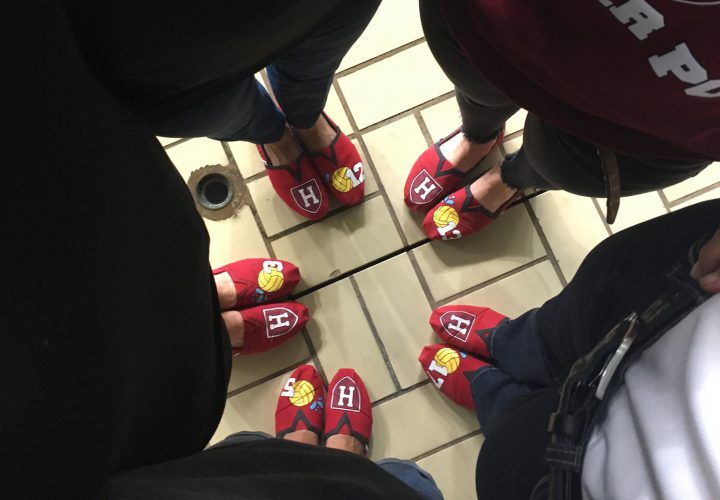 Dedication! Harvard water polo moms w/their hand-painted Toms. Photo Courtesy: M. Randazzo
By Michael Randazzo, Swimming World Contributor
Now in its 20th year, the Princeton Invitational men's water polo tournament presents the ideal early season test for identifying East Coast championship contenders—and pretenders—alike. Fourteen teams from all over the country gathered at the DeNunzio Pool last weekend to play a total of 25 matches. It was a veritable smorgasborg of polo, with East versus West a prevailing theme.
As expected, the West came out ahead, winning 8 of 13 matches between the two coasts, but the gap wasn't as great as in years past. First, there was only one top four team, UCLA, at the tournament. Last year the top ranked Bruins and Cal—which went on to win the 2016 NCAA title—led the West to wins in 16 of 23 matches. Despite being the nation's #4 team, Adam Wright's squad is simply not as strong as in years past.
The Bruins (7-0) easily went undefeated in games against Brown, George Washington, Johns Hopkins and St. Francis, but found the going much more difficult on Sunday in a nationally televised game against previously undefeated Princeton. The Tigers stayed within three scores until late in the fourth period on the strength of six goals by senior Jordan Colina—tying a career high—before UCLA pulled out a 14-8 win. In a positive sign for a squad fielding ten freshmen, first-year players Nicolas Saveljic and Chasen Travisano each tallied four goals for the visitors, including two by Saveljic in the waning minutes that padded the final score.
Despite the loss, #12 Princeton (7-1) emerged from its own tournament as the East's best team, as the Tigers' top contenders were shown to have deficiencies. #11 Harvard (5-2) went 3-0 on the weekend but need to put up ten second half goals to pull away from unranked Chapman. The Crimson also had to dig deep for a 10-9 nail-biting win over a struggling Bucknell squad.(1-6).
#14 Brown (6-4) went 3-1 over the weekend—the one loss coming at the hands of UCLA by an 18-2 score—and eeked out a 6-5 win against unranked Fordham (4-3). And, in a measure how far Chris Radmonovich's team has come since their first-ever match last year—a 14-5 loss to the Bears—the Wagner Seahawks (3-4) were within three goals entering the fourth period before succumbing 15-9 to Felix Mercado's squad.
# 16 St. Francis Brooklyn (2-5) went 2-1; a 12-3 loss to UCLA dropped new Terrier coach Bora Dimitrov to 0-5 before his squad gutted out a 7-6 win over Bucknell in a match distinguished by some curious calls by the referees. In a decisive 13-7 win over the U.S. Naval Academy (5-5), St. Francis demonstrated the offensive firepower that might push Princeton for the top spot in the Northeast Water Polo Conference. The Terriers and Tigers will meet in Brooklyn on October 11.
Before that contest, Princeton will travel out West as the only representative of it's coast at the Mountain Pacific Sports Federation (MPSF) Invitational. Taking place on September 22-24 in Los Angeles at USC and LMU's pools, the Tigers will have an opportunity to make a statement against the country's best on their home turf, starting with a Friday afternoon match against #6 Long Beach State. It may be symbolic that they are alone in facing the best of the West—or it may be a testament to the reality that in a season of parity, Princeton simply appears better than its Eastern rivals.