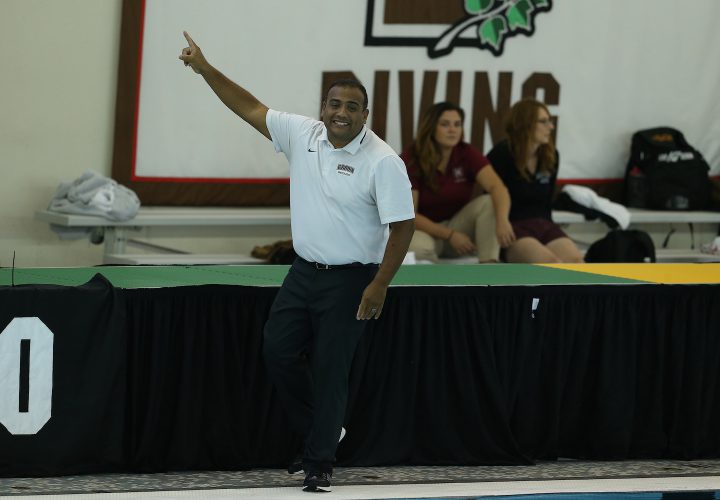 Felix Mercado, Brown Men's and Women's Water Polo Coach. Photo Courtesy: Brown Athletics
By Michael Randazzo, Swimming World Contributor
Embarking on his 11th season at Brown, where he coaches both the men's and women's water polo teams, Felix Mercado has a lot to be thankful for. Since arriving in Providence, the Florida native has transformed a one-time doormat into one of the East's most consistent winners.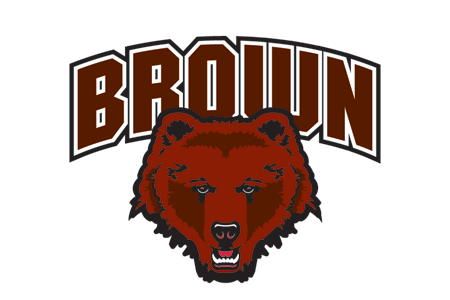 Selected by his peers as the inaugural honoree of Coach of the Year for the new Northeast Water Polo Conference (NWPC), Mercado has an impressive body of work accomplished at one of the country's premier academic institutions. His coaching resume includes the biggest prize in the East: a berth in the NCAA Men's Water Polo Tournament, which his Brown squad captured in 2014 with a 7-6 decision over Ivy rival Princeton, ending a 24-year drought.
He's coached his share of All-Americans, including Henry Fox, Kent Holland, Will Klein and Svetozar Stefanovic. Mercado has also absorbed disappointment, including a loss to Princeton in the first round of the 2012 Men's Collegiate Water Polo Association Championship that derailed what promised to be one of the greatest season in Bears' history.
On the eve of the Bruno Classic, Brown's expanding tournament that has become the signature event on the opening weekend for East Coast men's water polo, Mercado spoke to Swimming World about his tenure as a coach at one of America's greatest academic institutions, Harvard's historic run to the 2016 NCAA Final Four, expectations for the Bears given the loss of five starters from last year's regular season NWPC champs and how the CWPA split has made the multiple NCAA berths that much more accessible to Eastern schools.
After more than a decade at Brown, does it surprise you that your coaching career has played out at an institution renown for it's academics?
I couldn't be at a better educational institution that represents the type of person I am. That's the best part of coaching at Brown, a school that if I was smart enough I probably would have wanted to attend.
The school's social reputation is a lot like the person I am. That makes my job easier because translating to recruits the Brown experience is truly what I believe in. Without a doubt this is my dream job.
How important was being awarded the first Coach of the Year award in NWPC history?
First and foremost, the fact that your peers feel you're worthy of such an accomplishment is an honor because our conference has some pretty damn good coaches that do a great job. Without a doubt I'd trade a million coach of the year awards for a conference championship… and we were so close last year.
After the season was over I sat back and realized that we had a great season and we pretty much did great things. The fact that your peers felt like you deserved it makes it even more special.
Harvard beat Brown 11-7 in the NWPC title match, then went on an incredible run. 2016 truly seemed to be the Crimson's year.
The crazy thing is I saw that team grow. That senior crop especially—before they arrived we never lost to Harvard. The moment that class arrived as freshmen is when we started trading wins.
They had a great run—when you beat Princeton at Princeton…it was magical to watch the job that Teddy did. A lot of the guys on that team I recruited and respect tremendously.
Moving forward, when a team gets hot it's almost like the NCAA basketball tournament: anything can happen. It was almost better that they handled us the way that they did than with us losing a heartbreaker because it was able to give me an opportunity to really sit back and be like: "Man those guys had a great run. What a great team."
I'm a fan of the East Coast first and foremost, so I wanted them to beat UC Davis—there's no question that inspires me as a coach. You don't need to be the hands-on favorite every year to win it. You just have to peak at the right time. You can be the best team going into the championship and can fall short because of a bad quarter or one of your players got three kick-outs.
It's how your team responds to that type of adversity—and Harvard showed it.
I hated losing, but I respect Teddy and the job he's done there.
How did an expended Bruno Classic with Harvard come about?
The level of interest of teams that wanted to play—I couldn't turn anyone away. There's no way I could have fit all these games in at Brown without making it really difficult for our pool staff and the officials.
Harvard and MIT were happy to accept some of these games because they didn't have to travel down to us.
This is not going to happen every year but it's something we will consider depending on how many teams are interested, but Harvard is a great host and it made scheduling a lot easier.
You're playing McKendree in their first ever match as an NCAA varsity program. Any advice that you might offer Ryan Hall, their head coach?
The crazy thing is we were Wagner's first official game last year! We wanted to be McKendree's first game this year. I'm honored that we can inaugurate them into their first varsity season. I'm very excited about that.
I'd say: have a plan and stick to it. And Wagner showed it. We played them twice last year. The progress they made in two weeks was crazy. I wish we could play McKendree later in the season to see how they've improved.
My goal is to get Austin College out here next year.
What is it about Brown, Harvard and Princeton that you are able to attract great talent from all over the world?
There's no question it's not just us. All water polo in the East has gotten better; athletes are starting to make the decision [that] they want to play and they want to get a great education.
Whether it's the three Ivies, whether it's Bucknell or Johns Hopkins—or even the New York schools—the East Coast is just getting better players all around. Obviously the Ivies have won the last three years, though Bucknell did win their conference championship last year and went to NCAAs.
Give credit to the coaches and the coaching staffs. The coaching in both conferences is impressive and I think that has a lot to do with our success.
You have a reputation of attracting local talent. Do you think the caliber of players being developed in the East has improved?
There's a lot better athletes that are maybe moving away from swimming or wanting to do more water polo on the East Coast because usually swimming is the one that takes those great aquatic athletes.
Greenwich [Aquatics] has done a good job, Chelsea Piers has done a good job, the programs in Pennsylvania have done a good job, the Kingfish, and all those others, the Naval Aquatics programs, they've all done a good job of developing athletes.
The one thing they lack is the number of games under their belts, but sometimes that's a plus—sometimes that means that they have more potential or they have yet to peak.
What does the new season look like for Brown? You've lost some talent but I suspect this is not a rebuilding year for the Bears.
We lost five starters and those players were part of a great run. The last three years we've been the number one seed going into the championships, and we won a championship with that group.
I'm hoping that our young guys are ready to step up. It's obvious to everyone that we lost five starters and one of them was the goalie, which is such an important position, and everyone is just going to sit back and watch us and see how everything plays out. But if there's one thing I don't think we've done in a while is play with no pressure. I think everyone will be curious how we react to that.
What makes coaching fun is facing different challenges. Our goal this year is no different from last year, we want to win a championship just like everyone else. We have a shot because we do have good players on our roster. If anything, we might not have the best two or three players in the pool but we hope that our four, five, six, seven, eight, nine guys down the line are going to be as good or better than everyone else's.
Our approach the next two weekends at the two big tournaments is we're playing ten games in two weeks, we are playing six games at our home tournament. That's a lot of games, but it's an opportunity for every one of these guys to get a chance to play. If we go 0 and 6 or 6 and 0 it's not going to change our mindset. What we're trying to do is win in November.
A hallmark of any successful program is the elusive "winning mentality." Given the influx of new players, do you need to rebuild this attitude or is this an inherent part of the Brown culture?
The fact that our guys, even the guys that didn't play last year, saw it happen, I think it's something that they expect. They expect to compete. I don't think they're intimidated by anything. If we're going to get beat it's because the other team was better than we were, not because we didn't show up or gave up.
But yeah, the winning mentality, I think it's a culture thing. It's something that you have to establish, but you hopefully don't have to repeat every year and don't have to tell them to do it, that they know and they walk onto this pool deck knowing what they represent. Someone is always going to be there to remind them of their wins and losses that could have gone either way to keep us prepared for anything.
As you retool for a new season, do you see that a quicker, counter-attacking style of play will be part of the Brown repertoire?
I'd say so but I think that we're balanced. Hudson Rawlings isn't your typical center—he's 6-0. But we do have Travis Bouscaren who's 6-8. Rico Burke, our center defender, is 6-5. Jack Wilson is a 6-5 center defender. So we do have some size.
More than anything else it comes down to effort. Obviously it would be a detriment to our team if everybody out there was under 6 feet tall, but you can afford to have smaller guys out there if they can make up for any mismatches that teams might try to exploit. You can be a 6-5 player who's a horrible center defender. Or you can be a 5-10 athlete who's an excellent center defender. It just comes [down] to the mindset of the athlete. I've seen some big guys play small. And I've seen some small guys play big.
I question looking at height as the first barometer of what can be successful, I think you play the best players.
Before breaking into the NWPC and the MAWPC, the CWPA Championship was a fantastic festival of all the teams from the East. Now it's two relatively small tournaments that lack the suspense of what was known as the Easterns. Do you miss this?
I'll say this: comparing Easterns, the way it was before, to the championships now, is almost like comparing an NCAA championship environment to a conference championship.
The biggest issue for me, and it's become apparent now that we've gone through this year, is that teams would show up at Easterns having no idea about how another team plays.
When we lost to Johns Hopkins two years ago, we faced a team that we played in January. We didn't have a chance to see them. Watching film is great [but] there's nothing better than facing each other.
Winning an Easterns championship the way it was in years' past was more difficult than it is now. Now you're going in knowing your opponent. We're playing Princeton and Harvard twice. We've always played St. Francis twice. If you like the NCAA tournament as your championship, then Easterns was that. But two teams that have never seen each other playing in a championship game… even when we beat Princeton [in 2014] it was the only time we played them that year.
While now, losing to Harvard, we saw them two previous times and we knew exactly what they were doing. For me, that's more of what a conference championship should be.