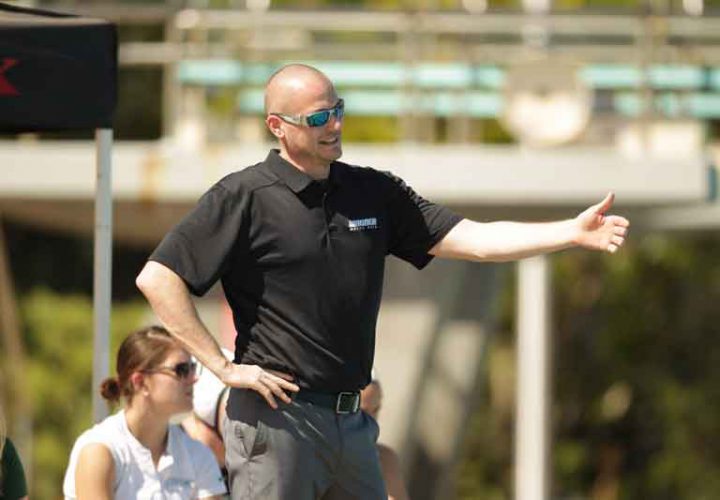 Chris Radmonovich. Photo Courtesy: Wagner Athletics
By Michael Randazzo, Swimming World Contributor
After a remarkable 2016-17, Wagner's Chris Radmonovich is gearing up this fall for a new campaign.
Last spring his Seahawk women captured an unprecedented fourth-straight Metro Atlantic Athletic Conference (MAAC) title, then beat UC San Diego 6-5 in the first round of the 2017 NCAA Women's Water Polo Tournament—only the second NCAA win in the history of Wagner Athletics.
Almost as impressive as the best-ever season for Wagner's women's polo was the performance last fall of the Wagner men. In their inaugural season of NCAA varsity play, the Seahawks went 10-20 including a sweep of New York rivals Fordham, Iona and St. Francis Brooklyn, two wins over the U.S. Naval Academy and a fifth place finish at the Mid-Atlantic Water Polo Conference (MAWPC) tournament.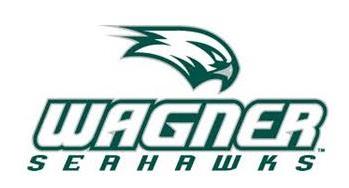 Next Saturday at the Bruno Classic in Providence, RI,  Radmonovich's men open their second-ever season. In the offseason the Seahawks added depth to a roster of returning players that includes captain and leading scorer Ciaran Wolohan and number two scorer Oscar Nomura. Key newcomers include Cameron Woldt, a junior college transfer from San Diego, and Jack Leighton, a lefty attacker from Lake Forest, CA whose brother Aaron is entering his sophomore season on Grymes Hill.
Swimming World recently caught up with the Wagner head coach prepping for matches against Cal Baptist, Harvard, MIT and University of Pacific—where he spent three years as an assistant coach on the Tigers' staff—next weekend at Brown's Katherine Moran Coleman Aquatics Center.
Last year you coached both the men's and women's programs at Wagner.  How was it to be managing two teams, two rosters and two recruiting efforts?
It's definitely a lot to keep up with. I'm fortunate to have some good assistants that shoulder a lot of the load for me, either when I'm traveling with the men or the women. They handle the team that's not in season at the time and do a great job keeping everything on track.
Recruiting becomes significantly more difficult when you are dealing with double the amount of people. That's probably the biggest change.
You're building a powerhouse program on Staten Island. How do you attract talented men and women to New York City?
We're finding the right balance. My assistants do a great job with identifying the kids who are not only talented athletes who are committed to academics. I'm sure every coach is looking for the same thing but we've been fortunate that those we've been able to find a lot of really great kids that are interested in coming to New York City.
You cast a pretty wide recruiting net, with athletes representing Australia, Canada, Croatia Hungary, New Zealand, Romania and Serbia on both rosters. Is there a particular region that consistently offers the type of players that fit into your system?
There's not a specific area that we're targeting. It's more the personality and ability that we're looking for.
[In] Montreal we've developed a lot of connections and have had a lot of athletes come from there.
The profile we're looking for [includes] strong academics and the willingness to try something different here on the East Coast. Certainly water polo in New York City is different than what you see in California—different environment, change of seasons.
What was most surprising in your first season coaching men's water polo at Wagner?
I coached men's polo a number of years [ago] so I was prepared for the water polo stuff and what comes along with it.
I was really excited for our first season and outlook for the future. Our athletes came in and the expectations that they had to train hard and to move forward—I was happy that they didn't look at this as just a first-year program. They put in a ton of work and expected to be successful.
We had some moments of success and started something to build on.
McKendree University is starting its first season of varsity polo next Saturday against Brown. What advice would you give Bearcats' head coach Ryan Hall on the verge of his team's inaugural match?
That first game, that first weekend it was really hard to balance knowing that we'd only been together for a couple of weeks and we're probably going to struggle a bit with knowing that we were doing something really positive for the sport.
Starting a new NCAA team is such a big deal now with where our sport is—particularly on the men's side—to take a moment to enjoy that, particularly at the start of the season.
Going into 2017, what expectations do you have for this team to be competitive in the East?
We're just trying to keep moving forward. We brought in 12 new, talented athletes, many of whom we expect will contribute right away. It's not like with our women's team where we're building through the course of four years. It's more predictable what's going to happen here in the second year.
It's interesting how we're trying to fit pieces in. We're still very young and trying to make it all work together.
I think we've done that with the recruiting class we have, but you never know until you get out there and are playing somebody else. That's where we'll find out where we're at.
Are there heightened expectations for your men give the success of Wagner women's water polo squad?
More than anything it serves as motivation. The teams know and spend time around each other. It's motivating for the men to see where the women have been the past few years and to try get there as well.
The season starts off with a bang, with appearances at both the Bruno Classic and Princeton Invitational and matches against Cal Baptist, Brown, Harvard, MIT, Navy and Pacific. What can you expect early in the season from your team?
The biggest thing I hope to accomplish out of that weekend is to get some quality experience for what essentially is a blend of two teams—our new athletes that just came in and the 13 that came back from last year.
I'm looking for a weekend that we can build on and see where we are, what we need to improve and focus on that following weekend at Princeton where we actually start conference play with a match against Navy.
The big focus for this weekend is to find out where our flaws are and figure out how we can improve.
You'll face the University of Pacific next Saturday. You not only attended Pacific but were also an assistant coach for the Tigers (2005-2008). How will it be to face your old team in Providence next weekend?
I'm a huge fan of Pacific—I root for them when I can.
It will be exciting to play them. I've been gone long enough that I don't know any of the athletes there [now] but I have a lot of friends who are alums and a lot who played there. I look forward to seeing them.
Hopefully we can get in there and compete.
In October your team will travel to California for five matches. You'll kick off the trip with a match against Stanford at the Avery Aquatics Center, one of America's great polo venues.
It will be a great experience for them. [Stanford is] one of the best teams in the country—when the rankings come out I'm sure they'll be among the top. Plus Avery is such a great facility. When I was an assistant at Pacific we played there often. It was a great experience and environment—it will be a great experience for our athletes.
You've added 12 newcomers to 12 returning players. How will this depth translate into victories?
We had some needs that we went out and looked for—finding a lefty, and we wanted to get faster and to get more physical. We had an outline of the things that we wanted and then tried to fill with recruits who fit those descriptions.
My assistant Marco (Madaras) and I went over what we needed to move forward and then we looked for athletes to fill those spots.
Cameron Woldt is our goalie, he's a junior college transfer from San Diego Mesa College. He's a little older and is doing a great job so far.
I think we're going to have six or seven athletes who are coming in that will immediately step in and make an impact. We've had tremendously competitive practices here since we started up with some great battles for playing time.
In 2016 captain Ciaran Wolohan led Wagner in several categories including goals (68) and steals (37). What do you expect from him in his senior season.
Ciaran provides a ton of leadership. As good a player he is, his leadership in the pool during practices… he's upbeat and excited to play. His attitude, his positivity, his leadership may be a bigger asset then his [contributions in the pool].
He does a great job of keeping the team together and motivating his teammates throughout training. That's what we look for from him.
You have eight sophomores returning from last year, including Oscar Nomura, second on the team in goals scored (49). What do you expect from this group—the core of your team—entering this season?
We're fortunate to have found some depth this year and we're going to have the same six or seven athletes coming back and in the mix for playing time and starting positions.
Right now there's good competition going on. There's going to be a lot of people who play and a lot who contribute.
To get to the top of the Mid-Atlantic Water Polo Conference (MAWPC) you'll likely have to beat out Bucknell and their superb sophomore, Rade Joksimovic. What makes him so good?
He's unquestionably talented. He was one of the best players on the East Coast last year and was a great asset to that program. No question he's going to again be a player who is going to demand a lot of attention from every team that plays against him.
What will it take to rise to the top of the MAWPC?

In looking at our conference and seeing what athletes have come in and those who have graduate, our conference is going to be incredibly competitive. No bodies gotten worse and most teams have gotten better on paper.
Fordham's brought in some great athletes, Hopkins has brought in some strong players, Bucknell and [George Washington] are going to be strong and Navy is always good.
It's going to be a great season and I'm really excited for it. It looks like all the teams in our conference are going to be really solid.