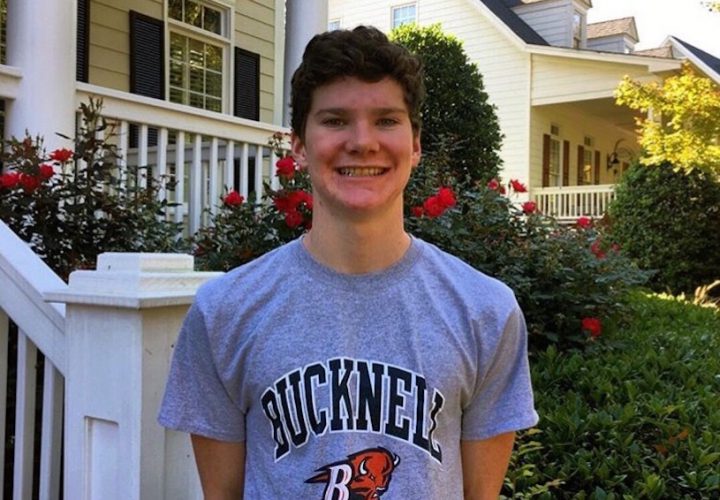 Photo Courtesy: Sean Quinn (Instagram)
Agon is the proud sponsor of all high school coverage (recruiting, results, state championships, etc.) on SwimmingWorld.com. For more information about Agon, visit their website AgonSwim.com.
To report a college commitment, email HS@swimmingworld.com. Join Swimming World's Watch List
NEW COMMIT: Sean Quinn, a USA Swimming Scholastic All-American from Raleigh, North Carolina, has verbally committed to continue his swimming career at Bucknell University beginning next fall. Quinn is a senior at Wakefield High School and swims for the Marlins of Raleigh.
At last year's North Carolina High School 4A State Championships Quinn swam the breaststroke leg (27.74) on Wakefield's 14th place 200 medley relay. He also split a 22.79 going third on the team's seventh place 200 freestyle relay. Individually Quinn finished 14th in the 500 free (4:44.31).
He said of his decision,
"Bucknell offers excellent academic and athletic opportunities, as well as enthusiastic coaches, great facilities and a fantastic team atmosphere. I could not be more excited to be a Bison!"
Quinn is strongest in distance freestyle and IM. His top times include:
1650 Free 16:05.93
1000 Free 9:43.70
500 Free 4:40.32
400 IM 4:05.53
200 IM 1:57.91
200 Breast 2:12.48
Quinn joins a number of Marlins who have made verbal commitments to swim in college beginning next fall. He joins Grace Countie, Madison Homovich,John Healy, Zach Brown, Hunter Pigg, Connor Dalbo, and Hannah Bruno.