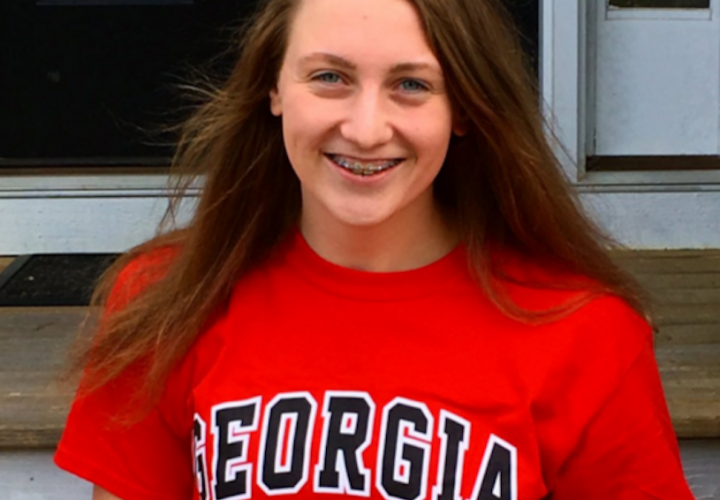 Photo Courtesy: Madison Homovich (Twitter)
Agon is the proud sponsor of all high school coverage (recruiting, results, state championships, etc.) on SwimmingWorld.com. For more information about Agon, visit their website AgonSwim.com.
To report a college commitment, email HS@swimmingworld.com. Join Swimming World's Watch List
Madison Homovich has given her verbal commitment to the University of Georgia. The high school junior from North Carolina trains with the Marlins of Raleigh. She attends Woods Charter in Pittsboro, and has never swum for a high school team.
While her most notable success has come in the distance freestyle events, Homovich is strong across the board, in both short course and long course. She's a member of the U.S. National Junior Team and is a USA Swimming Scholastic All-American.
Some of her best times are (SCY/LCM):
200 Free 1:47.18/ 2:02.70
500 Free 4:40.90/ 4:12.30
1000 Free 9:38.16/ 8:36.66
1650 Free 16:03.01/16:30.37
200 Back 1:55.88/ 2:15.09
400 IM 4:11.84/ 4:47.92
Homovich has had a national presence for a number of years. Her best 200 and 1650 freestyle times were swum when she was just 14 years old, but she's come within striking distance of both of those times since.
At U.S. Olympic Trials this summer she finished as high as 18th in the 400 freestyle. At NCSA Junior Nationals in March, Homovich snagged second in the 1000 and the 1650 while also placing in the top eight in the 500 free, 400 IM, 200 fly and 200 back.
With still over a year to go until she first dives into the pool for the Bulldogs, Homovich is already knocking on the door of NCAA scoring. Both her 500 free and 1650 bests finished just outside the top 16 this year.
At the SEC Championships, her best times would have finished second in the 1650, fifth in the 500, and 15th in the 400 IM. She would have been Georgia's top finisher in both of those freestyle events this year.
To report a verbal commitment email HS@swimmingworld.com.