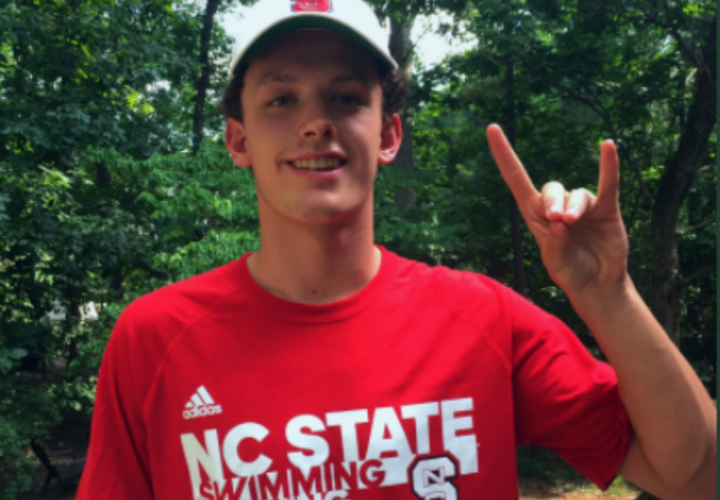 Photo Courtesy: John Healy Twitter (@jjhealy12)
Agon is the proud sponsor of all high school coverage (recruiting, results, state championships, etc.) on SwimmingWorld.com. For more information about Agon, visit their website AgonSwim.com.
To report a college commitment, email HS@swimmingworld.com. Join Swimming World's Watch List
NEW COMMIT: John Healy, a native of Cary, North Carolina, has chosen to stay in-state and attend the North Carolina State starting in the fall of 2018. Healy attends Green Hope High School and swims for the Marlins of Raleigh, the same club as NC State's breakout backstroke star Justin Ress.
Healy is primarily a backstroker, and he will have one season to continue to train with Ress once he arrives at NC State. His best SCY times are:
50 Back: 23.53
100 Back: 49.38
200 Back: 1:46.38
200 Fly: 1:50.74
400 IM: 3:58.69
At the 2017 North Carolina 4A High School State Championships, Healy finished second in the 100 backstroke. He also led off the 200 medley relay with the second fastest split in the field. In December at the 2016 Speedo Winter Junior Championships East, Healy placed 15th in the 100 backstroke and 13th in the 200 backstroke. He also swam the 200 IM, 400 IM, and 200 butterfly.
Most recently, at the Phillips 66 Nationals, Healy finished 20th in the men's 200 backstroke. He also competed in the 100 butterfly and 100 backstroke.
Healy joins Nate Mullens in NC State's Class of 2022.