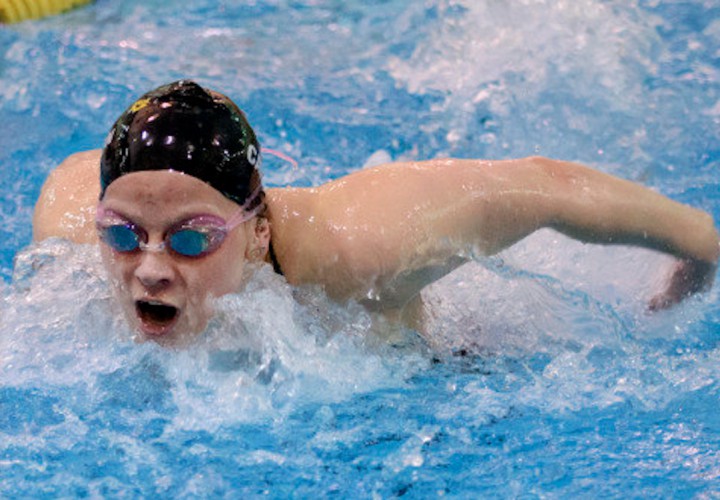 Photo Courtesy: University of Wyoming Athletics
The fourth and final night of the 2018 Western Athletic Conference Championships took place this evening with the Wyoming men and Northern Colorado women pulling further away from the rest of the conference, towards the team title.
Overall Scores:
Men:
1. University of Wyoming             851   2. University of Nevada Las Vegas    780
3. Grand Canyon University           630   4. U S Air Force Academy             447
5. California State University Ba    376   6. Seattle University                246
Women:
1. Northern Arizona University       810   2. New Mexico State University       601
3. Idaho, University of              585   4. Grand Canyon University           519
5. Northern Colorado, University     384   6. California State University Ba    364
7. Seattle University                213
UNLV's Brad Gonzales got things underway for the Rebels with a victory in the men's 1650 free with a time of 14:54.18, well ahead of Wyoming's Seth Borgert who swam a 15:25.97.
The women's race saw Northern Colorado's Sydney Kovar and CSUB's Gabi Liedy go head to head by posting times of 16:57.62 and 16:57.93, respectively.
GCU's go-to guy Mark Nikolaev smashed the WAC record but almost two seconds in a time of 1:40.81. Wyoming's Wade Nelson touched second in 1:44.65 while Air Force's Joey Gebhart nabbed third in 1:45.00.
GCU continued to roll through, racking up points towards the WAC team title with Estela Davis Ortiz's victory in the women's 200 backstroke in a time of 1:56.18.
UNLV Freshman Mark Theall came out of nowhere to win the men's 100 free in a time of 43.66. GCU's Mazen El Kamash swam a 43.94 to take second.
GCU's Yousef El Kamash easily won the men's 200 breast in a 1:56.45 with Wyoming's Liam Holt taking second in a 1:58.05.
NMSU junior duo swam to a 1-2 finish with Hannah McGowan (2:14.07) and Lauren Wood (2:14.71).
To wrap up the meet the UNLV men took put together a 2:53.49 in the 400 free relay ahead of GCU who threw down 2:53.65. The women's race featured NAU's quartet producing a 3:23.27 for the win in the A final with GCU just behind in 3:23.75.