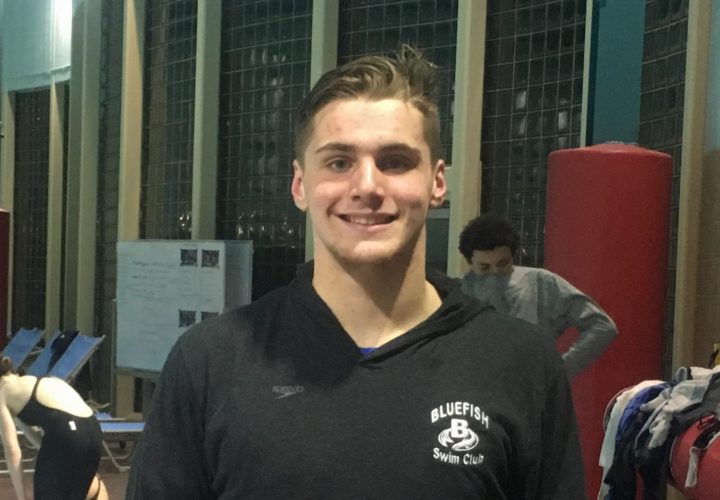 Photo Courtesy: Luke Bernstein
By Luke Bernstein, Swimming World Intern.
So far at the BAC Winter Invitational, Bluefish Swim Club's Will Barao has been the man when it comes to distance swimming. It all started Friday night, when Barao won the 800 with a 8:25.62, a time 30 seconds faster than second place swimmer Gavin Formon from Berkeley Aquatic Club, and it carried over into a monster day of racing Saturday
In the morning, Will swam the 400 free prelims, securing the first seed for finals, and then later that day, he swam the finals of the 1500 free. In that event, he posted an stellar time of 15:59.79, more than fourteen seconds ahead of second-place finisher Yugo Tsukikawa.
After this event, Barao took a few moments to answer questions regarding how he manages to get through such difficult swims. He credits his distance skill to the "distance work done at Bluefish, a great training trip prior to the meet at Berkeley Aquatic Club," and the pacing work he does with his coach before entering the water.
During the race, Will believes that he has figured out how to get a sense of how fast he is going "based on my training and the pace work I do before the race."
Later in the evening, Barao finished third in the 100 free, and he added a third win in the 400 free, touching in a time of 4:03.63.
Regarding his longest two races, Barao feels that the 800 Freestyle is "more of a sprint" and believes "you really have to go after the race more than you would in the 1500."
He was reluctant to share any goals for the rest of his season and only willing to express his desire for "a great summer" of fast, quality, swims and will deal with whatever comes after that when it happens.
Check out a video interview with Will Barao: