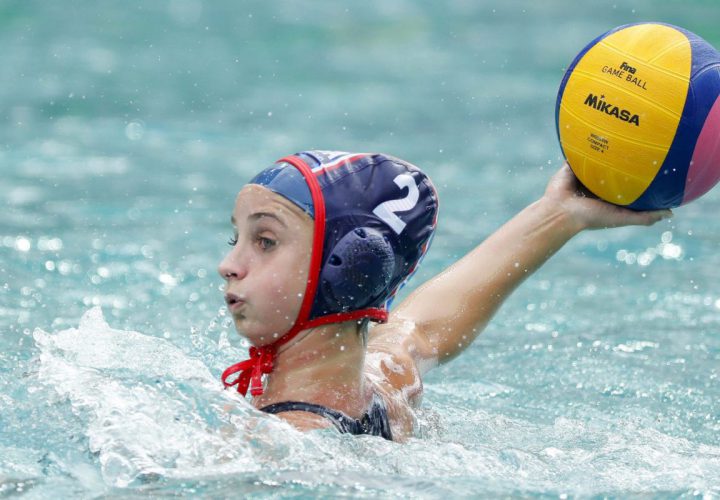 Team USA's Maddie Musselman.
Photo Courtesy: Andrew P. Scott-USA TODAY Sports

Editorial Coverage Sponsored By FINIS
By Dan D'Addona
The U.S. women's water polo team used a second-quarter surge to cruise into the quarterfinals undefeated at the 2016 Rio Olympics.
A 5-1 scoring edge in the second quarter allowed the U.S. to easily hold off Hungary 11-6 on Saturday in the final game of group play. The U.S., aiming to defend its gold medal, will face Brazil in Monday's quarterfinals after winning Group B with a 3-0 record.
With the match tied 3-3 early in the second quarter, the U.S. rattled off four consecutive goals as Maggie Steffens, Maddie Musselman and Kaleigh Gilchrist scored before Musselman found the back of the net again for a 7-3 lead.
Steffens scored twice in the first quarter and Kiley Neushel added a goal before Hungary tied the match 3-3 early in the second quarter.
In the second half, Courtney Mathewson scored twice, while Musselman and Steffens each added a goal.
Ashleigh Johnson was again stellar in goal, allowing single goals in the second and third quarters. She made nine saves.
Gabrielle Szucs scored twice for Hungary (1-2), which faces Australia in Monday's quarterfinals.
Spain 12, China 8
Spain used a stellar second-half defensive effort to defeat China 12-8 on Saturday.
Clinging to a 7-6 lead at halftime, Spain outscored China 5-2 in the second half to earn the victory.
Maica Garcia Godoy scored three goals to lead Spain.
Spain (2-1) will face Russia in Monday's quarterfinals, while China (0-3) will face Italy.
Italy 10, Russia 5
Looking to remain unbeaten, Italy clung to a 3-2 lead after a quarter against Russia. But the Italians allowed just one goal in each of the final three quarters, while exploding or seven goals in a 10-5 win.
Arianna Garibotti, Roberta Bianconi and Giulia Emolo each scored twice for the Italians.
Italy (3-0) will face China in the quarterfinals, while Russia (1-2) will face Spain.
Australia 10, Brazil 3
The Australians scored early and often and dominated host Brazil 10-3 on Saturday.
Ash Southern, Holly Lincoln-Smith an Hannah Buckling each scored to open the second quarter and put the Aussies up 4-1.
Then Rowie Webster scored twice in the third quarter and Keesja Gofers added another for a 3-0 shutout in the third quarter. Gofers scored twice in the match.
Australia (2-1) will face Hungary in Monday's quarterfinals, while Brazil (0-3) will face the U.S.