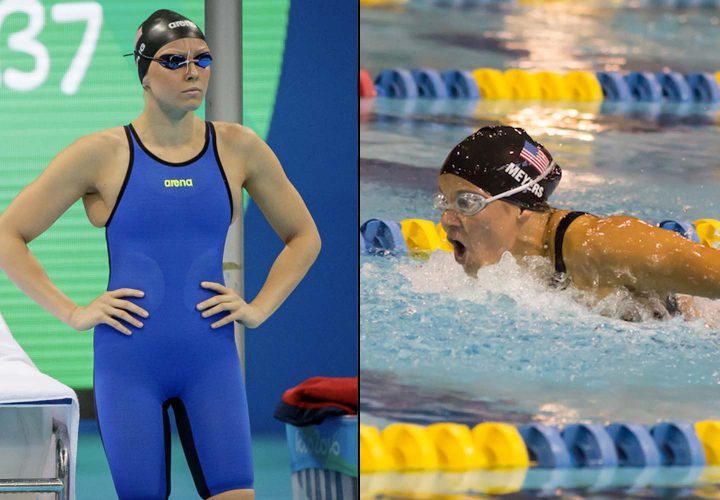 USA Paralympians Jessica Long and Becca Meyers -- Photos Courtesy: Arena & Kevin McCarthy
By David Rieder.
Beginning this weekend, the world's best disabled swimmers will be in Mexico City for the IPC Swimming World Championships—the meet originally scheduled for early October but delayed after two large earthquakes devastated the city.
Compared to the tragedy the host city has faced, the inconvenience of delaying a swim meet for two months is incredibly minor. Still, as two-time U.S. Paralympian Becca Meyers explained, the change has forced some adjustments, and some countries were not able to attend the rescheduled event.
"It's also been an unusual year for everyone competing at Worlds because we've all had to train an additional two months as well as trying our best to stay focused on the goals we want to accomplish," said Meyers won of three Paralympic gold medals at the 2016 Games in Rio. "We'll see how it goes."
But every Paralympian, regardless of sport, knows what it's like to deal with adversity. Take Meyers, who cannot hear without a pair of cochlear implants and is losing her eyesight as well. She relies on a seeing-eye dog named Birdie to help navigate day-to-day life. Compared to that, what's a delayed swim meet?
For Team USA, the group heading south to compete is a relatively inexperienced one, with only 13 veterans of last year's Paralympics in Rio among the 22 team members. And for at least one of those coming back, the global championships comes at a time when swimming has not necessarily been the No. 1 focus.
Jessica Long is perhaps the most famous name in Paralympic swimming history, having captured 13 gold medals and 23 total medals between the 2004, 2008, 2012 and 2016 Games. Long was born in Russia without bones in her lower legs, and she was an adopted by an American family that eventually had her fitted with prosthetic legs.
Now 25, Long has been swimming with Paul Yetter's group at the North Baltimore Aquatic Club, but she has yet to truly dedicate herself to training following the 2016 Games.
"If I make it to the pool, it's good," Long said. "I'm probably at the pool four or five times. That's a good week. I have not done doubles, and I don't need to do doubles."
During her pseudo-layoff, Long got her physical health in order—she had been dealing with two balky shoulders in the year leading up to Rio—and refreshed herself mentally after winning only one gold in Rio, by far her lowest total in any of her four Paralympics.
And since she's aiming for a fifth and Paralympics in Tokyo, Long knows that she has to pace herself.
"For me at this point, I don't feel like I have anything to prove," she said. "I have been to the top. I wasn't proud of myself for so long, but taking this year to be like, 'No, Jess, you've done everything you wanted to. This is just icing on the cake for the final race.' And that's my mentality going into Tokyo: 'This is the final race.'"
But while Long has been pacing herself, Meyers has been all-in. She is also swimming at NBAC with Yetter—and, according to Long, making plenty more practices each week—and Meyers believes that his training has been extremely beneficial.
"We've been focusing more on technique while continuing to build my endurance," Meyers said. "Paul also brings a great perspective to the team because of his accomplishments with other Olympians, Paralympians, Olympic Trial qualifiers, and he understands that in order to swim fast, you also need to enjoy life and the journey you are on."
Paralympic sports are far from perfect, and Long has been a crusader against one issue: cheating the classification system. In Rio, Long saw swimmers exaggerate their physical disabilities in order to be placed in a division where the times would be slower—and they would have a better chance at collecting medals.
"I had one of the swimmers tell me she was going to cheat and swim slower," Long said. "It's not like I'm making it up in my head."
Whether or not she was being beaten by swimmers who had cheated the system, the controversy weighed on her at the Paralympics, discouraged her and drained her. During the Games, she tried to brush aside her frustrations, "but just because I was smiling and still a part of it doesn't mean that I accepted it."
What bothers Long the most: that swimmers are accepting of their misdeeds.
"I don't know how you feel good about doing that," she said.
Still, even with the challenges that para sports still must overcome, the value of simply their existence is immeasurable for so many kids and adults in the world.
For Paralympic swimmers to accomplish what they do, they have to beat out obstacles that able-bodied athletes don't: the physical restrictions imposed by their own bodies. And for the many others out there with physical disabilities, Long, Meyers and their teammates want to bring hope.
"Just because you have a disability doesn't mean you are limited," Meyers said. "You just have to find that one thing that makes you feel free and go for it."
Long relishes her status as a role model because she remembers what it was like as a kid watching Paralympic great Erin Popovich compete at the 2000 Paralympics in Sydney and win six medals, three of them gold. Long was inspired as she watched Popovich overcome achondroplasia, a condition that causes dwarfism.
"Me being a little swimmer, looking up to Erin Popovich, she was my role model and hero for so long." It's like, 'Wow, I have a chance to be that person for someone.'
"Just the other day, a coach wrote me about a swimmer who's missing her legs above the knee and just how spunky and excited she is and how she wants to meet me. That's what it's all about. The medals are great, but when you get an email like that, it puts it all into perspective."