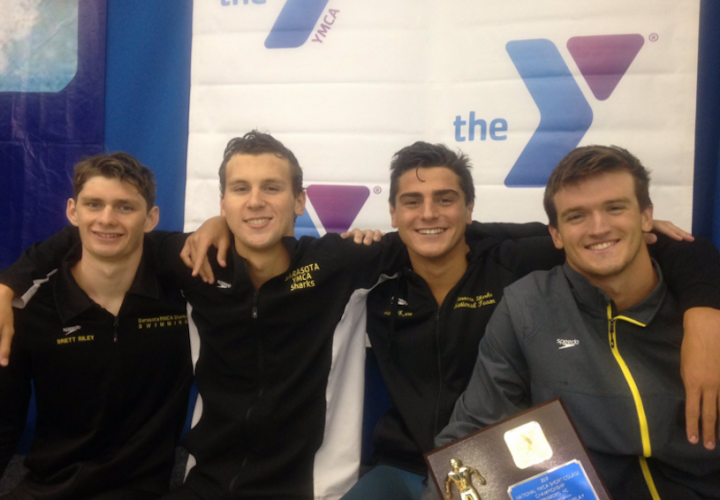 Photo Courtesy: Sarasota Sharks Twitter (@SarasotaSharks)
On the final night of the 2017 YMCA Short Course National Championships three more YMCA National Records fell. York won a tight women's title while the Sarasota men dominated the team standings.
The oldest short course YMCA National Record fell tonight as two swimmers finished under the men's 200 butterfly mark. J. Cramer posted a 1:45.58 in 2001. Tonight Soundview's Corey Gambardella was first to the wall in 1:44.76. Also clearing the old mark, though touching second was Upper Main Line's Brendan Burns in 1:45.24. Burns is only 15, giving him time to claim the mark in coming seasons. Sarasota's Austin Katz touched third with a 1:46.93.
Another mark, the men's 200 IM was also obliterated. After cruising through prelims, Eau Claire's Paul DeLakis posted a 1:45.76 tonight. That time crushed Woody Joyce's 2009 National record of 1:47.09. Also blowing by the previous National Standard was Countryside's Grant House with a 1:46.35. Keanan Dols of Sarasota was also under 1:50 in 1:49.36.
Hickory's Ross Dant knocked ten seconds off the men's 1650 National Record. The 16 year old posted a 14:57.03. Drew Clark held the record, a 15:07.83 from 2015. Somerset Valley's Ryan Waters dropped nine seconds to edge Sarasota's Arik Katz, who chopped 20 seconds off his previous best. The two posted times of 15:17.16 and 15:17.86, respectively.
Bath Area's Caitlin Tycz swept the butterfly events this week. The senior headed to USC in the fall stopped the clock in 1:56.65 to dominate tonight's 200. Western North Carolina's Mary O Soule and Phoneixville's Emma Seiberlich tied for second, both touching in 1:58.45.
After challenging in other events throughout the week, Westport Weston's Sarah Grinalds finally got her National Title. It came in the 100 freestyle. The 16 year old touched in 48.85, just three tenths shy of Katrina Konopka's 48.50 National Record. Bradford's Paige Hetrick was runner up, also clearing 50 with a 49.72. Camryn Forbes earned bronze in 50.07.
Thomas Roark of Boise took home 100 freestyle gold with a 44.36. Katz was on the podium again with a 44.47. Matthew Novinski of Grand Island took third in 44.96.
The 200 IM finish was a close one with the top three women touching within two tenths. Sunbury's Abigail Doss got her hand to the wall first, stopping the clock in 2:00.35. Springfield's Kaitlynn Wheeler (2:00.40) and Cheshire's Brooke Perrotta (2:00.54) followed.
York's Leah Braswell dropped a second to win the 1650 in 16:17.01. Swimming from lane one, Wilton's Catherine Buroker dropped nearly thirty seconds to finish second. The 17 year old touched in 16:28.90. Sarasota's Emma Weyant placed third with a 16:31.47.
York ended the meet with a relay victory. Marisa Gingerich, Braswell, Marget Shelly, and Courtney Harnish posted a 3:22.30, a second faster than Spartanburg's Maegan Rudolph, Sydney Baker, Maddie Baker, and Jessi Snover in 3:23.75. Boise's Sol Jorunnardottir, Charity Pittard, Samantha Kraus, and Eva Suggs finished third (3:24.31).
The men from Sarasota ended the meet with one last relay victory. Dols, Austin Katz, Matt Nutter, and Brett Riley swam a 3:01.44. Somerset Valley's Riley Pestorius, Ryan Waters, Joshua Franco, and Michael Macchia were runners up in 3:02.49. Picking up third was Countryside with the team of Austin Theobald, Noah Young, Brice Dixon, and House in 3:03.51.
In the end, the women's team race was a tight one. York and York County ended the week with 303 points, just five more than Greater Spartanburg's 298. Boise was not far behind, totaling 269 points.
Sarasota dominated the men's race, with a total of 508 points. Wilton finished second with 260 points and Upper Main Line's 238 points earned third place.