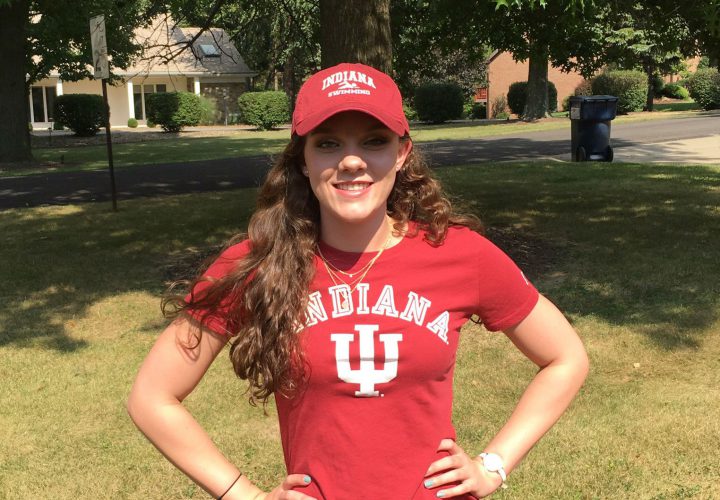 Photo Courtesy: Camryn Forbes Twitter, @camrynforbes
Agon is the proud sponsor of all high school coverage (recruiting, results, state championships, etc.) on SwimmingWorld.com. For more information about Agon, visit their website AgonSwim.com.
Camryn Forbes of the Butler County YMCA has announced her verbal commitment to swim for Indiana University via her Twitter account, beginning with the 2017-18 season.
A senior this year at Knoch High School, Forbes has maintained her reign as the YMCA national record-holder in the 100-meter backstroke for the last three years. Forbes originally posted the national record mark at a 1:02.68 in 2014, dipping below to a 1:02.54 in 2015, before setting it firmly at a 1:02.14 this past summer.
Some of Forbes' top times include:
50 BACK: 25.60 (SCY), 229.41 (LCM)
100 BACK: 54.02 (SCY), 1:02.14 (LCM)
200 BACK: 1:57.59 (SCY), 2:14.27 (LCM)
200 IM: 2:00.79 (SCY), 2:23.50 (LCM)
50 FREE: 23.87 (SCY), 26.76 (LCM)
100 FREE: 50.15 (SCY), 57.03 (LCM)
200 FREE: 1:49.56 (SCY), 2:02.76 (LCM)
Both of Forbes' 100 and 200 backstroke times would have placed her within the 'B' final at last March's Big 10 Championships.
If you have a college commitment you would like to share, please send an email to HS@swimmingworld.com or tweet at us @SwimmingWorld.