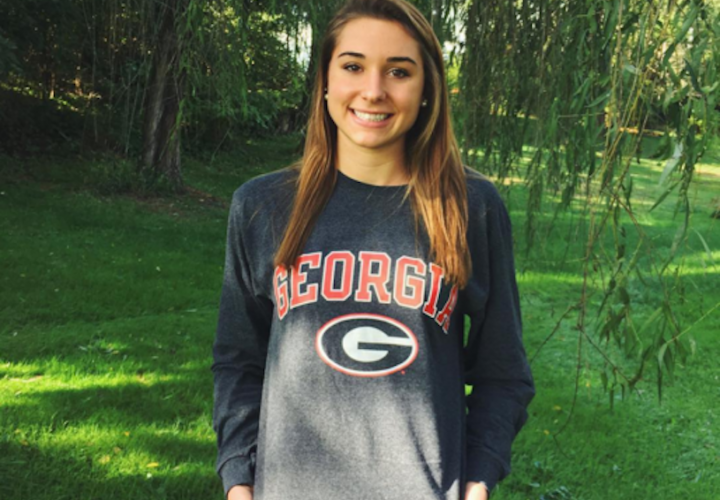 Photo Courtesy: Courtney Harnish (Instagram)
Agon is the proud sponsor of all high school coverage (recruiting, results, state championships, etc.) on SwimmingWorld.com. For more information about Agon, visit their website AgonSwim.com.
The University of Georgia has secured a verbal commitment from Courtney Harnish. Harnish swims for York YMCA and is one of the top recruits in the Class of 2017. She will make a big impact for the defending NCAA Champion Bulldogs.
Harnish led the York YMCA women to the short course YMCA National title this April. She is the defending champion in the 200 and 500 freestyle and the 200 butterfly. The high school senior also holds YMCA National records in all three of those events. In 2015 she won those three plus the 1000. She also showed her sprint speed as a member of three YMCA National Championship winning relays, including a record setting 200 freestyle relay.
At Junior Pan Pacs this summer, Harnish was a member of the winning 800 freestyle relay. She was also runner up in the 400 freestyle and ninth in the 200 free.
Harnish's best SCY times are:
200 Free 1:45.62
500 Free 4:39.13
1000 Free 9:33.93
1650 Free 16:08.57
200 Back 1:55.41
200 Fly 1:54.37
400 IM 4:11.93
The Bulldogs won the NCAA title last season, but only finished third at the SEC Championships. While her event lineup has yet to be decided, Jack Bauerle and his coaching staff have options. At the conference level, Harnish's best times would have finished third in the 500 and 1650, fourth in the 200 freestyle and 200 butterfly. At NCAAs, she would have finished just outside scoring range in the 200 and 1650 but would have been eighth in the 200 butterfly and ninth in the 500 freestyle.
To report a verbal commitment email HS@swimmingworld.com.