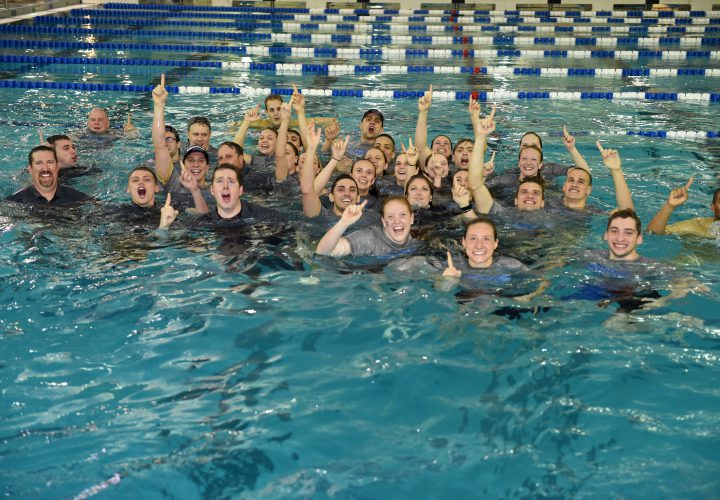 The 2017 NCAA Division II Nationals took place this week in Birmingham, Ala., and Queens University of Charlotte defended their NCAA titles from last year, winning their third consecutive championship for their men and women's teams. Take a look below to get a recap on their performances at the meet and some of the other biggest stories from the swimming world this week!
The Week That Was #5 – Kelsi Worrell Announces Engagement To Thomas Dahlia
U.S. National Team member Kelsi Worrell announced via her Twitter account that she is engaged to swimmer Thomas Dahlia. Worrell and Dahlia both swam together at Louisville, overlapping for three years with competing for the Cardinals. Worrell has won four NCAA titles and famously broke Natalie Coughlin's long held American and NCAA record in the 100-yard butterfly, also becoming the first woman under 50.0 ever. Worrell also made the Olympic Team this summer, qualifying in the 100 butterfly and winning a gold medal as part of the 400 medley relay in Rio. Dahlia himself was an All-American breaststroker in Louisville, just missing qualifying for France's Olympic Team this summer.
The Week That Was #4 – Misty Hyman Leaving ASU
After two seasons working with Head Coach Bob Bowman at Arizona State University, Senior Assistant Coach Misty Hyman announced this week that she will be pursuing other opportunities outside of collegiate coaching following the completion of the NCAA Championships in March. During Hyman's two seasons at ASU both the men's and women's programs have seen a significant resurgence, including historic point finishes at the Pac-12 conference meet and the school's first female conference champion since 2012. Collegeswimming.com named the program the second most improved team in the nation during Hyman's tenure. Hyman herself was an incredibly accomplished swimmer, earning gold in the 200 butterfly at the 2000 Sydney Olympics and winning five NCAA titles while competing for Stanford.
The Week That Was #3 – Michael Phelps Responds To Anti-Doping Comments
This week Michael Phelps responded to comments from Serbian butterflier Milorad Cavic, who last week expressed frustration over the 23-time Olympic gold medalist's timing on speaking out against anti-doping. Phelps recently spoke in front of Congress about the need for consistent drug-testing in anti-doping efforts, addressing growing concerns from himself and members of the U.S. National Team about how doping is affecting the integrity of the sport. In a video he posted on Facebook Live, Phelps responded to a user's comments related to Cavic's comment. "Over 1900 athletes, the year before the Olympics in Rio, were not tested one time," Phelps said in the video. "Six months leading up to the Games, I was tested 13 times just by USADA. I think that's something that is sad about sports today." After talking about the subject for several minutes Phelps turned off the live video before coming back and apologizing for he described as a "rant," explaining his passion for changing anti-doping procedures and frustration in those who throw accusations.
The Week That Was #2 – Natalie Coughlin Announces She Is Done Competing For National Team
12-time Olympic medalist Natalie Coughlin admitted in an interview with NBC this week that she is likely done competing for the U.S. National Team. Coughlin's last major competition was the 2016 Olympic Trials this summer, where she finished 8th in the 100 back and 14th in the 100 free, missing what would have been her fourth Olympic Games. Coughlin is tied with Dara Torres and Jenny Thompson as the most decorated U.S. Olympic swimmer in history. She has also competed in six different long course World Championships winning a total of 20 medals. Coughlin was the first woman to break 1:00 and :59 in the 100 backstroke and held the world record from 2002 to 2008. She is the first and only woman in history to repeat Olympic gold in back to back Olympics, winning in 2004 and 2008. Most recently, Coughlin provided commentary for NBC at the arena Pro Series stop in Indianapolis.
The Week That Was #1 – Queens Captures Third Consecutive NCAA Titles
The 2017 NCAA Division II National Championships came to a conclusion this Saturday, with Queens University of Charlotte claiming their third consecutive men's and women's team championships.The Royal woman finished with 467, 82 points ahead of Drury, while the men absolutely dominated with 563.5 points, more than 200 points ahead of Drury. 13 NCAA records fell during the meet, with several falling in prelims and finals. West Florida's Theresa Michalak was named Female Swimmer of the Meet after winning four individual events and setting three new NCAA records throughout the meet, while Queens' Marius Kusch was named Male Swimmer of the Meet after winning three individual events and setting a new NCAA record in the 200 butterfly. Kusch was also on relays that established new NCAA records in the 400 medley, 400 free, and 800 free relays. For all recaps from the meet, including links to results, head over to our 2016-17 NCAA Division II Landing Page.