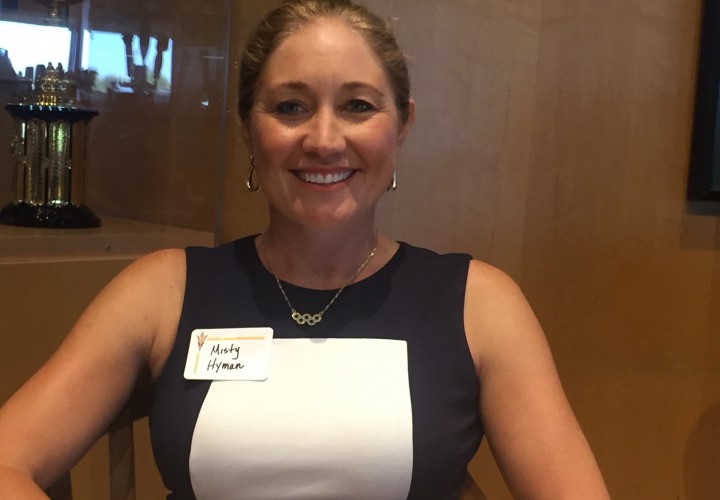 Photo Courtesy: Brent Rutemiller
After two successful seasons with the Arizona State swimming team, Senior Assistant Coach Misty Hyman has decided to pursue new opportunities outside collegiate coaching following the NCAA Championships, head coach Bob Bowman announced Wednesday. Hyman's coaching expertise helped turn around the Sun Devil women's swim program and earn recognition from CollegeSwimming.com as the second most-improved team in the nation.
"I have greatly appreciated the opportunity to learn and grow in a challenging environment," Hyman said. "I have valued the tremendous privilege and responsibility of influencing our student-athletes. I am honored to have been part of this experience for these last two seasons."
During her time at Arizona State, Hyman helped increase race-to-race consistency for the Sun Devils by parsing out laps and strokes into a formula for sprint freestylers and using a waterproof metronome to help the swimmers count their strokes and keep a consistent tempo.
"Misty is an outstanding coach and leader to our student-athletes," Bowman said. "She expanded our use of technology in practice and showed our swimmers how to quantify the sport from a mathematics perspective. She was a tremendous asset to our program, and I can't wait to see all she accomplishes in the next chapter of her life. Most importantly, Misty is an amazing person and a wonderful role model for our student-athletes. Her positive energy lifted everyone in practice and competition. Misty will always be a Sun Devil and will continue to be an honorary member of our program."
In 2017, Hyman was instrumental in helping the women's team to one of the most successful Pac-12 Championships in recent history, also qualifying the most individuals for next week's NCAA Championships since 2012.
"I have enjoyed being a part of ASU's transformation, both academically and athletically," Hyman said. "It is an exciting time to be a Sun Devil. I look forward to and take pride in the future success of the swimming program, the athletics department and the university."
Hyman, a gold medalist for the United States in the 200-meter butterfly in the 2000 Sydney Olympic Games and five-time NCAA champion, is an accomplished inspirational speaker and also a private swim coach for a number of clients at the Sanctuary Resort on Camelback.
The Sun Devil women will compete at the NCAA Division I Women's Swimming and Diving Championships next week (Mar. 15-18) while the men's side follows suit the next week (Mar. 22-25).
Press release courtesy of Arizona State Swimming & Diving