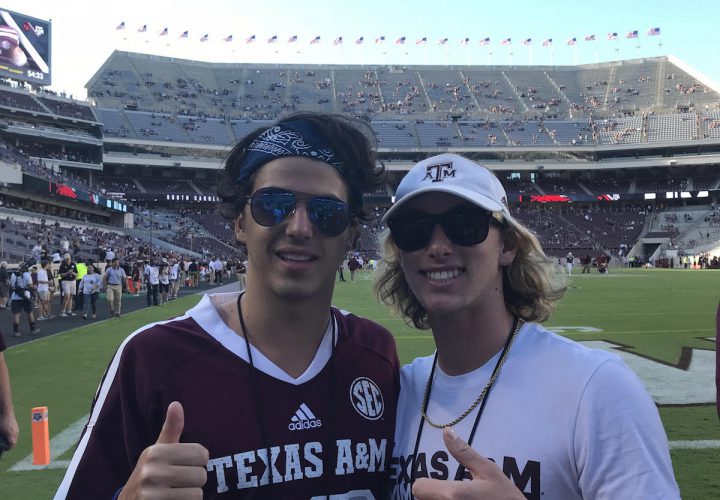 Photo Courtesy: Mark Schnippenkoetter
Agon is the proud sponsor of all high school coverage (recruiting, results, state championships, etc.) on SwimmingWorld.com. For more information about Agon, visit their website AgonSwim.com.
To report a college commitment, email HS@swimmingworld.com. Join Swimming World's Watch List
NEW COMMIT: Texas A&M has added a verbal commitment from Mark Schnippenkoetter. He joins an Aggie Class of 2022 that includes Alberto Gomez, Coco Bratanov, Shaine Casas, Clayton Bobo, Ethan Gogulski, and Peter Simmons.
Schnippenkoetter graduated from high school in Mexico last spring. He's since moved to Arizona where he is training with Kevin Zacher at Scottsdale Aquatic Club.
His best long course times are:
100 free: 51.6
200 free: 1:52.1
400 free: 4:01.6
100 fly: 56.6
200 IM: 2:09.6
Those times convert to:
100 Free 44.57
200 Free 1:38.00
500 Free 4:28.77
100 Fly 49.22
200 IM 1:51.89
Schnippenkoetter will join an Aggie 500 training group that was led by sophomore Jose Martinez last year. The two will overlap for a year. Jake Gibbons will be around for two years. In the 200 free Schnippenkoetter should be in the same range as Steven Richardson (1:38.17), who will be a senior in his first year in College Station.
Scottsdale Aquatic Club has also seen seniors Alexa Markl, Shae Nicolaisen, Claire Grover, McKenzee Gordon, and Madison Leblanc verbally commit to college programs.