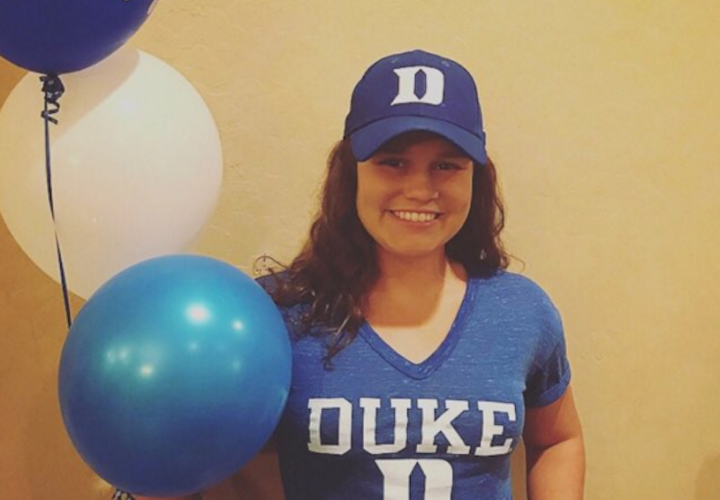 Photo Courtesy: Scottsdale Swimming Twitter @ScottsdaleSwim
Agon is the proud sponsor of all high school coverage (recruiting, results, state championships, etc.) on SwimmingWorld.com. For more information about Agon, visit their website AgonSwim.com.
To report a college commitment, email HS@swimmingworld.com. Join Swimming World's Watch List
NEW COMMIT: Duke University has added a verbal commitment from Shae Nicolaisen. Nicolaisen is from Phoenix, Arizona where she swims for Scottsdale Aquatic Club and is a senior at Desert Vista High School. She's a USA Swimming Scholastic All-American and a NISCA All-American.
At last fall's Arizona Division 1 High School state championships Desert Vista took home the state crown. En route to that victory Nicolaisen won the 200 freestyle in her lifetime best time, just ahead of Scottsdale teammate McKenzee Gordon. Nicolaisen then touched second in the 100 fly.
She's pretty versatile, with strengths in free, fly, and IM. Her best times include:
1650 Free 16:50.27
1000 Free 10:03.52
500 Free 4:51.02
200 Free 1:49.76
100 Free 51.89
400 IM 4:21.05
200 Fly 2:01.46
At the 2017 ACC Championships Nicolaisen would have been less than a second from making finals in the 200 freestyle. Alexandra Aitchison (1:48.09) was one of the Blue Devils' two finalists. She'll be a senior when Nicolaisen moves to Durham. In the 400 IM it took a 4:21.6 to earn a second swim, a mark that Nicolaisen's best time is just shy of. With over a year to go until her first Conference Championship she could be scoring for the Blue Devils in her freshman year.
Melissa Pish, Rachel Peroni, and Easop Lee have also verbally committed to the Blue Devils.