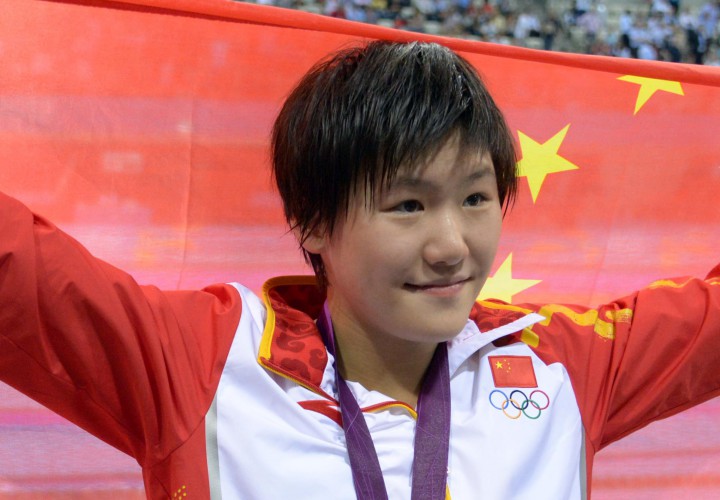 Photo Courtesy: Kirby Lee-USA TODAY Sports

Editorial Coverage Sponsored By FINIS
China's 2016 Olympic swimming roster has been announced, but a few of the nation's most promising swimmers have been left off.
Sun Yang will return to his third Games looking to defend his 2012 gold in the 400 and 1500 freestyles.
Wang Lizhuo is facing a doping suspension, and despite having set the 100 breaststroke junior world record, he is not headed to Rio. Without a sub-minute Lizhuo, the Chinese medley relay looks significantly weaker.
Two other swimmers, Zhao Ying and An Jiabao who also tested positive at the same time as Lizhuo are not listed on the roster.
The other men headed to Rio are: Xu Jiayu, Mao Feilian, Yu Hexin, Shang Keyuan, Zhang Qibin, Li Guangyuan, He Jianbin, Liu ZhaoChen, Wang Shun, Li Xiang, Hu Yixuan, Wu Yuhang, Ning Zeato, Qiu Ziao, Yan Zibei, and Li Zhuhao.
On the women's side, despite currently sitting sixth in the world this year in the 200 freestyle, Qiu Yuhan is not listed on the roster.
Leading the way for the women will be Ye Shiwen. Despite currently sitting outside the world's top 20 in the 400 IM, she'll head to Rio as the world record holder and defending gold medalist.
The rest of the women's roster includes Liu Xiang, Chen Xinyi, Shen Duo, Zhu Menghui, Ai Yanhan, Cao Yew, Zhang Yuhan, Huo Yawen, Fu Yuanhui, Wang Xueer, Chen Jie, Liu Yaxin, Shi Jinglin, Yu Jingyao, Zhang Xinyu, Lu Ying, Zhang Yugei, Zhou Yilin, Zhou Min, Tang Yi, Sun Meichen, Tang Yuting, Dong Jie, Wang Shijia, and Ai Yahan