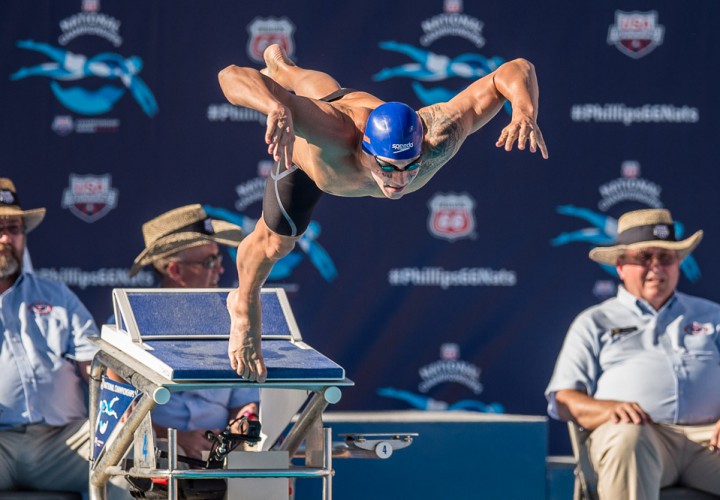 Photo Courtesy: Peter H.Bick
Welcome to Swimming World's Set Of The Week! This week's set is a sprint set that is mostly from mid-pool and designed to hit all technical aspects of a sprint. Take a look at the set below and the description that follows:
5 Rounds:
*Start from mid-pool
25 as 12.5 backwards free, 12.5 sprint on :40
37.5 as 25 w/ fast turn, 12.5 easy into wall on 1:00
25 from a dive, all-out sprint on 1:00
37.5 easy to reset on 1:00
This set starts from mid-pool, so collect your swimmers at the 12.5 mark and have them start away from the starting block end of the pool. The first 25 is as 12.5 backwards freestyle to the wall, where they will plant their feet and then push off into a 12.5 sprint. The point of this is to draw attention to body position. Athletes should be stable through the backwards freestyle drill and be able to back into the wall to get a decent push-off into their 12.5 sprint. This helps them learn to have a great underwater and breakout even if they may not think they are set up for one in a race.
The next swim is a 37.5, again starting from mid-pool away from the starting block end of the pool. Swimmers will do a 25 with a fast turn, complete a fast breakout through the middle of the pool, and then swim easy into the opposite wall where they will climb out. The last fast portion of the set is from a dive; swimmers will complete a 25 all-out from a dive, nailing the start, breakout, and finish. Take a 37.5 easy at the end to reset and start again at the half-pool mark for the next round.
This is a great secondary sprint set to include at the end of a workout. While it is only 125 yards per round, each round is only about 4:00 and it works in a fast start, turn, and finish. Starting from mid-pool plays with their body position, body awareness, and challenges them to get right up and control their tempo from an uncomfortable position. Putting the mid-pool twist on it should keep your athletes engaged and give them a new lenses to look at the way they approach their sprints. Happy swimming!
All swimming and dryland training and instruction should be performed under the supervision of a qualified coach or instructor, and in circumstances that ensure the safety of participants.