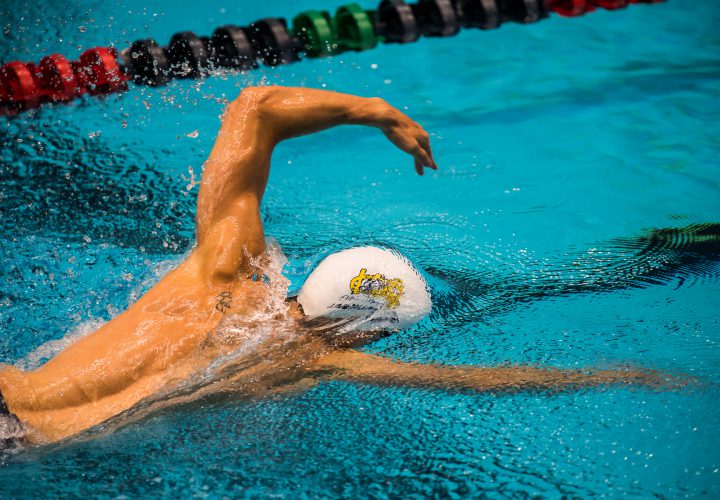 Photo Courtesy: Peter H. Bick
Welcome to Swimming World's Set Of The Week! This week's set is an aerobic distance set that focuses on reinforcing good technical habits for your athletes. Check out the set and the ensuing description below:
2 Rounds:
16 x 25 drill with a snorkel, :05 SR on each wall
#1: catch-up eleven
#2: shark drill
#3: six kick DPS
#4: distance per stroke
4 x 100 w/ snorkel on 1:20
→ focus on finish of stroke
2 x 200 pull w/ paddles negative split on 2:30
2 x 300's build each 100 on 3:30
1 x 100 easy between rounds to reset
This is a distance based aerobic set that begins with extensive drill and snorkel work to set good technique for the rest of the set while also reinforcing good habits. At the beginning of the set are 16 x 25's of drill, progressing from basic catch-up eleven all the way to distance per stroke focused freestyle. The idea is slowing down your swimmers' strokes so that they are balanced, long, and powerful as they progress into the main set. While they are only 25's, there is only about :05 seconds of rest on each wall, so swimmers should move through them quickly and be engaged in what they are doing.
Following the drill, swimmers will go right into 4 x 100's with a snorkel on a moderate interval, finding their strokes and staying long as they begin medium-intensity aerobic work. Following the 100's, swimmers will take their snorkels off and grab their pull buoys and paddles (you may need an extra :10 seconds rest here for them to grab equipment) for 2 x 200's negative split. The interval should drop on this set (in the example it went from a 1:20 base to a 1:15 base), and their pace should follow suit.
Finally, the round ends with 2 x 300's on an even faster interval (in the example dropping from a 1:15 to a 1:10). The 300's are build by 100, but swimmers should still be starting fast and trying to end faster. This is the "peak" of each round, which means a high intensity level of aerobic training. Take a 100 easy between rounds for your swimmers to reset and go back to their drill work. At 1,900 per round, this is a great set for getting thoughtful yardage in on a time crunch (the example above is 3,800 yards in roughly 50 minutes). Happy swimming!
All swimming and dryland training and instruction should be performed under the supervision of a qualified coach or instructor, and in circumstances that ensure the safety of participants.