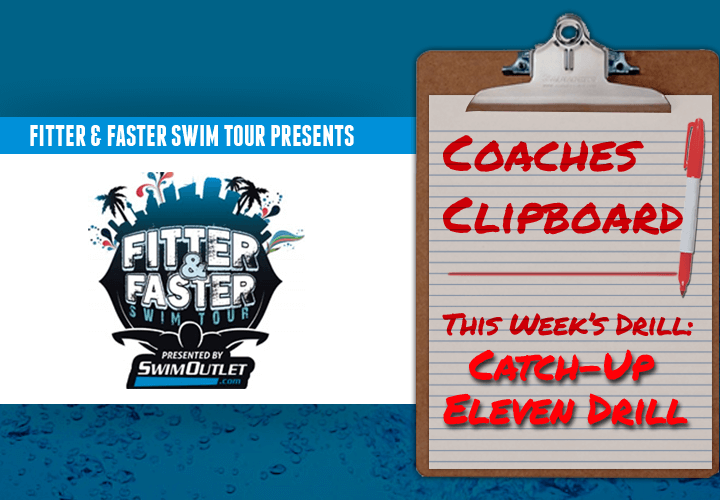 Welcome to the "Drill of the Week" sponsored by The Fitter and Faster Swim Tour presented by Swimoutlet.com. Swimming World will be bringing you a drill, concept, or tip that you can implement with your team on a regular basis. While certain weeks may be more appropriate for specific levels of swimming (club, high school, college, or masters), Drill Of The Week excerpts are meant to be flexible for your needs and inclusive for all levels of swimming.
This week's drill is called "Catch-Up Eleven" and is a variation of one of the most commonly seen freestyle drills. As seen in the video below, this drill is very similar to traditional catch-up drill. Swimmers will follow a normal catch-up sequence with their arms, pausing for eleven kicks before starting their next stroke.
The major difference from traditional catch-up drill is the amount of time the hands spend out in front. In this drill, the swimmer will pause for eleven full kicks between strokes. There are a few reasons for this. First, in freestyle we do spend a good deal of time on our stomachs. Although we want a consistent rotation, it is also important to make sure that we are practicing a solid, high body position when we are on our stomachs. If you aren't able to maintain high hips for eleven kicks, how are you going to throughout an entire race?
Second, pausing between strokes isolates the rotation on each side during the stroke cycle. Whereas in traditional catch-up drill it can be easy to rush through the drill and use the momentum of your arms to simulate rotation, in catch-up eleven you are forced to slow down and work on have a perfect stroke and core-focused rotation each time. Finally, the patience this drill demands allows you to focus on having a perfect high elbow catch and powerful stroke every cycle. Adding a snorkel to the mix will let your swimmers hone in on their technique even more, as they won't have to worry about working their breathing into the mix.
Use this drill to challenge your swimmers to slow down their freestyle and gain a better sense of their body position. This a great drill to introduce to swimmers of all levels and to include as a progression between balance kicks, sculling, and catch-up drill. Happy swimming!