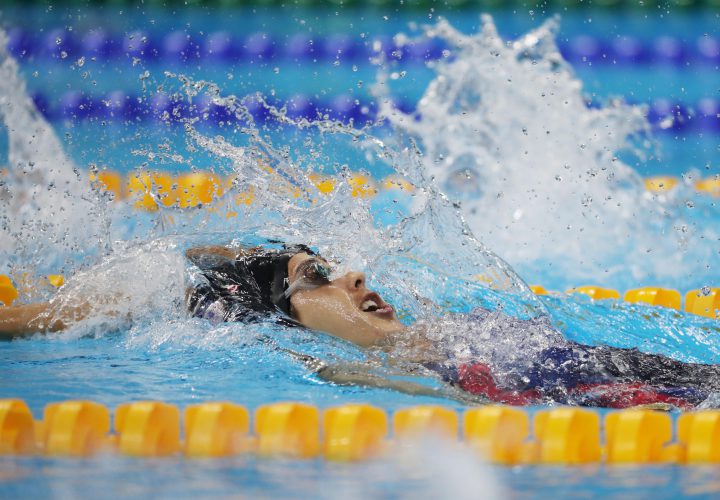 Photo Courtesy: Erich Schlegel-USA TODAY Sports
Welcome to Swimming World's Set Of The Week! This week's set is an aerobic backstroke set that focuses on pacing and underwater details. Take a look at the set below and the explanation that follows:
5 x 100 backstroke on 1:30
4 x 50 kick/drill on 1:00
4 x 100 backstroke on 1:30
4 x 50 kick/drill on 1:00
3 x 100 backstroke  on 1:30
4 x 50 kick/drill on 1:00
2 x 100 backstroke on 1:30
4 x 50  kick/drill on 1:00
1 x 100 backstroke on 1:30
*100's are negative split, add 2 kicks off 2nd & 3rd turn, descend time through rounds
*50's are 25 kick/25 drill
This set moves from 5 x 100's all the way down to 1 x 100 with 4 x 50's kick/drill between as active recovery. The focus of the 100's is pacing and control off of the walls. All 100's should be negative split, and there should be a specific focus of adding 2 extra underwater dolphin kicks during the second 50 of each 100. Within each group of 100's a goal should also be to hold a consistent time for all of the 100's. As you move through each round of 100's within the set, the times your swimmers are holding should descend, with the last 100 being an all-out effort. While the 4 x 50's are active recovery, the drill should still be purposeful. Using a drill such as 2-2-2 that focuses on tempo and rotation from the core and hips would be a useful drill to have your swimmers do throughout the set.
During this set it is important to keep swimmers accountable for how many kicks they are taking off of each of their walls, and specifically in the second 50 of each 100. While getting through the first set of 5 x 100's may be relatively easy, holding that through the 4 x 100's and 3 x 100's will be more of a challenge. This is a great set to help build a greater awareness of kick counts and to show your athletes how difficult (and ultimately, what an advantage) it is to find that second gear at the end of their race. In addition to their kicks, watch their stroke tempo to make sure it is increasing throughout the second half of the 100's. Happy swimming!