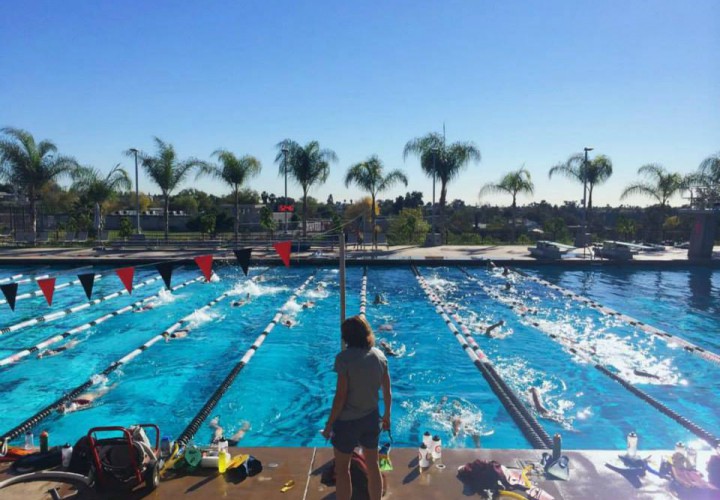 Photo Courtesy: Madison Carroll
Welcome to Swimming World's Set Of The Week! This week's set is an aerobic IM set meant to work on consistent stroke technique across all four strokes. This is a great set to use with your mid-distance or stroke group in club, high school, or college swimming! Take a look below and see the set and read about it below:
2 Rounds:
4 x 225 "IM's" on 3:20
→ 200 IM with a rolling 75 of stroke drill, the rest is swim
#1: 75 fly drill, 50 back, 50 breast, 50 free
#2: 50 fly, 75 back drill, 50 breast, 50 free
#3: 50 fly, 50 back, 75 breast drill, 50 free
#4: 50 fly, 50 back, 50 breast, 75 free drill
Put on fins
5 x 125 "IM's" w/ fins on 1:40
→ rolling 25 underwater within normal 100 IM (X = underwater)
#1: X O O O O
#2: O X O O O
#3: O O X O O
#4: O O O X O
#5: O O O O X
1 x 50 easy, reset for Round 2
The 225's that start the set are swum as 200 IM's with a floating 75 of drill with each repetition (#1 is 75 fly, #2 is 75 back, etc.). The goal is to build aerobic work in while also developing the feel for each stroke. A major part of any IM swim is the ability to maintain consistent technique from stroke to stroke, and the progression of the drill requires your athletes to stay alert and aware of what they are working on during each repetition.
After putting fins on, go right into 5 x 125's. Similar to the 225's, these are swum as 100 IM's with a floating 25 of underwater kick. This adds in a hypoxic element to your stroke work and serves as practice for adding underwaters during IM events.
Push your athletes further by changing the requirements for each set during the second round. For example, the drill in the 4 x 225's can become fast swim, and you can get rid of the fins on the second round of 125's to work the legs even more. You could also make the 125's main stroke or weak stroke to focus on a particular area of a swimmer's IM.
At 3,100 yards, this is a good volume IM set that can also provide your athletes with race-specific skills to keep their attention and continue to develop good IM habits. Happy swimming!