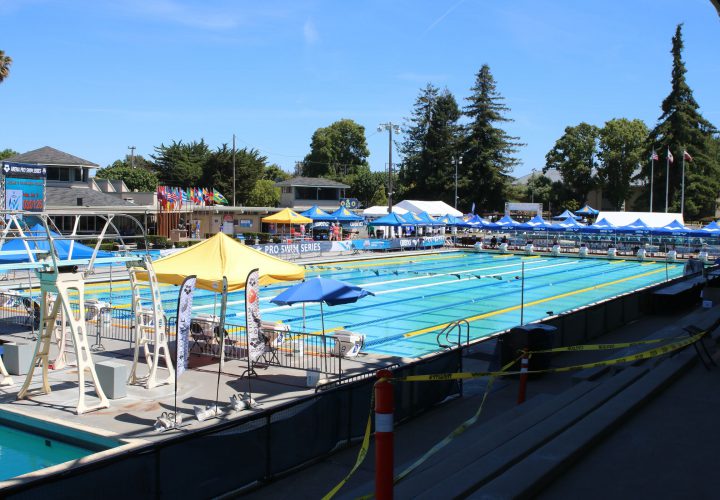 Photo Courtesy: David Farr
Editorial content for the 2017 Arena Pro Swim Series Santa Clara is sponsored by Arena. Visit ArenaUSA.com for more information on our sponsor. For full Swimming World coverage, check out our event coverage page. CLICK HERE FOR LIVE RESULTS
USA Swimming has posted the official psych sheet for the Santa Clara stop of the Arena Pro Swim Series and the meet looks to be stacked with Olympians. Katie Ledecky is one of the biggest names on the psych sheet, and will be swimming a somewhat limited schedule by her standards. Ledecky is only entered in three events: the 100, 200, and 1500 free.
Other notable competitors will be 2016 gold medalists Ryan Murphy, Anthony Ervin, and Simone Manuel. Matt Grevers is also slated to compete, continuing to work towards a spot on the Worlds team this summer after just missing out on making the 2016 Olympic Team. Grevers will be competing in the 50 and 100 free in addition to the 100 backstroke.
Two other notable names on the psych sheet include Olympic medalists Conor Dwyer and Elizabeth Beisel. While both qualified for the 2016 Rio Olympic Team, neither has competed in a full meet since the Olympic Games. Dwyer's only race has been a prelims swim in the 100 free at the Mesa Pro Swim Series stop. He was signed up to swim at the Atlanta stop but scratched, and this will be one of his last chances to get long course racing against top competition before World Trials.
Beisel, for her part, has been a no show in competition all year, calling into question whether she was considering retirement. She qualified for the Olympic Team in the 400 IM last summer, where she finished sixth in the final. Despite her absence from competition, she is entered in five events this weekend: the 200 and 400 IM, 100 and 200 back, and 200 breast.
You can view the full psych sheet by clicking here.