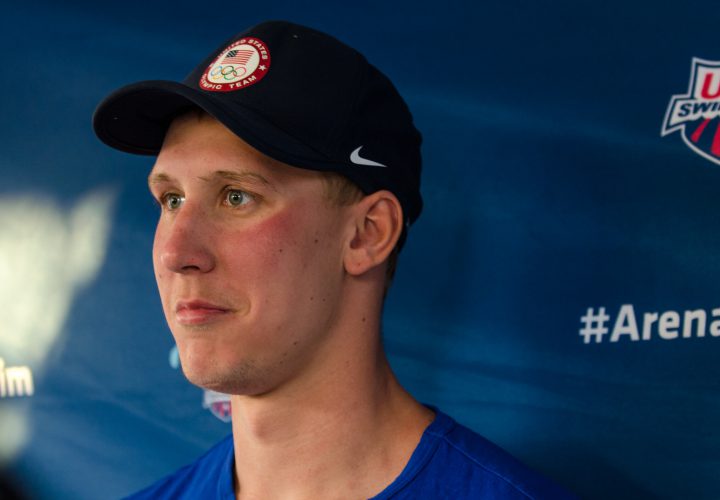 Photo Courtesy: Brooke Wright
Editorial content for the 2017 Arena Pro Swim Series Atlanta is sponsored by Arena. Visit ArenaUSA.com for more information on our sponsor. For full Swimming World coverage, check out our event coverage page. CLICK HERE FOR LIVE RESULTS
The 2017 arena Pro Swim Series swam through Atlanta, GA this past weekend as the first four-day version of the meet.
Chase Kalisz rose in the rankings after claiming four dominant wins in Atlanta, shifting him from his previous spot at fourth to tie with Josh Prenot at first. Prior to this weekend, Kalisz held 18 points to his name, but now sits tied at first with 38.
Daiya Seto slips to third in the rankings with 32 points, followed by Jacob Pebley at 26. Nathan Adrian rounds out the men's leaderboard with 17 points.
On the women's side, Melanie Margalis continues to hold her spot at first, but the competition is creeping closer as only six points separate Margalis (39) and Katie Ledecky. Ledecky collected three individual wins in Atlanta to move to second overall with 33 points.
Hali Flickinger (29), Simone Manuel (23), and Mary-Sophie Harvey (22) complete the women's top five on the leaderboard.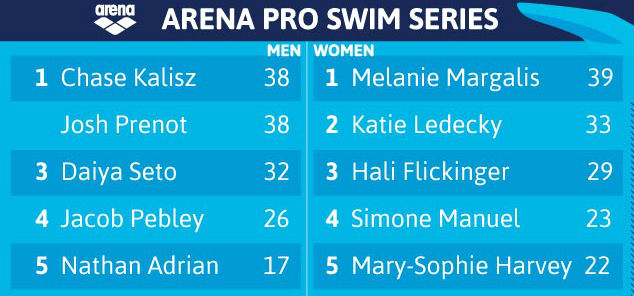 This year, the Arena Pro Swim Series will give out nearly $350,000.
The per-event prize money and Arena Pro Swim Series scoring system awards swimmers prize money  and points based on first-, second-, and third-place performances at each meet in the Championship final only. The prize money and scoring system is as follows:
First place = $1,000 (five points)
Second place = $600 (three points)
Third place = $200 (one point)
There will be separate Arena Pro Swim Series standings for male and female swimmers. To be eligible for the BMW lease, a swimmer must (i) be a U.S. citizen, (ii) be a USA Swimming member, (iii) possess a valid U.S. driver's license, and (iv) no longer be NCAA eligible. The BMW prize will be offered to the highest finishing eligible male and female athlete who meets all the criteria, even if he/she is not the overall points winner for the series.
To be eligible for the $10,000 series bonus, awarded to the overall male and female winners of the Series regardless of nationality, athletes must no longer be NCAA eligible.
In the event of a tie of Arena Pro Swim Series points, the Arena Pro Swim Series winner will be the swimmer who earned the highest single-race FINA power point ranking.