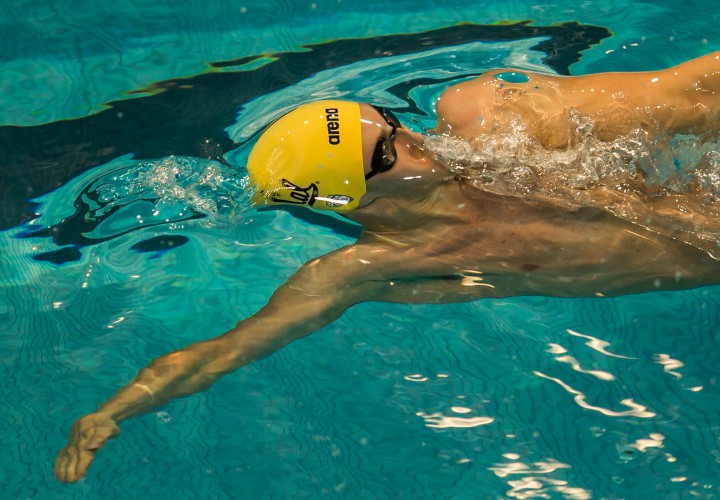 Photo Courtesy: Peter H. Bick
Arena Pro Swim Series editorial coverage is proudly sponsored by Arena USA. Visit ArenaUSA.com for more information on our sponsor. For all the latest coverage, check out our event coverage page.
California's Ryan Murphy cranked out a winning time in the men's 100-meter back at the 2016 Arena Pro Swim Series Orlando.
Murphy threw down a swift time of 53.47, just off his fourth-ranked season best of 53.46 from the Austin stop.
Grigory Tarasevich powered his way to second tonight in 53.84 to vault to sixth in the world rankings.
Tucson Ford's Matt Grevers, already second in the world with a 53.35 from Austin, took third in 54.20.  NBAC's Michael Phelps, swimming in an off event as part of a difficult double, took fourth in 54.42.
Brazil's Guilherme Guido (54.59), Jacob Pebley (54.88), NYAC's Arkady Vyatchanin (54.89) and Wolfpack's Eugene Godsoe (55.11) placed fifth through eighth.
Israel's Guy Barnea won the B final in a time of 55.49. Pavel Sankovich of Club Seminole took second in 55.78.
                          === A - Final ===                            
 
  1 Murphy, Ryan     20 Unattached          53.88      53.47JNATS   
                 26.04        53.47 (27.43)
  2 Tarasevich, Gri  20 Unattached          54.24      53.84 NATS   
                 25.86        53.84 (27.98)
  3 Grevers, Matt    30 Tucson Ford Deal    55.27      54.20 NATS   
                 26.17        54.20 (28.03)
  4 Phelps, Michael  30 North Baltimore-    55.19      54.42 NATS   
                 26.72        54.42 (27.70)
  5 Guido, Guilherm  29 Brazil-US           54.64      54.59 NATS   
                 26.42        54.59 (28.17)
  6 Pebley, Jacob    22 Unattached          54.81      54.88 NATS   
                 26.45        54.88 (28.43)
  7 Vyatchanin, Ark  31 New York Athleti    55.74      54.89 NATS   
                 26.78        54.89 (28.11)
  8 Godsoe, Eugene   28 Wolfpack Elite-N    55.15      55.11 NATS   
                 26.77        55.11 (28.34)
 
                            === B - Final ===                            
 
  9 Barnea, Guy      28 Club Wolverine-M    56.10      55.49 NATS   
                 26.69        55.49 (28.80)
 10 Sankovich, Pave  25 Club Seminole-FL    56.03      55.78 NATS   
                 26.99        55.78 (28.79)
 11 Santi, Fabio     26 Brazil-US           56.23      56.04 NATS   
                 27.07        56.04 (28.97)
 12 Andrew, Michael  16 Indie Swimming-M    56.48      56.33 NATS   
                 27.24        56.33 (29.09)
 13 Katz, Austin     16 Sarasota YMCA Sh    56.60      56.53 NATS   
                 27.73        56.53 (28.80)
 14 Nolan, David     23 North Baltimore-    56.49      56.54 NATS   
                 27.34        56.54 (29.20)
 15 Tarczynski, Mar  25 California Aquat    56.53      56.58 NATS   
                 27.86        56.58 (28.72)
 16 Hokfelt, Gustav  21 Unattached-PV       56.39      56.74 NATS   
                 27.34        56.74 (29.40)