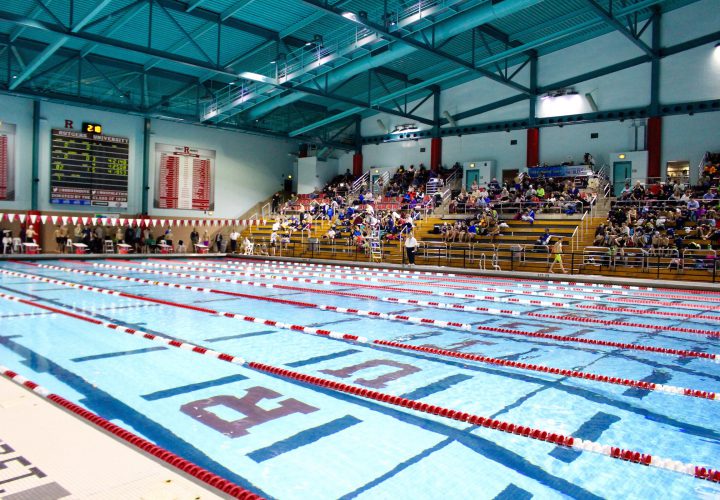 Photo Courtesy: Taylor Brien
Rutgers Director of Intercollegiate Athletics Patrick Hobbs announced today the promotions of Frederick Woodruff and Jon Maccoll each to the position of co-head coach of the Scarlet Knights' swimming and diving program, effective immediately.
Woodruff, in his 25th year as head diving coach for Rutgers, had been named interim head swimming coach in November. Maccoll began his first season with the Scarlet Knights in October as the assistant swimming coach.
"In a very short time, Fred and Jon have proven themselves capable leaders for our swimming and diving program," Hobbs said. "They have my confidence, but perhaps more importantly, they have the confidence of our student-athletes and all those who support our program."
Next to Woodruff's long list of accolades as a diving coach, is an even longer list of student-athletes that have benefited from his mentorship and guidance both on and off the springboards. A staple of the program since joining the coaching staff in 1993, Woodruff has sent six of his divers to the NCAA Championships over the last three seasons while competing in the Big Ten Conference.
"I'm really excited about this," Woodruff said. "Working with Jon these last few weeks has turned into a productive partnership. It's exciting we'll get the opportunity to continue that. Regardless of who was named coach, this is the best thing for the women on this team. This team deserves to have a stable and strong coaching staff, and this announcement makes that possible."
Woodruff began his diving career as a standout at Lehigh University, where he received his first coaching opportunity following graduation. By 1985, he had formed a club team out of the Somerset Valley YMCA and went on to produce 126 YMCA All-Americans and eight national champions over the next 35 years.
A pillar of the diving community, Woodruff was named the Junior Olympic Chairman of the New Jersey Association of United States Diving, a position he held for seven years while garnering Region I Coach of the Year two times after guiding 52 Region I champions and nine East National champions.
Maccoll arrived in Piscataway after most recently serving as head coach at University of Sioux Falls in South Dakota, where he launched the institution's first women's swimming team in 2016. He brings with him a championship culture honed over the course of seven years as an assistant at UNLV and Queens University.
"I am thrilled that Jon is being afforded the opportunity to lead the swimming program at Rutgers," said Jeff Dugdale, the associate athletic director for strategic planning and leadership development, and head swimming and diving coach at Queens University of Charlotte. "Jon was valuable in helping me develop a winning culture at Queens. He understands the importance of delivering a positive experience to his student-athletes."
Maccoll's resume is loaded with success, from guiding established programs to new heights, to building fledgling teams from the ground up to immediate prominence. His first stop was at Queens University in Charlotte, North Carolina, where he was tasked with spearheading the start-up program as an assistant coach from 2010-13.
"I'm excited to accept this role and I'm proud that Rutgers has faith in me," Maccoll said. "I am blessed to have amazing mentors in my career. I look forward to being on deck with the tremendous young women we have in our program. I'm very thankful and I'm very proud to be a Scarlet Knight."
Working with head coach Jeff Dugdale, Maccoll helped mold a program that competed almost immediately at the national level. In 2015, powered by a corps of Maccoll's recruits, Queens captured the school's first-ever national championship in any sport by winning the NCAA Division II championships in both men and women's swimming and diving.
"He excelled as a student-athlete and thus understands the delicate balance and expectations of performing at the highest level both academically and athletically," Dugdale added. "Finally, he has appropriately paid his dues, patiently moving through the coaching ranks. He has experience in leading existing cultures along with experience in building new cultures, and in both cases, he has delivered results."
The Scarlet Knights are on winter hiatus and will return to competition with a home dual meet against Yale on Friday, Jan. 12.
Follow Rutgers Athletics on Facebook (www.facebook.com/RutgersAthletics) and Twitter (@RUAthletics) for all of the latest news and updates. For specific updates regarding Rutgers swimming & diving, follow the program on Twitter (@RUSwimDive) and on Instagram (ruswimdive). The team is also on Facebook (facebook.com/RUSwimDive).
Press release courtesy of Rutgers Athletics.