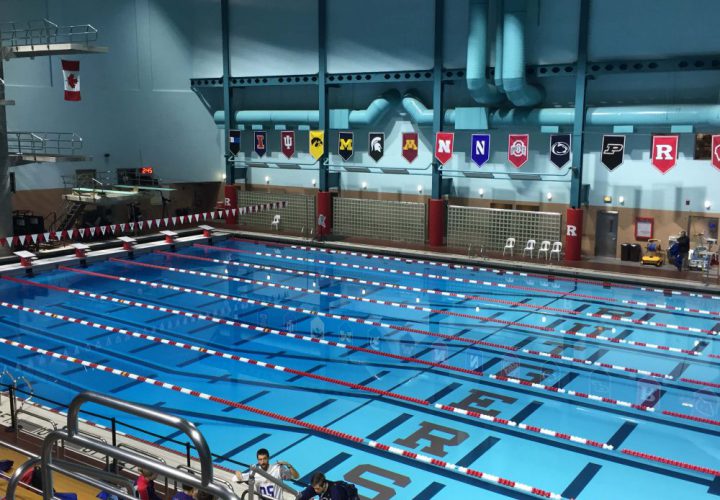 Photo Courtesy: David Rieder
PISCATAWAY, N.J. — Every so often, the collegiate landscape needs a reminder of the dual nature of the word used to describe the lifeblood of any athletic department: the student-athlete. Erin McIntyre, a Rutgers swimming Class of 2003 graduate, took the multifaceted definition to new heights during a historic career "On the Banks" that will go down as the fifth induction of a women's swimmer in the Rutgers University Division of Intercollegiate Athletics Hall of Fame.
The 'athlete' portion of her title during her undergraduate days at Rutgers was history in the making. McIntyre was the first Scarlet Knight to qualify for the NCAA Women's Swimming Championships, and that was just the start. She went on to become an All-American with an eighth place finish in the 1,650-yard freestyle at the 2002 NCAA Championships, which followed an Honorable Mention All-America performance in 2001 in the 400-yard individual medley.
History became tradition, as ever since, generations of Rutgers swimmers have been chasing her program records in the 1,000- and 1,650-yard freestyle events, which still stand to this day. She also held the records in the 200 and 400 IM, the 500-yard freestyle, and three relays. When Morgan Pfaff broke both of her IM records in 2014, McIntyre wrote a letter to Pfaff and managed to combine advice with her own fond memory of the program that helped shape her life.
"Even if my name isn't on the record board, my hope is to have a lasting impact in other ways by sharing our experience and helping others reach their goals," McIntyre said. "You have a finite window of opportunity, but there are times you don't know if you can make it through the grueling schedule. When it's all over, you would give anything to go back to it."
Before it was over for McIntyre, her relentless dedication to her craft and her studies in engineering led to one of the most prolific and decorated careers a student-athlete has ever had at Rutgers. As her head coach, Chuck Warner, recalls, she was "an unbelievably hard-working swimmer, and even more a conscientious and caring person." At the helm of a program that was sending a swimmer to the national stage for the first time, Warner was proudest of her dynamic ability to focus on everything that mattered to her.
Fittingly, McIntyre will be inducted to the Rutgers Hall of Fame alongside her athletic director at the time, Bob Mulcahy. Early in McIntyre's collegiate career, Mulcahy created the Athletic Director's Excellence Award, and according to her former AD and Coach Warner, the honor may as well have been called the Erin McIntyre Award. She was the first recipient and flawlessly embodied the criteria for the award: All-America-caliber athletic performance, and near-perfect academic standards.
"I came to Rutgers because of the great reputation as an academic institution," McIntyre said. "Then the athletic department instilled in me the discipline I needed to succeed in the pool and the classroom. There was so much great support from the administration. They would come to meets and our banquets, and in hindsight, they took a lot of pride in us."
Mulcahy's award was just one in a long line of impressive accolades for her work in academics. She was the 2002-03 BIG EAST Scholar Athlete of the Year, which is given to one student-athlete in the conference across all sports, and was the first Rutgers female to receive the award. She was a College Swimming Coaches Association of America Scholar All-American, and one of two national winners of the Tau Beta Pi Laureate for excellence in engineering and athletics.
Looking back at the list of praises, and looking ahead to one of the highest you can receive in a Hall of Fame induction, McIntyre admits it didn't start with those goals in mind. A native of Broomfield, Colorado, she came to Rutgers for engineering and the opportunity to continue a blossoming passion for swimming.
"I was a decent swimmer out of high school, but I owe all of my success to having a great team to train with and my coaches," she said. "They really helped me realize my potential. After freshman year, I sat down with Coach and he said your scholarship will go up for every event you make NCAA's in. We always talked about goals, so it felt good after my sophomore year to have completed my end."
Then Coach Warner upheld his end. Rutgers' head coach from 1997-2010 knew success in the BIG EAST Championships would be reliant on that of McIntyre's. Warner's Scarlet Knights went on to skyrocket from ninth place to runner-up at the BIG EAST Championships from 2000-03 with McIntyre leading the freestyle and IM corps.
"She was a great example of what someone can do in sport and school when you focus on the nose in front of your face, and take everything as far as you possibly can," Warner said.
McIntyre's favorite memory was that first BIG EAST Championship meet, where the Scarlet Knights were forced to "fight out of the ghetto" of the seating selection process. In a cramped facility, priority seating was given to teams based on the previous year's finish. That provided the extra bit of motivation for McIntyre and Rutgers to climb the ranks and claim some prime real estate.
"That's what got me to another level, because I wanted to do my best for my team," said McIntyre, the 2001 BIG EAST champion in the mile. "I also had a vengeance against Notre Dame. I had a friend that went there, and their coach didn't believe in me, although Rutgers ended up being a better opportunity."
Always one to seize opportunity, McIntyre was able to combine her two loves, swimming and engineering, during a research project at Rutgers. She helped revolutionize USA Swimming interests in research with her senior year engineering project on fluid movement and the underwater dolphin kick, assisting her professor to become a key USA Swimming consultant. Warner provided the connection to USA Swimming.
Before officially leaving "the Banks", McIntyre served as an assistant coach under Warner for the 2003-04 season. She went on to earn a graduate degree from Michigan, a top-five program for engineering, before finding her calling in the medical field. She now works as a physician's assistant in the Division of Surgical Oncology at the University of Colorado-Denver.
Rutgers swimming imparted a timeless lesson she took with her to professional life. In essence, it was more of a rhetorical question: How fast is fast?
"If you didn't know how fast fast was, you weren't fast enough," McIntyre said. "You think times and goals are inconceivable, but if you have that mentality that the sky is the limit, you can do it."