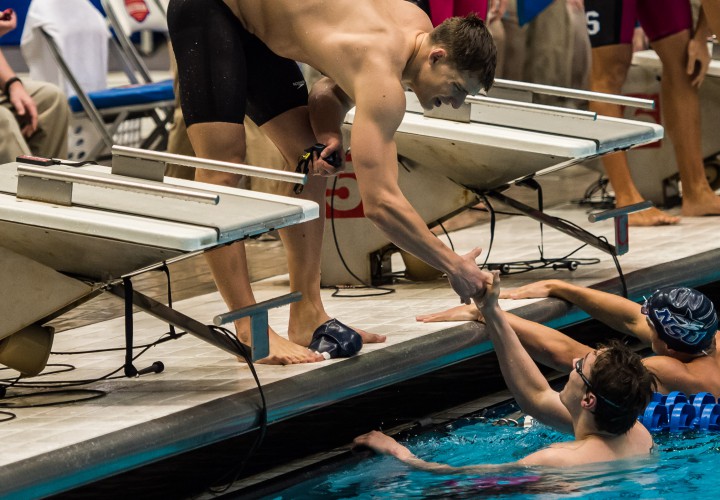 Photo Courtesy: Peter H. Bick
Not to be outdone, the Queens team of Zach Bunner (21.74), Fedyna Rostyslav (23.83), Paul Pijulet (20.76), and Ben Mayes (19.62) set their own NCAA record in the men's 200 medley relay prelims, posting a 1:25.95. That just snuck by Wayne State's 2014 record of 1:26.04, making them the first Division II team to swim under 1:26.
The team from Fresno Pacific was back in second with a 1:27.90, while Grand Valley State University was third in 1:27.98. Notably, the teams from Bloomsburg and Limestone tied at 1:28.95, requiring a swim-off for who will make it into the championship final tonight.
 Event 9  Men 200 Yard Medley Relay
====================================================================
  Division II: R 1:25.95  3/8/2017  Queens (NC)
                          Bunner, Fedyna, Pijulet, Mayes
    School                                 Seed    Prelims        
====================================================================
                       === Preliminaries ===                        
 
  1 Queens (NC)                         1:26.79    1:25.95R 
     1) Zach Bunner JR                2) r:0.32 Rostyslav Fedyna SR   
     3) r:0.49 Paul Pijulet JR        4) r:0.27 Ben Mayes JR          
             10.73        21.74 (21.74)
          32.25 (10.51)       45.57 (23.83)
           55.00 (9.43)     1:06.33 (20.76)
         1:15.67 (9.34)     1:25.95 (19.62)
  2 Fresno Pacific                      1:28.76    1:27.90  
     1) Luka Barisic JR               2) r:0.25 Maksim Shcherbakov JR 
     3) r:0.27 Aleksei Averchenko FR  4) r:0.21 Dmitry Belolipeskiy FR
             11.10        22.76 (22.76)
          33.31 (10.55)       46.66 (23.90)
           56.01 (9.35)     1:08.01 (21.35)
         1:17.30 (9.29)     1:27.90 (19.89)
  3 Grand Valley                        1:27.34    1:27.98  
     1) Harry Shalamon FR             2) r:0.12 Marius Mikalauskas SO 
     3) r:0.22 Gabriel Souza JR       4) r:0.21 Benjamin Walling SO   
             11.18        23.15 (23.15)
          34.40 (11.25)       47.76 (24.61)
           56.94 (9.18)     1:08.25 (20.49)
         1:17.68 (9.43)     1:27.98 (19.73)
  4 Nova S'eastern                      1:28.07    1:28.08  
     1) Marco Aldabe SR               2) r:0.28 Anton Lobanov JR      
     3) r:0.26 Julian Coster SO       4) r:0.34 Malique Elder JR      
             11.55        23.35 (23.35)
          33.89 (10.54)       46.95 (23.60)
           56.59 (9.64)     1:08.43 (21.48)
         1:17.75 (9.32)     1:28.08 (19.65)
  5 Florida Southern                    1:28.82    1:28.33  
     1) Marco Palacios SR             2) r:0.27 Luis Jasso JR         
     3) r:0.28 Noah Franz JR          4) r:0.28 Diego Gimenez SR      
             10.77        22.04 (22.04)
          33.09 (11.05)       46.47 (24.43)
           56.15 (9.68)     1:08.18 (21.71)
         1:17.65 (9.47)     1:28.33 (20.15)
  6 Wayne State                         1:30.71    1:28.80  
     1) Dmytro Drobnych SO            2) r:0.18 Sasha Palazzo FR      
     3) r:0.24 Rasmus Olsen SO        4) r:0.26 Ryan Katulski FR      
             11.19        22.49 (22.49)
          33.61 (11.12)       47.02 (24.53)
           56.91 (9.89)     1:08.59 (21.57)
         1:18.16 (9.57)     1:28.80 (20.21)
  7 Lindenwood                          1:28.69    1:28.81  
     1) Serghei Golban JR             2) r:0.29 Joseph Martin SR      
     3) r:0.26 Kian Quigley SO        4) r:0.20 Alexander Leff FR     
             10.84        21.85 (21.85)
          32.93 (11.08)       46.80 (24.95)
           56.46 (9.66)     1:08.64 (21.84)
         1:18.20 (9.56)     1:28.81 (20.17)
  8 Limestone                           1:28.88    1:28.95  
     1) Jake Minasi JR                2) r:0.19 Tobias Feigl SR       
     3) r:0.21 Emil Moller JR         4) r:0.19 Alan Parsons SR       
             11.11        22.66 (22.66)
          33.51 (10.85)       47.28 (24.62)
           57.00 (9.72)     1:08.61 (21.33)
         1:18.21 (9.60)     1:28.95 (20.34)
  8 Bloomsburg                          1:28.91    1:28.95  
     1) Josh Grzech JR                2) r:0.16 Eric Usbeck SR        
     3) r:0.40 Samuel Feiser JR       4) r:0.30 Kyle Dix SO           
             11.44        23.05 (23.05)
          33.76 (10.71)       47.07 (24.02)
           56.78 (9.71)     1:08.89 (21.82)
         1:18.46 (9.57)     1:28.95 (20.06)
 Swim-Off Required ------------------------------------------------
 10 Carson-Newman                       1:28.81    1:29.02  
     1) Seth Hughes SO                2) r:0.37 Andrei Roman FR       
     3) r:0.31 Pijus Mackeviceius SO  4) r:0.22 Samuel Schechter SR   
             10.99        22.96 (22.96)
          34.34 (11.38)       48.00 (25.04)
           57.54 (9.54)     1:09.39 (21.39)
         1:18.64 (9.25)     1:29.02 (19.63)
 11 Wingate                             1:28.94    1:29.33  
     1) Niklas Martin SO              2) r:0.19 Leo Zabudkin FR       
     3) r:0.18 Sebastian Holmberg JR  4) r:0.08 Mehdi Zeraidi SR      
             11.50        23.32 (23.32)
          34.79 (11.47)       48.99 (25.67)
           58.09 (9.10)     1:09.44 (20.45)
         1:18.73 (9.29)     1:29.33 (19.89)
 12 Delta State                         1:29.34    1:29.71  
     1) Fabrice Wendel SR             2) r:0.27 Matteo Fraschi SR     
     3) r:0.16 Adam Charlton SO       4) r:0.14 Mattia Schirru SO     
             11.35        23.29 (23.29)
          34.08 (10.79)       47.78 (24.49)
          57.97 (10.19)     1:10.24 (22.46)
         1:19.39 (9.15)     1:29.71 (19.47)
 13 Drury                               1:28.63    1:29.75  
     1) Aidan Glynn SO                2) r:0.14 Andrea Bazzoli SO     
     3) r:0.22 Jun Han Kim SR         4) r:0.10 Rodrigo Caceres JR    
             11.69        23.72 (23.72)
          34.59 (10.87)       48.30 (24.58)
           58.16 (9.86)     1:10.20 (21.90)
         1:19.37 (9.17)     1:29.75 (19.55)
 14 Florida Tech                        1:29.36    1:30.06  
     1) Nir Barnea SR                 2) r:0.23 Thomas Steenberg JR   
     3) r:0.39 Victor Rocha Futado SO 4) r:0.20 Matthew Gallene SO    
             11.39        23.44 (23.44)
          34.57 (11.13)       48.73 (25.29)
           58.58 (9.85)     1:10.33 (21.60)
         1:19.53 (9.20)     1:30.06 (19.73)
 15 Colorado Mesa                       1:28.71    1:30.23  
     1) Eric Berg SO                  2) r:0.33 Joshua Bedford JR     
     3) r:0.37 Christopher Radmski JR 4) r:0.40 Skyler Hirsch JR      
             11.64        23.60 (23.60)
          34.84 (11.24)       48.77 (25.17)
           58.27 (9.50)     1:10.13 (21.36)
         1:19.75 (9.62)     1:30.23 (20.10)
 16 UCSD                                1:29.69    1:30.56  
     1) Michael Cohn FR               2) r:0.24 Edgar Chin FR         
     3) r:0.20 Garrett Tse SO         4) r:0.21 Kevin Wylder JR       
             11.68        23.19 (23.19)
          34.65 (11.46)       48.73 (25.54)
           58.54 (9.81)     1:10.47 (21.74)
         1:19.84 (9.37)     1:30.56 (20.09)