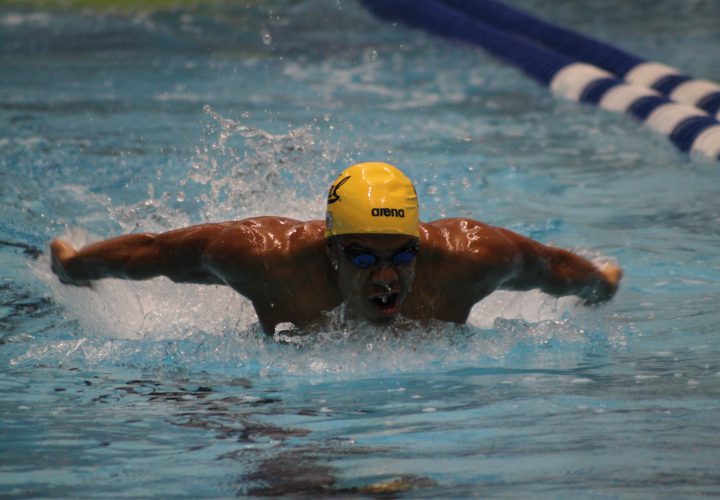 Cal's Justin Lynch.
Photo Courtesy: Andy Ringgold / Aringo Photos
By Dan D'Addona.
It will be a switcheroo kind of week for the Pac-12 Conference.
Teams will be facing each other then swapping the following day, giving the conference a whirlwind of rivalries and showdowns.
It all begins Friday when Arizona State swims at Cal and Arizona swims at Stanford. These are men's and women's meets, so there will be double the showdowns.
Katie Ledecky, Simone Manuel, Ella Eastin and the rest of the Stanford women will be facing Hannah Cox and the Wildcats.
Meanwhile, the reigning conference swimmer of the month, Abbey Weitzeil, will lead the Cal Golden Bears against Arizona State.
Weitzeil earned the honor following an outstanding weekend at the Georgia Fall Invitational Dec. 1-3. Not only did she capture both the 50 and 100 free, but she was a part of four relays that also took first place.
Weitzeil's time of 21.44 in the prelims of the 50 free – she later won in 21.60 – ranks first in the country at the start of the New Year, while her mark of 46.95 in the 100 free final is second nationally and second on Cal's all-time list behind a 46.66 by Missy Franklin from 2015.
A double medalist at the 2016 Olympics, Weitzeil also anchored both the 200 and 400 free relays to best-in-the-country status at the Georgia meet and was part of winning 200 and 400 medley relays in addition to the runner-up 800 free relay. All five of the Bears' relay earned NCAA "A" qualifying status.
The men's meet will feature Arizona State's Cameron Craig and the men's swimmer of the month, Justin Lynch of Cal.
A native of Vallejo, Calif., Lynch played a major role in leading the Bears to the team crown at the University of Georgia. Individually, he provided one of the highlights of the week by swimming to a time of 42.01 seconds that not only achieved the NCAA "A" qualifying time but also placed him second in the nation so far this season. He also made A finals in the 50 free and 100 fly, adding points to Cal's team total.
Lynch played an equally important part in Cal's relay efforts. Swimming a leg on the 200 free, 400 free, 200 medley and 400 medley relays, he helped the Bears not only win all four events but also set the nation's top time in each.
On Saturday, the teams flip flop as Arizona faces Cal and Arizona State faces Stanford.
In other Pac-12 action, Utah faces Denver on Saturday.